Slewfoot: A Tale of Bewitchery (Hardcover)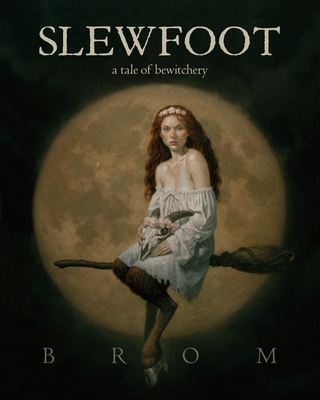 Staff Reviews
---
I love a classic witch story, and that's exactly what I got with Slewfoot. What starts clearly as the awakening of a devil in the woods turns into a woman who never quite fit in in puritanical New England gaining her independence, much to the chagrin of the townspeople. This tale grapples with what makes someone evil–is it destroying crops and burning down barns? Is it stealing land from Indigenous communities? Is it being a literal horned god from the woods?—and addresses these issues in a beautifully written, eerie tome. If you enjoyed the 2015 film The VVitch, this is the book for you.
— tee
Description
---
Set in Colonial New England, Slewfoot is a tale of magic and mystery, of triumph and terror as only dark fantasist Brom can tell it.

Connecticut, 1666: An ancient spirit awakens in a dark wood. The wildfolk call him Father, slayer, protector.

The colonists call him Slewfoot, demon, devil.

To Abitha, a recently widowed outcast, alone and vulnerable in her pious village, he is the only one she can turn to for help.

Together, they ignite a battle between pagan and Puritan – one that threatens to destroy the entire village, leaving nothing but ashes and bloodshed in their wake.

This terrifying tale of bewitchery features more than two dozen of Brom's haunting full-color paintings and brilliant endpapers, fully immersing readers in this wild and unforgiving world.
About the Author
---
Over the past few decades, acclaimed dark fantasy artist Brom has lent his distinctive vision to all facets of the creative industries, from novels and games to comics and film. He is the author of The Child Thief, Krampus, The Lost Gods and the award-winning illustrated horror novels The Plucker and The Devil's Rose. Brom is currently kept in a dank cellar just outside of Seattle.
Praise For…
---
"I loved this book. A roaring, bloody, beautiful work of pure imagination." —Andy Davidson, author of The Hollow Kind

"Slewfoot is a lusciously dark tale of witchcraft and devilry ... This book was tailor-made for lovers of folk horror and everyone who wants to live deliciously." —Mallory O'Meara, bestselling author of The Lady from the Black Lagoon

"Punctuated by moments of unanticipated levity as well as unmitigated terror, this clever and imaginative tale is not to be missed by fans of dark fantasy and historical horror." —Library Journal

"A fast-paced, hallucinogenic fairy tale...delivering likable protagonists, exotic beasties, and scoundrels whom we long to see at table with their just desserts." —Christopher Buehlman, author of The Blacktongue Thief

"Slewfoot takes hold of the maxim 'sympathy for the devil' and yanks hard on that literary taproot, unearthing a far more elemental and complex truth. Demon or no, evil or not, the mighty stag Slewfoot deserves our love and devotion. All hail Brom, all hail Slewfoot!" —Clay McLeod Chapman, author of The Remaking

"Which is worse? The Devil of the forest or the terror of Puritan village rumors, accusations, and lies? At the crossroads of victimhood and vengeance, Abitha makes her choice—and blood follows." —Richard Kadrey, New York Times bestselling author of the Sandman Slim series

"This is a tale that will unsettle readers as they vacillate between fear and celebration. ... For all who enjoy historical horror with healthy doses of dark fantasy, witchcraft, and vengeance." —Booklist Reviews

"Slewfoot is creepy, crawly, bloody fun. If you're looking for a witchy, thrilling ride that also has a philosophical soul, grab a copy of Slewfoot—and don't put it down until you've finished it." —BookPage (Starred Review)

"Slewfoot is an extraordinary, harrowing tale about a remarkable friendship and a demon trying to find his soul. It's a journey of witchcraft, misogyny, paganism, and piety. It left me spellbound and my tortured black heart devoured this story looking for more." —Cemetery Dance
Free Media Mail shipping on U.S. orders over $50
Christmas ordering guidelines
"Ships from warehouse" items to be shipped: Order by Monday, 12/5
"Ships from warehouse" items to be picked-up in store: Order by Monday, 12/12
On hand items: We'll pull items in order of orders received, so keep them coming!