Gone Tonight: A Novel (Hardcover)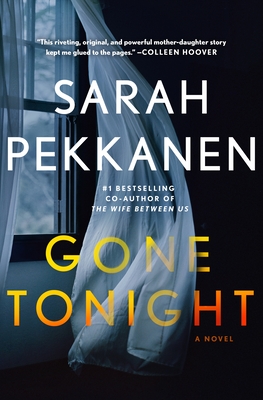 $29.00

Coming soon - PRE-ORDER NOW!
Description
---
Catherine Sterling thinks she knows her mother. Ruth Sterling is quiet, hardworking, and lives for her daughter. All her life, it's been just the two of them against the world. But now, Catherine is ready to spread her wings, move from home, and begin a new career. And Ruth Sterling will do anything to prevent that from happening.
Ruth Sterling thinks she knows her daughter. Catherine would never rebel, would never question anything about her mother's past or background. But when Ruth's desperate quest to keep her daughter by her side begins to reveal cracks in Ruth's carefully-constructed world, both mother and daughter begin a dance of deception.

No one can know Ruth's history. There is a reason why Ruth kept them moving every few years, and why she was ready--in a moment's notice--to be gone in the night.

But danger is closing in. Is it coming from the outside, from Ruth's past? Is Ruth reaching a breaking point? Or is the danger coming from the darkness that may live in Catherine, herself?

Propulsive, brilliant, layered, and provocative, GONE TONIGHT is a thriller that showcases Sarah Pekkanen at the top of her game.
About the Author
---
SARAH PEKKANEN is the #1 New York Times bestselling co-author of several novels of suspense including An Anonymous Girl and The Wife Between Us, and the internationally and USA Today bestselling author of over half a dozen solo novels. A former investigative journalist and award-winning feature writer, her work has been published in numerous national magazines and newspapers. She lives just outside of Washington, D.C. with her family.
Praise For…
---
"This riveting, original, and powerful mother-daughter story kept me glued to the pages. I'm a huge fan of Sarah Pekkanen's books, and GONE TONIGHT is her best yet." --Colleen Hoover

"Filled with buried secrets and jaw-dropping deception, Sarah Pekkanen's GONE TONIGHT is a page-turning thriller about a mother-daughter you won't soon forget.. What would make a teenage girl vanish into the night and live a life on the run for two decades? Read Gone Tonight. It's a wild ride." -- Harlan Coben, #1 New York Times Bestselling Author

"Gone Tonight is an intense, harrowing story about long-buried secrets and the trauma they inflict. The mother-daughter relationship is both thrilling and heartbreaking, with characters you won't soon forget. Captivating from beginning to end." – Samantha Downing, internationally bestselling author of My Lovely Wife.

"With prose that cuts like knife—full of both emotion and twists—GONE TONIGHT proves why Sarah Pekkanen is one of the finest thriller writers working today. Just when you think Pekkanen couldn't possibly outdo herself, she delivers with what will undoubtedly be crowned one of the year's best novels. Fresh, inventive, and with a gut-punch you won't see coming, GONE TONIGHT is this decade's Gone Girl. Believe the hype."-- Alex Finlay, author of The Night Shift

"Catherine Sterling's personal and professional worlds are beginning to collide: she's a nurse who cares for patients with Alzheimer's disease, and her mother is starting to show classic symptoms. The two live together, making the forgetfulness hard to miss, with Ruth Sterling looking very confused when recent events are discussed and forgetting words—calling ice cubes "water squares," for example. Ruth is reluctant to get any scans that could confirm the likely diagnosis—her mother died of Alzheimer's, she says, and she knows what's ahead. But then Catherine makes a discovery that causes her to doubt that her mother's problems are real. As the point of view shifts between the two women, readers get Ruth's first-person point of view; her odd behavior is hiding an explosive past that Catherine knows nothing about. Readers are in for a wild cat-and-mouse game as this tight duo (boundaries, what are they?) faces terrible odds when Catherine delves into her mother's past and Ruth hides the pair from an encroaching threat. There are some very sad moments here, related to dire poverty and child sexual abuse. Overall, it's an eye-opening look at how "our minds…talk us out of things we don't want to know."—First Clue
Free Media Mail shipping on U.S. orders over $50