The Unspoken Name (The Serpent Gates #1) (CD-Audio)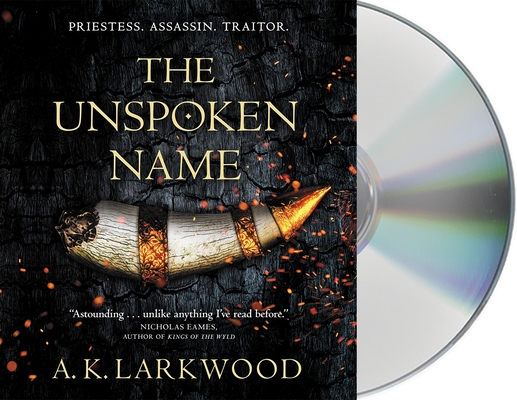 Other Books in Series
This is book number 1 in the The Serpent Gates series.
February 2020 Indie Next List
---
"The Unspoken Name is the gloriously fresh, magnificently epic fantasy I didn't know I needed until I picked it up and couldn't put it down. Larkwood explodes the classic tropes of the genre and takes the reader somewhere completely new. Csorwe is a kickass heroine for the ages. Clear a space in your schedule before you start The Unspoken Name. Very highly recommended!"
— Carol Schneck Varner, Schuler Books (Okemos), Okemos, MI
Description
---
"Narrator Avita Jay manages a large cast of characters in this fantasy...Jay captures the growing affection and trust between Csorwe and those she enlists to help her. Most importantly, Jay's narration captures Csorwe's manner and personality as she transforms from a meek priestess to a formidable character." -- AudioFile Magazine

A. K. Larkwood's The Unspoken Name is a stunning debut fantasy about an orc priestess turned wizard's assassin.

What if you knew how and when you will die?

Csorwe does—she will climb the mountain, enter the Shrine of the Unspoken, and gain the most honored title: sacrifice.

But on the day of her foretold death, a powerful mage offers her a new fate. Leave with him, and live. Turn away from her destiny and her god to become a thief, a spy, an assassin—the wizard's loyal sword. Topple an empire, and help him reclaim his seat of power.

But Csorwe will soon learn—gods remember, and if you live long enough, all debts come due.

A Macmillan Audio production from Tor Books

"In the vein of Le Guin's magnificent Tombs of Atuan—if Arha the Eaten One got to grow up to be a swordswoman mercenary in thrall to her dubious wizard mentor. I love this book so much."—Arkady Martine, author of A Memory Called Empire

"Hooked me in from the first page and never let go. Fabulous, in every meaning of the word."—Jenn Lyons, author of Ruin of Kings
About the Author
---
A.K. LARKWOOD studied English at St John's College, Cambridge, and now lives in Oxford with her wife and a cat. The Unspoken Name is her debut novel.
Praise For…
---
"A fun, fresh take on the traditional fantasy quest, and an adventure I couldn't put down!"—S. A. Chakraborty, author of The City of Brass

"Astounding... written with skill and stunning assurance. The worlds this story spans are as exotic and dangerous as the characters who traverse them. From its flawless first page to its bittersweet last, The Unspoken Name is unlike anything I've read before." —Nicholas Eames, author of Kings of the Wyld

"What a glorious book! Richly detailed, enthralling, and extraordinary, with brilliant nods to such luminaries as Ursula K. Le Guin and Diana Wynne Jones. A.K. Larkwood's book hooked me in from the first page and never let go. Fabulous, in every meaning of the word." —Jenn Lyons, author of Ruin of Kings

"A.K. Larkwood's The Unspoken Name is an epic fantasy in the vein of Le Guin's magnificent Tombs of Atuan — if Arha the Eaten One got to grow up to be a swordswoman mercenary in thrall to her dubious wizard mentor. The action is fast-paced and emotionally compelling; the magic is dangerous, beautiful, and utterly compromising. I love this book so much." —Arkady Martine, author of A Memory Called Empire

"An unexpected and new take on classic orcs 'n' swords fantasy. Stylish, classy, and timeless - but with racing stripes and an inbuilt camera. I cannot recommend it enough." —Tamsyn Muir, author of Gideon the Ninth

"Takes all the tropes of fantasy--orcs and epic quests, dead gods and undead souls, daring rescues and last-second escapes--and spins them into something wild and new. A dizzy, delicious debut."—Alix E. Harrow, Nebula and Hugo finalist and author of The Ten Thousand Doors of January

"A wonderful, rich fantasy with fantastic queer characters I fell in love with. Fans of the fantastical world-building and ancient divine secrets of Ann Leckie's THE RAVEN TOWER or Steven Erikson's MALAZAN BOOK OF THE FALLEN will really enjoy this one."—Django Wexler, author of The Thousand Names

"An imaginative story of love, sacrifice, and betrayal that traverses worlds in this phenomenal debut . . . Larkwood's intricately woven plot is jam-packed with intrigue and excitement. Lyrical, immersive prose masterfully conveys complex worldbuilding."—Publishers Weekly (starred review)

"Quick-paced, occasionally brutal, and genuinely funny, Larkwood's debut novel turns standard fantasy tropes on their head with grace and humour. Csorwe might have the tusks of an orc, but she is human to her core. Readers will be rooting for her to receive the happy ending that she obviously deserves."—Kerstin Hall, author of The Border Keeper

"The Unspoken Name has everything - spine-tingling prose, gorgeous worldbuilding, powerful older women, found family (but it's terrible), and true love. It's fantastic. I read it in one sitting." —Emily Tesh, author of Silver in the Wood

"Crisp, witty and entertaining. Such fun and it distracted me from my work far too well!"—Genevieve Cogman, author of The Invisible Library

"Larkwood's debut is a fresh, fun take on the genre, packed with smart prose, badass characters, and fantastic worldbuilding. A necessary addition for any fantasy lover's collection."—Tara Sim, author of Scavenge the Stars

"A truly wonderful book...grabbed my attention on the first page and wouldn't let go. Fresh, exciting and new, with fascinating characters, shifting alliances, impossible odds, breathtaking settings, and shocking twists." -- Dyrk Ashton, author of Paternus

"A breathtaking journey. It's epic fantasy with both creeping, omnipresent horrors and yet a tenacious, delicate warmth." —K. A. Doore, author of The Perfect Assassin

"The Unspoken Name is the best kind of modern fantasy—it feels totally fresh, it's full of satisfyingly weird gods and frightening magic; plus it's stuffed with the sort of characters you'll either want to be friends with or run screaming from. I loved this book!"—Jen Williams

"Action-packed and emotionally engaging . . . Lushly detailed with incredible worldbuilding, Larkwood's debut is a singular take on orcish fantasy, filled with fierce fighting and magic."—Library Journal (starred review)
Free Media Mail shipping on U.S. orders over $50