Girl: A Novel (CD-Audio)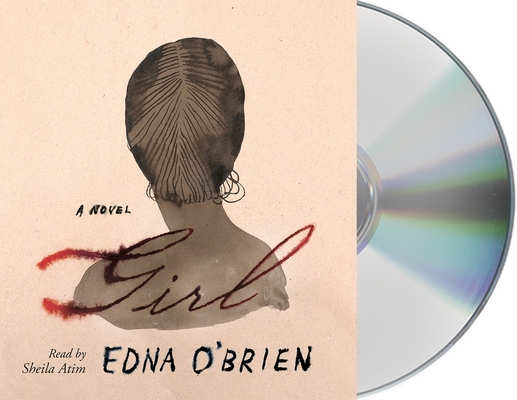 $32.99
Hard to find: allow 24 hours for information
Staff Reviews
---
Based on the true story of the kidnapping of schoolgirls in Nigeria, Girl by Edna O'Brien has some shocking scenes. I felt that O'Brien didn't dwell so much on the horrors that the girls endured though, as so many books about this event do. Instead, she explored the difficult healing and recovery of the narrator, Maryam. Thwarted and abetted by others, Maryam has a long journey to safety that is both heartbreaking and at the same time hopeful. I have admired O'Brien's short stories. Girl has the same gorgeous writing—and shows the author's ability to mine a character's emotion—that I've seen in the shorter works.
— Mamie
Description
---
"Narrator Sheila Atim sets a sensitive yet emphatic tone for this harrowing story of violence, loss, and survival...Listeners will be enveloped in this emotional listening experience." — AudioFile Magazine, Earphones Award winner

This program is read by Laurence Olivier Award-winning actress, Sheila Atim.

Girl, Edna O'Brien's hotly anticipated new novel, envisages the lives of the Boko Haram girls in a masterpiece of violence and tenderness.
I was a girl once, but not anymore.
So begins Girl, Edna O'Brien's harrowing portrayal of the young women abducted by Boko Haram. Set in the deep countryside of northeast Nigeria, this is a brutal story of incarceration, horror, and hunger; a hair-raising escape into the manifold terrors of the forest; and a descent into the labyrinthine bureaucracy and hostility awaiting a victim who returns home with a child blighted by enemy blood. From one of the century's greatest living authors, Girl is an unforgettable story of one victim's astonishing survival, and her unflinching faith in the redemption of the human heart.
Praise for Girl:
"Edna O'Brien tells this story with such compassion and understanding that the very disturbing events she relates are uplifting—and unforgettable. An utterly unique achievement." — Ian McKellen
"By an extraordinary act of the imagination we are transported into the inner world of a girl who, after brutal abuse as a slave to Nigerian jihadis, escapes and with dogged persistence begins to rebuild her shattered life. Girl is a courageous book about a courageous spirit." — J. M. Coetzee
About the Author
---
Edna O'Brien is the author of more than twenty-five books, including The Light of Evening. Born in County Clare, Ireland, she now lives in London.