Amelia Unabridged: A Novel (Hardcover)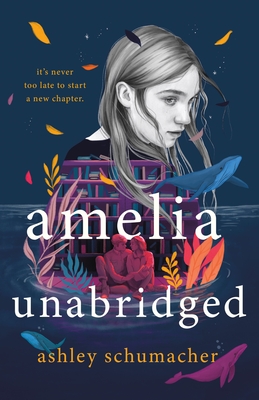 List Price: $19.99
Our Price: $18.99
(Save: $1.00 5%)
Ships from warehouse to store in 1-5 business days
Staff Reviews
---
A beautiful story about grief and how a single week can change the course of your life. After a sudden loss leaves Amelia Griffin feeling untethered, she travels to Michigan in search of answers. What she finds is a socially anxious boy with his own grief, a dog hyped up on caffeine, and more questions than when she started. This tender love letter to books left me with tears in my eyes and a smile on my face.
— Tee
Spring 2021 Kids Indie Next List
---
"Amelia Unabridged is a love letter to bookstores, books, and the people who cherish them. Amelia is a book for the book lover, and I loved every single second I spent within its pages. It explores grief and loss while also reminding us that words and the stories they create are among life's greatest gifts."
— Isabella Ogbolumani, Buffalo Street Books, Ithaca, NY
Description
---
Sparks fly between two teens as they grapple with grief, love, and the future in this unforgettable debut novel sure to entice fans of Jandy Nelson and Jennifer E. Smith

Eighteen-year-old Amelia Griffin is obsessed with the famous Orman Chronicles, written by the young and reclusive prodigy N. E. Endsley. They're the books that brought her and her best friend Jenna together after Amelia's father left and her family imploded. So when Amelia and Jenna get the opportunity to attend a book festival with Endsley in attendance, Amelia is ecstatic. It's the perfect way to start off their last summer before college.

In a heartbeat, everything goes horribly wrong. When Jenna gets a chance to meet the author and Amelia doesn't, the two have a blowout fight like they've never experienced. And before Amelia has a chance to mend things, Jenna is killed in a freak car accident. Grief-stricken, and without her best friend to guide her, Amelia questions everything she had planned for the future.

When a mysterious, rare edition of the Orman Chronicles arrives, Amelia is convinced that it somehow came from Jenna. Tracking the book to an obscure but enchanting bookstore in Michigan, Amelia is shocked to find herself face-to-face with the enigmatic and handsome N. E. Endsley himself, the reason for Amelia's and Jenna's fight and perhaps the clue to what Jenna wanted to tell her all along.

Ashley Schumacher's devastating and beautiful debut, Amelia Unabridged, is about finding hope and strength within yourself, and maybe, just maybe, falling in love while you do it.
About the Author
---
Ashley Schumacher is the author of Amelia Unabridged and Full Flight and has a degree in creative writing from the University of North Texas. When she's not reading or writing, she's either singing Disney songs, finding new and exciting ways to pester her family, or trying to find her inside voice, which has been sadly missing since birth. She lives in a small town north of Dallas with her husband, son, and more books than is strictly necessary.
Praise For…
---
* A Top Ten 2022 Texas Tayshas Reading List Pick *
* An OKLAHOMAN Bestseller *
* A Spring 2021 Indie Next Pick *

BOOK RIOT, "Winter 2021 YA Books for Your TBR"

BUZZFEED, "17 YA Books That Will Make You Shed a Tear Every Time"

GOODREADS, "Most Anticipated YA Titles of 2021"

CULTURESS, "21 YA Book Releases We Can't Wait to Read in 2021"

GOODREADS, "30 New Reads for Very Bookish People"

"Amelia Unabridged by Ashley Schumacher is a devastatingly beautiful examination of grief, hope, and friendship. A gorgeous debut, Schumacher does not hold back her punches emotionally but also takes care to make sure her readers get reprieve from the heaviness of the story, providing the comfort of a library where magical whales fly through the shelves. Amelia Unabridged is an honest and impactful glance into the complexity of tragedy and what follows." - THE YOUNG FOLKS, "Top 5 Debuts of 2020"

"Why Ted Lasso fans will love it: If you love Ted and Rebecca scenes, you'll love this." - BUZZFEED, "19 Books That Ted Lasso Fans Will Adore"

"Heart-wrenching in its raw emotion and sadness, Ashley Schumacher writes a story so captivating it will leave her readers breathless and gasping for air..." - DIXON INDEPENDENT VOICE

"Raw, heartfelt, and beautiful, Amelia Unabridged is a powerful read about grief, love, and finding your truths. Highly recommend for fans of If I Stay, Looking for Alaska, and Bridge to Terabithia." - YA BOOKS CENTRAL

"Do you enjoy a good cry immediately followed by hugging a book close to your chest and taking a deep breath? Then this book is for you!" - BUZZFEED

"Ultimately a story of self-discovery offered up with the sweetness of wish-fulfillment romance, it's a novel sure to please anyone who wants a story of love and reading." - BULLETIN FOR THE CENTER OF CHILDREN'S BOOKS

"Schumacher centers storytelling as a means of expression, connection, and keeping the dead alive in this emotionally immersive debut....Employing expressive prose that communicates the emotion and tumult that can accompany the death of a loved one at any age, Schumacher leaves characters—and readers—with a sense of hope." - PUBLISHERS WEEKLY

"Schumacher's lovely debut will have romantics swooning over blonde-haired, blue-eyed Amelia and black-haired Nolan's love story. These two teens have endured loss and family trauma, but both have found acceptance and family elsewhere, and bring out the best in each other. The novel is also an ode to the love of reading and how books can provide the magic and comfort needed during difficult times. Recommended for all YA collections." - SCHOOL LIBRARY JOURNAL

"A beautiful, quirky, and magical story about broody authors, best friendships, and the imaginary worlds we call home. With lyrical prose and a romance that'll sweep you off your feet, Ashley Schumacher makes you believe in the impossibility of happily ever afters." - ASHLEY POSTON, New York Times bestselling author of The Dead Romantics and Geekerella

"Schumacher wrote a glittering love letter of a debut, aimed at the hearts and souls of book worms everywhere. The layered and complex stories shared by sweet Amelia and revised by the enigmatic Nolan, broke my heart and bound it back together once more, sealed with a perfect kiss." - ERIN HAHN, author of You'd Be Mine and Never Saw You Coming