Scary Stories for Young Foxes (Paperback)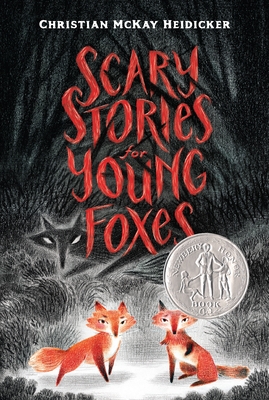 Other Books in Series
This is book number 1 in the Scary Stories for Young Foxes series.
Description
---
A 2020 Newbery Honor Recipient!

Christian McKay Heidicker, author of the Thieves of Weirdwood trilogy, draws inspiration from Bram Stoker, H. P. Lovecraft and Edgar Allan Poe for his debut middle-grade novel, a thrilling portrait of survival and an unforgettable tale of friendship.

"Clever and harrowing." —The Wall Street Journal

"Into the finest tradition of storytelling steps Christian McKay Heidicker with these highly original, bone-chilling, and ultimately heart-warming stories. All that's needed is a blazing campfire and a delicious plate of peaches and centipedes." —Kathi Appelt, Newbery Award honoree and National Book Award finalist

The haunted season has arrived in the Antler Wood. No fox kit is safe.

When Mia and Uly are separated from their litters, they discover a dangerous world full of monsters. In order to find a den to call home, they must venture through field and forest, facing unspeakable things that dwell in the darkness: a zombie who hungers for their flesh, a witch who tries to steal their skins, a ghost who hunts them through the snow . . . and other things too scary to mention.

Featuring eight interconnected stories and sixteen hauntingly beautiful illustrations, Scary Stories for Young Foxes contains the kinds of adventures and thrills you love to listen to beside a campfire in the dark of night. Fans of Neil Gaiman, Jonathan Auxier, and R. L. Stine have found their next favorite book.

A Booklist 2019 Editors' Choice Selection
About the Author
---
Christian McKay Heidicker reads and writes and drinks tea. He is the author of the Newbery Honor-recipient Scary Stories for Young Foxes, as well as Scary Stories for Young Foxes: The City, Cure for the Common Universe and Attack of the 50 Foot Wallflower. With William Shivering, he wrote the Thieves of Weirdwood trilogy. He lives in Salt Lake City, Utah.
Praise For…
---
A Texas Bluebonnet Award Master List Selection

"These tales are not for the faint of heart. And once you start, you cannot stop until you've reached the end....Terrifying and wonderful. A nightmare book you'll want to return to repeatedly." —Betsy Bird, Fuse8 Productions

"A weird, creepy and thoroughly entertaining romp for readers of all ages! Highly recommended!" —Jonathan Maberry, New York Times-bestselling author of Rot & Ruin and Mars One

"Heidicker has written the next Watership Down." —New York Times-bestselling author Jessica Day George

"Gather around this collection of finely written stories that will raise your hackles and tingle your whiskers. But reader, beware. The dangers within this book are very real. Fortunately, so is the bravery of foxes." —Matthew Kirby, Edgar Award-winning author of Icefall and The Clockwork Three

"[F]or a certain type of reader—those lost in a battered copy of Alvin Schwartz's Scary Stories to Tell in the Dark—this is exactly the kind of book they're hunting for... Kids able to brave the harrowing adventures of Mia and Uly are in for a chilling roller coaster of a read." —Booklist, Starred Review

"As each tale grows progressively darker, the kits must question their fearlessness and consider returning to the safety of their mother's side...An entertaining read for those who enjoy spooky animal thrills."—Publishers Weekly

"Dark and skillfully distressing, this is a story for the bold." —Kirkus Reviews

"Heidicker strikes a careful balance of horror and suspense, deploying vivid descriptions of blood and viscera along with key moments of unbearably heightened tension...Fans of Parry's A Wolf Called Wander will find the kits' journey to safety compelling, and readers of horror will most certainly appreciate the thrills and chills offered here." —The Bulletin of the Center for Children's Books
Free Media Mail shipping on U.S. orders over $75
"Ships from warehouse" books to be shipped: order by Wednesday, 12/6
"Ships from warehouse" books for pickup: order by Tuesday, 12/12