The Last Hill: The Epic Story of a Ranger Battalion and the Battle That Defined WWII (Hardcover)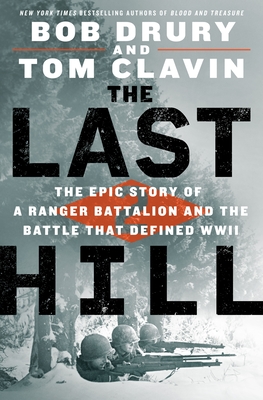 Description
---
Bob Drury and Tom Clavin's The Last Hill is the incredible untold story of one Ranger battalion's heroism and courage in World War II.

They were known as "Rudder's Rangers," the most elite and experienced attack unit in the United States Army. In December 1944, Lt. Col. James Rudder's 2nd Battalion would form the spearhead into Germany, taking the war into Hitler's homeland at last. In the process, Rudder was given two objectives: Take Hill 400 . . . and hold the hill by any means possible. To the last man, if necessary. The battle-hardened battalion had no idea that several Wehrmacht regiments, who greatly outnumbered the Rangers, had been given the exact same orders. The clash of the two determined forces was one of the bloodiest and most costly encounters of World War II.

Castle Hill, the imposing 1320-foot mini-mountain the American Rangers simply called Hill 400, was the gateway to a desperate Nazi Germany. Several entire American divisions had already been repulsed by the last hill's dug-in defenders as—unknown to the Allies—the height was the key to Adolf Hitler's last-minute plans for a massive counterattack to smash through the American lines in what would become known to history as the Battle of the Bulge.

Thus the stalemate surrounding Hill 400 could not continue. For Supreme Allied Commander Gen. Dwight Eisenhower, there was only one solution: Call in Rudder's Rangers. Of the 130 special operators who stormed, captured, and held the hill that December day, only 16 remained to stagger back down its frozen slopes. The Last Hill is replete with unforgettable action and characters—a rich and detailed saga of what the survivors of the 2nd Ranger Battalion would remember as "our longest day."
About the Author
---
BOB DRURY, the recipient of several national journalism awards, is a three-time National Magazine Award finalist as well as a Pulitzer Prize nominee. Drury honed his investigative skills writing for all four New York City newspapers as well as a variety of national publications. His journalism career has arced from sports to crime to adventure travel to foreign correspondence. He is also the author, co-author, or editor of ten non-fiction books, including Blood and Treasure, Valley Forge, and Lucky 666.

TOM CLAVIN is a #1 New York Times bestselling author and has worked as a newspaper editor, magazine writer, TV and radio commentator, and a reporter for The New York Times. He has received awards from the Society of Professional Journalists, Marine Corps Heritage Foundation, and National Newspaper Association. His books include the bestselling Frontier Lawmen trilogy—Wild Bill, Dodge City, and Tombstone—and Blood and Treasure with Bob Drury. He lives in Sag Harbor, NY.
Praise For…
---
"Drury and Clavin are to be commended for resurrecting with delicate poignancy the travails of men of the 2nd Ranger Battalion ... With its muscular prose and expert storytelling, The Last Hill deserves to stand beside Stephen Ambrose's Band of Brothers as one of the truly epic—and intimate—accounts of American heroism and sacrifice in World War II. " —Wall Street Journal

"Journalists Drury and Clavin have turned out a steady stream of well-received military histories … and their latest fits well with their previous titles … war stories remain a persistent genre, and this should satisfy its substantial readership." —Kirkus Reviews on The Last Hill

"In this exhaustive history ... Drury and Clavin pack the narrative with biographical details about the Rangers and skillfully toggle between battle scenes and big-picture analysis. WWII buffs will savor this deep dive." —Publishers Weekly on The Last Hill

"For anyone who loves the adventurous side of American history, "Blood and Treasure" is a gem. It's full of action, thorough and wide. Seek out this treasure and you won't be disappointed." —Terri Schlichenmeyer for the Wyoming Tribune Eagle

"Bob Drury and Tom Clavin, challenge conventional wisdom about an American origin story and, in the process, weave a tale fit for the big screen." —Washington Free Beacon on Blood and Treasure

"Clavin and Drury return with an enlightening biography of Daniel Boone set against the backdrop of 18th-century America's conflicts with England and Native tribes. [They] successfully separate fact from fiction while keeping the pages turning. History buffs will be entertained." —Publishers Weekly on Blood and Treasure

"Bob Drury and Tom Clavin together have given us a half-dozen elegantly written narratives of exhilarating episodes in American history. [Blood and Treasure] may be the authors' finest work to date. Redolent of time and place, a raw and rugged tale." —Wall Street Journal

"Popular historians Drury and Clavin deliver a ripsnortin' tale of the early frontier and its first and most powerful legend. [Blood and Treasure] offers a vivid account of Boone's frontier years, one that may not be for the faint of heart." —Kirkus Reviews
Free Media Mail shipping on U.S. orders over $50
Christmas ordering guidelines
"Ships from warehouse" items to be shipped: Order by Monday, 12/5
"Ships from warehouse" items to be picked-up in store: Order by Monday, 12/12
On hand items: We'll pull items in order of orders received, so keep them coming!