Finlay Donovan Is Killing It: A Novel (The Finlay Donovan Series #1) (Hardcover)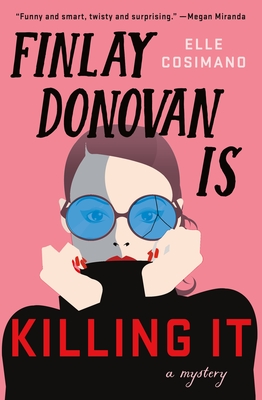 Other Books in Series
This is book number 1 in the The Finlay Donovan Series series.
Staff Reviews
---
When a murder mystery romance author is overheard talking about her newest novel and offered $50,000 to kill someone's husband, she's not going to take it. Absolutely not.
She's just going to go check him out & see if she can figure out why his wife wants him dead. One thing leads to another & she quickly finds herself with a dead body in the back of her minivan!
Now, not only does she have to figure out how to get rid of the body without getting caught but, she also has to dodge the latest client trying to hire her to kill her mob-boss husband.
All while juggling a nosy neighbor, a custody battle, a hot law student bartender, and the very attractive (and very single) cop investigating the case.
Finlay Donovan is most definitely not killing it.
— tee
Description
---
"Getting the job done" for one single mom takes on a whole new meaning in Finlay Donovan is Killing It.

One of Suspense Magazine's "Best Thrillers of 2021"
One of New York Public Library's Best Books of 2021
Nominated for the Left Coast Crime 2022 Lefty Award for the Best Humorous Mystery

"Funny and smart, twisty and surprising."—Megan Miranda

Finlay Donovan is killing it . . . except, she's really not. She's a stressed-out single-mom of two and struggling novelist, Finlay's life is in chaos: the new book she promised her literary agent isn't written, her ex-husband fired the nanny without telling her, and this morning she had to send her four-year-old to school with hair duct-taped to her head after an incident with scissors.

When Finlay is overheard discussing the plot of her new suspense novel with her agent over lunch, she's mistaken for a contract killer, and inadvertently accepts an offer to dispose of a problem husband in order to make ends meet . . . Soon, Finlay discovers that crime in real life is a lot more difficult than its fictional counterpart, as she becomes tangled in a real-life murder investigation.

Fast-paced, deliciously witty, and wholeheartedly authentic in depicting the frustrations and triumphs of motherhood in all its messiness, hilarity, and heartfelt moment, Finlay Donovan Is Killing It is the first in a brilliant new series from YA Edgar Award nominee Elle Cosimano.
About the Author
---
ELLE COSIMANO is a USA Today bestselling author, an International Thriller Award winner, and an Edgar Award nominee. Elle's debut novel for adults, Finlay Donovan Is Killing It, kicked off a witty, fast-paced contemporary mystery series, which was a People magazine pick and was named one of New York Public Library's Best Books of 2021. In addition to writing novels for teens and adults, her essays have appeared in HuffPost and Time. Cosimano lives with her husband and two sons in Virginia.
Praise For…
---
An American Booksellers Association Bestseller!

One of Suspense Magazine's "Best Thrillers of 2021"
One of New York Public Library's Best Books of 2021
Nominated for the Left Coast Crime 2022 Lefty Award for the Best Humorous Mystery

One of "26 Murder Mystery Books You Won't Be Able to Put Down"—Country Living
One of "The Most Anticipated Books of Winter 2021" —Parade
One of "The Most Anticipated Debuts of 2021" —Bustle
One of "The Most Anticipated Mysteries and Thrillers of 2021" —Goodreads
One of "The Most Anticipated Crime Books of 2021" —Crimereads
One of "The Highly Recommended Books of 2021" —Brit + Co
One of "The Best Books to Read in 2021" —Betches
One of "The Must-Read Mysteries and Thrillers of 2021" —Frolic
One of "The 18 Best Beach Reads of Summer 2021" —PureWow
One of "Our Picks for the Best Mysteries and Thrillers of 2021"—Bookbub
A "Favorite Suspenseful Beach Read"—SheReads
One of "15 Best Murder Mystery Books that are Total Page Turners"—Redbook

"A twisty delight."—PEOPLE

"[Cosimano's] main character is so endearing it's easy to surrender..."—New York Times Book Review

"If you love thrillers, but wish the genre would lighten up a little then you absolutely must read Finlay Donovan Is Killing It."—PopSugar

"Fast-paced, fresh, full of humor, and original."—Jill Orr in St. Louis Magazine

"Part comedy of errors, part genuine thriller… Deftly balancing genre conventions with sly, tongue-in-cheek comments on motherhood and femininity, Cosimano crafts a deliciously twisted tale."—Booklist

"Suspenseful, funny.... More, please."—Kirkus Reviews

"Amusing… pleasingly absurd... [a] romp from a skilled comic writer."—Publishers Weekly

"[A] fun adult debut… readers will enjoy this breezy romp."—Library Journal

"Part screwball comedy, part morality tale, the amusing Finlay Donovan Is Killing It is also a tale about parenting, bad divorces, reinventing oneself, rising above misery and, well, becoming a hit woman. It's a solid, thoughtful and funny yet poignant mystery that never once becomes a one-note story."—South Florida Sun Sentinel

"Smart-alecky and shrewd, tense and twisty, Finlay Donovan Is Killing It portends serial success for Cosimano and additional adventures for Finlay.."—Fredericksburg Free-Lance Star

"Read in a single night, applauding along the way. For anyone who's ever wished to turn her life around, Finlay Donovan is the master. From failing everything, to succeeding brilliantly, she proves you only need to get mistaken once for a contract killer, to solve all your problems."—Lisa Gardner, #1 New York Times bestselling author of When You See Me

"Funny and smart, twisty and surprising—Finlay Donovan is a character to root for. This suspenseful romp made me laugh but also kept me on the edge of my seat with its many surprises. I can't wait for the next book!"—Megan Miranda, New York Times bestselling author of The Last House Guest

"Clever, perfectly plotted, and laugh out loud funny, Finlay Donovan is Killing It is one of those books that will make you smile long after you've turned the last page. This series is pitch-perfect and will be devoured by fans of Janet Evanovich. Elle Cosimano hits it way, way, way out of the park!"—Wendy Walker, bestselling author of The Night Before and Emma in the Night

"Fresh, fast-paced, and darkly fun with a deeply flawed but compulsively likeable heroine, Finlay Donovan Is Killing It is a madcap thriller that will keep you flipping pages long past your bedtime!"—Katherine St. John, author of The Lion's Den
Free Media Mail shipping on U.S. orders over $50