Robert E. Lee and Me: A Southerner's Reckoning with the Myth of the Lost Cause (Hardcover)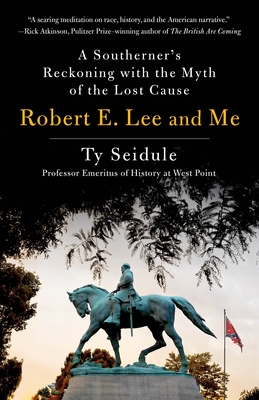 $27.99

Ships from warehouse to store in 3-5 business days
Staff Reviews
---
Like the author of this book, I was raised in a Southern family. I grew up on the fabled "Lost Cause" myth of the Confederacy. I'm not stupid, I knew that the Civil War was about slavery, an evil that cannot be condemned enough. But, I believed that honorable men like Robert E. Lee fought for their principles.
Robert E. Lee and Me by Ty Seidule (St. Matin's Press) has given me much food for thought. Seidule talks about his own upbringing, even more intense than my own. He explores the history of the "Lost Cause" myth through the monuments built to honor Robert E. Lee, from Washington and Lee University (his alma mater) to the United States Military Academy (where he taught history). Although overzealous as any convert might be at times, he makes some salient points that need to be considered. 
Lee swore an oath to protect and defend the Constitution of the United States, then turned his back on that oath. Many other Southerners did not. Lee chose to stand with the Confederacy over "States rights" (a phrase still heard to this day in defense of the rebellion) even though the right most prominent was the right to own slaves. He fought against, and killed, citizens of the United States. He, and the Confederacy, were wrong. I'm not saying Seidule's book has given me an epiphanous moment, but it has caused me to re-evaluate a lot of what I believed about the subject. No matter which side of the debate you take, this book will give you plenty to think about.
— Bill
Description
---
"Ty Seidule scorches us with the truth and rivets us with his fierce sense of moral urgency." --Ron Chernow

In a forceful but humane narrative, former soldier and head of the West Point history department Ty Seidule's Robert E. Lee and Me challenges the myths and lies of the Confederate legacy—and explores why some of this country's oldest wounds have never healed.

Ty Seidule grew up revering Robert E. Lee. From his southern childhood to his service in the U.S. Army, every part of his life reinforced the Lost Cause myth: that Lee was the greatest man who ever lived, and that the Confederates were underdogs who lost the Civil War with honor. Now, as a retired brigadier general and Professor Emeritus of History at West Point, his view has radically changed. From a soldier, a scholar, and a southerner, Ty Seidule believes that American history demands a reckoning.

In a unique blend of history and reflection, Seidule deconstructs the truth about the Confederacy—that its undisputed primary goal was the subjugation and enslavement of Black Americans—and directly challenges the idea of honoring those who labored to preserve that system and committed treason in their failed attempt to achieve it. Through the arc of Seidule's own life, as well as the culture that formed him, he seeks a path to understanding why the facts of the Civil War have remained buried beneath layers of myth and even outright lies—and how they embody a cultural gulf that separates millions of Americans to this day.

Part history lecture, part meditation on the Civil War and its fallout, and part memoir, Robert E. Lee and Me challenges the deeply-held legends and myths of the Confederacy—and provides a surprising interpretation of essential truths that our country still has a difficult time articulating and accepting.
About the Author
---
Brigadier General TY SEIDULE, U.S. Army (Retired), is the Chamberlain Fellow at Hamilton College and Professor Emeritus of History at the United States Military Academy at West Point. He served in the U.S. Army for more than 35 years, including two decades in the Department of History at West Point. He serves as Vice Chair for the Naming Commission to rename Department of Defense assets that honor Confederates.
Praise For…
---
NPR's "Books We Love" Staff Pick, 2021
One of Washington Independent Review of Books' "Favorite Books of 2021"

"With the vigor of a prosecutor, Seidule dismantles the near-sacred beliefs among many Southerners that the Civil War was a noble cause to preserve a way of life that benefitted everyone…an extraordinary and courageous book, a confessional of America's great sins of slavery and racial oppression, a call to confront our wrongs, reject our mythologized racist past and resolve to create a just future for all." –Associated Press

"A powerful and introspective look into white Americans' continuing romance with the Confederacy, and the lasting damage that has done." --New York Times Book Review

"Seidule has written a vital account of the destructiveness of the Lost Cause ideology throughout American history. Perhaps the best attribute of this fine book is the author's honesty. It's difficult to imagine a more timely book than "Robert E. Lee and Me." At this pivotal moment, when we are debating some of the most painful aspects of our history, Seidule's unsparing assessment of the Lost Cause provides an indispensable contribution to the discussion." –The Washington Post

"In this fine book Ty Seidule scorches us with the truth and rivets us with his fierce sense of moral urgency. I can't think of a better book to enrich and invigorate our national discussion about race and memory and the troubled legacy of Robert E. Lee and the Confederacy." --Ron Chernow, bestselling author of Hamilton

"Retired Brig. Gen. Ty Seidule's gripping Robert E. Lee and Me is required reading for those wanting to participate in the conversation concerning Confederate memorialization, the "Lost Cause," or the troubled history of race in America." –Army Magazine

"Robert E. Lee and Me is a cri de coeur, one man's journey to humanity and his salvation from the pernicious lies of white supremacy. Few others could write this book with such sterling credibility. Only a man of the South, a Virginian, and a soldier with a Ph.D. in history could so persuasively mount the case against a national hero, and label him a traitor." –Washington Independent Review of Books

"Ty Seidule brilliantly and brutally deconstructs [the Lost Cause myth]…an extraordinary book that, by chronicling our darkest American moments, offers hope that we might one day see greater light." –Los Angeles Review of Books

"A carefully considered and compulsively readable account of the Lost Cause's rise and resilience." --Civil War Monitor

"Seidule openly confronts his own indifference to racism, and this absorbing book will be of value to anyone interested in how history informs our present." —Library Journal (starred review)

"Ruminative and carefully researched....a valiant and well supported effort to bring essential facts to light. This heartfelt history has a worthy message." –Publishers Weekly

"Seidule doesn't just knock his boyhood idol off the pedestal. He issues an uncompromising, searing, full-throated indictment of Robert E. Lee as a historically misrepresented figure and denounces the many institutions that have given currency to the 'Lost Cause' mythology through the years." —Christian Science Monitor

"A beautiful, often searing meditation on race, history, and the American narrative. Evocative and provocative, Robert E. Lee and Me is honest, wry, and utterly engaging." —Rick Atkinson, Pulitzer Prize-winning author of The British are Coming

"This book is a must read. With courage, grace, and humility, Seidule invites us to reexamine our past and challenges us by asking: 'as a nation, how can we know where are going if we don't know where we have been?' This book speaks truth to power and truth in love. Written by a true patriot who clearly loves his country and wants the best for her, Robert E. Lee and Me leads us to a better place as a nation and reminds us all of our founding motto E Pluribus Unum - out of many, one." —Mitch Landrieu, bestselling author of In The Shadow of Statues: A White Southerner Confronts History

"In this profoundly moving memoir distinguished by moral courage and intellectual integrity, Ty Seidule chronicles his agonizing journey of discovery…Everyone interested in the Civil War and its continuing importance in American culture should read this unflinchingly honest book." —Professor James M. McPherson, Pulitzer Prize-winning author of Battle Cry of Freedom

"General Ty Seidule has written a book for our times, one every American should read. By seamlessly weaving his impressive, and fascinating, autobiographical story into a superb rendering of the pernicious myths surrounding Robert E. Lee and the Lost Cause of the Confederacy, he has opened a window into one of the darker elements of our present-day culture, and one that helps explain what has happened in our recent political life as well...a tour de force." —Charles B. Dew, Ephraim Williams Professor of American History at Williams College

"Searingly passionate, mercilessly honest, Robert E. Lee and Me is one of the most deeply felt books you are likely to encounter. Not only is it a soldier's assessment of a military legend, it is an American's report on the state of the Union...a must read for anyone who has ever thought about the meaning of duty, honor, country." —Randy Roberts, Pulitzer Prize-nominated author of Blood Brothers

"A timely, powerful, compelling – and courageous – book. In Robert E. Lee and Me, Brigadier General Ty Seidule takes readers on a fascinating intellectual journey...This is a book of enormous importance and tremendous insight, a book that only a true southerner – and a true historian – could have written." --General David Petraeus, US Army (Ret.), former Commander of Coalition Forces in Iraq and in Afghanistan and former Director of the CIA

"A son of the South, a professional soldier, and an accomplished historian, Ty Seidule has written a book that is as timely as it is profound. Nominally centered on dismantling the myths surrounding the Confederacy's most famous field commander, Robert E. Lee and Me does much more, offering a searingly honest reflection on slavery, race, and the imperative of honesty in addressing America's past." --Professor Andrew Bacevich, bestselling author of The Limits of Power: The End of American Exceptionalism

"Soldier and historian Ty Seidule's memoir courageously counters the myths, half-truths, and outright falsehoods about the Confederacy that our institutions perpetuate to this day. It proves both essential and riveting reading." —John H. Morrow, Jr., Pritzker Prize-winning author and Franklin Professor of History, University of Georgia

"Ty Seidule has written an extraordinary tale of a great change, but unlike most, his is one of intellectual, cultural, and moral transformation....a powerful story of a southern man who confronted the myths of his youth and concluded that there is no room in the United States Army or American society for Lost Cause mythology." —Joseph Glatthaar, author of General Lee's Army and Stephenson Distinguished Professor of History at University of North Carolina-Chapel Hill