The Thousand Eyes (The Serpent Gates #2) (Hardcover)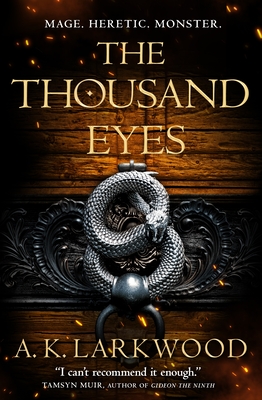 $28.99
Coming soon - PRE-ORDER NOW!
Other Books in Series
This is book number 2 in the The Serpent Gates series.
Description
---
The sequel to A. K. Larkwood's stunning debut fantasy, The Unspoken Name,The Thousand Eyes continues The Serpent Gates series--perfect for fans of Jenn Lyons, Joe Abercrombie, and Ursula K. Le Guin.

Two years ago, Csorwe and Shuthmili defied the wizard Belthandros Sethennai and stole his gauntlets. The gauntlets have made Shuthmili extraordinarily powerful, but they're beginning to take a sinister toll on her. She and Csorwe travel to a distant world to discover how to use the gauntlets safely, but when an old enemy arrives on the scene, Shuthmili finds herself torn between clinging to her humanity and embracing eldritch power.

Meanwhile, Tal Charossa returns to Tlaanthothe to find that Sethennai has gone missing. As well as being a wizard of unimaginable power, Sethennai is Tal's old boss and former lover, and Tal wants nothing to do with him. When a magical catastrophe befalls the city, Tal tries to run rather than face his past, but soon learns that something even worse may lurk in the future. Throughout the worlds of the Echo Maze, fragments of an undead goddess begin to awaken, and not all confrontations can be put off forever...
About the Author
---
A.K. LARKWOOD studied English at St John's College, Cambridge, and now lives in Oxford with her wife and a cat. The Unspoken Name is her debut novel.
Praise For…
---
Praise for The Unspoken Name:

"The Unspoken Name is great fun—fantasy with an epic sweep in a gorgeously drawn universe."—Ann Leckie, New York Times bestselling and Hugo award-winning author of Ancillary Justice

"Astounding... written with skill and stunning assurance. The worlds this story spans are as exotic and dangerous as the characters who traverse them. From its flawless first page to its bittersweet last, The Unspoken Name is unlike anything I've read before." —Nicholas Eames, author of Kings of the Wyld

"What a glorious book! Richly detailed, enthralling, and extraordinary, with brilliant nods to such luminaries as Ursula K. Le Guin and Diana Wynne Jones. A.K. Larkwood's book hooked me in from the first page and never let go. Fabulous, in every meaning of the word." —Jenn Lyons, author of Ruin of Kings

"A.K. Larkwood's The Unspoken Name is an epic fantasy in the vein of Le Guin's magnificent Tombs of Atuan — if Arha the Eaten One got to grow up to be a swordswoman mercenary in thrall to her dubious wizard mentor. The action is fast-paced and emotionally compelling; the magic is dangerous, beautiful, and utterly compromising. I love this book so much." —Arkady Martine, author of A Memory Called Empire

"An unexpected and new take on classic orcs 'n' swords fantasy. Stylish, classy, and timeless - but with racing stripes and an inbuilt camera. I cannot recommend it enough." —Tamsyn Muir, author of Gideon the Ninth

"Takes all the tropes of fantasy--orcs and epic quests, dead gods and undead souls, daring rescues and last-second escapes--and spins them into something wild and new. A dizzy, delicious debut."--Alix E. Harrow, Nebula and Hugo finalist and author of The Ten Thousand Doors of January

"Quick-paced, occasionally brutal, and genuinely funny, Larkwood's debut novel turns standard fantasy tropes on their head with grace and humour. Csorwe might have the tusks of an orc, but she is human to her core. Readers will be rooting for her to receive the happy ending that she obviously deserves."—Kerstin Hall, author of The Border Keeper

"The Unspoken Name has everything - spine-tingling prose, gorgeous worldbuilding, powerful older women, found family (but it's terrible), and true love. It's fantastic. I read it in one sitting." —Emily Tesh, author of Silver in the Wood

"Larkwood's debut is a fresh, fun take on the genre, packed with smart prose, badass characters, and fantastic worldbuilding. A necessary addition for any fantasy lover's collection." -- Tara Sim, author of Scavenge the Stars

"A truly wonderful book...grabbed my attention on the first page and wouldn't let go. Fresh, exciting and new, with fascinating characters, shifting alliances, impossible odds, breathtaking settings, and shocking twists." -- Dyrk Ashton, author of Paternus

"A breathtaking journey. It's epic fantasy with both creeping, omnipresent horrors and yet a tenacious, delicate warmth." —K. A. Doore, author of The Perfect Assassin