Network Effect: A Murderbot Novel (The Murderbot Diaries #5) (Hardcover)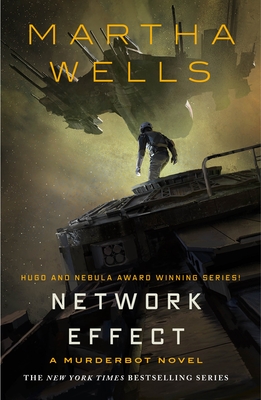 $26.99

Ships from warehouse to store in 3-6 business days
Other Books in Series
This is book number 5 in the The Murderbot Diaries series.
Staff Reviews
---
Yet again, Murderbot must use its superior skillset to rescue a bunch of humans who keep putting themselves in danger. When an old friend needs help, Murderbot yet again must step up and save the day (but not without a lot of curse words and a few temporary shutdowns). Network Effect gathers everything beloved from the Murderbot novellas — action, ART, emotion avoidance, snark, spaceships — and gave us even more. If you already love Murderbot, this is everything you could ask for. If you've never read Murderbot before, GO READ THE FOUR NOVELLAS! Then come back. You'll thank me. 
— Amber
May 2020 Indie Next List
---
"Martha Wells' Murderbot Diaries has become one of my favorite series of all time, and Network Effect is a perfect addition. Murderbot is still trying to figure out what it wants after hacking its governor module. In the meantime, it spends its days protecting the humans it cares about. Of course, everything goes terribly wrong when a friend shows up to kidnap Murderbot and its humans are along for the ride. Network Effect isn't just fun and action-packed, it's also emotional and thought-provoking. I love Murderbot!"
— Sophie Giroir, Cavalier House Books, Denham Springs, LA
Description
---
WINNER of the 2021 Hugo, Nebula and Locus Awards!

The first full-length novel in Martha Wells' New York Times and USA Today bestselling Murderbot Diaries series.

An Amazon's Best of the Year So Far Pick

Named a Best of 2020 Pick for NPR | Book Riot | Polygon

"I caught myself rereading my favorite parts... and I can't recommend it enough." — New York Times


You know that feeling when you're at work, and you've had enough of people, and then the boss walks in with yet another job that needs to be done right this second or the world will end, but all you want to do is go home and binge your favorite shows? And you're a sentient murder machine programmed for destruction? Congratulations, you're Murderbot.

Come for the pew-pew space battles, stay for the most relatable A.I. you'll read this century.

—

I'm usually alone in my head, and that's where 90 plus percent of my problems are.

When Murderbot's human associates (not friends, never friends) are captured and another not-friend from its past requires urgent assistance, Murderbot must choose between inertia and drastic action.

Drastic action it is, then.
About the Author
---
MARTHA WELLS has written many fantasy novels, including The Wizard Hunters, Wheel of the Infinite, the Books of the Raksura series (beginning with The Cloud Roads and ending with The Harbors of the Sun), and the Nebula-nominated The Death of the Necromancer, as well as YA fantasy novels, short stories, and nonfiction. Her New York Times and USA Today-bestselling Murderbot Diaries series has won the Hugo, Nebula, Locus, and Alex Awards.
Praise For…
---
A 2021 Nebula Award Winner!

Shortlisted for the 2022 Seiun Award!

Named a Best of 2020 Pick for NPR | Book Riot | Polygon

"If the first books were episodes in a four-part TV miniseries, then Network Effect is the feature-length movie with the bigger budget and scope... Murderbot and the world it inhabits constantly leave you wanting more, in the best possible way. Network Effect is a wonderful continuation of the series, and I highly recommend it." —NPR

"I might have a little bit of a thing for a robot. Its name is Murderbot... Network Effect [is] great."—Wired

"A glorious thought-provoking Murderbot tale...As we may be stuck in social isolation for the foreseeable future, I can think of no better company than this paranoid android." —The New Scientist

"This is a terrific space opera, a classic space adventure but with a very modern sensibility… Murderbot, with its on-point observations and addictive interior monologues, is easily one of my favorite characters in SF...
I found I had to stop myself from rereading the whole book right on the spot… Highly recommended." —Charles de Lint for Fantasy & Science Fiction

"A welcome expansion of this universe and lays the groundwork for more stories to come in a series that continues to grow and impress." —Booklist, starred review

"SecUnit's gloriously candid, frequently confused assessments of its crew and their predicaments allow for an amusingly childlike perspective on what it means to be human... Series fans and anyone who enjoys humor-infused space operas won't want to miss this." —Publishers Weekly starred review

"This is a perfectly paced space opera adventure novel... I could read about Murderbot all week." —Locus

"It's pretty much the perfect follow-up to the series, and manages to be surprising all the way to the final page... I was floored by Network Effect, and if you're into Murderbot in any way, I think you will be too." —Aurealis

"Martha Wells' Network Effect is phenomenal and likely surpasses the high expectations set by the novellas... I haven't met a human who didn't enjoy these books." —The Quill to Live

"Network Effect is the perfect fare for any seeking the perfect weekend binge read or escapist vacation." —BookPage

"If you're looking for a mystery that perfectly tempers grisly scenes with lighthearted humor, this is the series you need to read." —Bustle

"Wells continues to find sensitive and effective directions for Murderbot's character growth. This whole series is fantastic, and this novel is no exception. If anyone had any doubts about Murderbot's ability to carry a full length novel, this should put them to rest." —SFRevu

"Anyone who enjoys humor-infused space operas won't want to miss this."—Publishers Weekly Starred Review

"Wells' first four Murderbot novellas were sensations, and the first full-length book in the series is a funny, entertaining follow-up." —Medium

"Another great entry into a series that probably needs very little introduction. Murderbot is a top bot, a great pal, and I'm glad that they're looking to stick around for more adventures to come." —Nerds of a Feather

"Murderbot will make you laugh and punch you in the feels a fair few times ... I will always look forward to more Murderbot adventures." —The Nerd Daily

"Readers will love journeying with Murderbot again in a bigger and wilder adventure guaranteed to leave you craving more. Needless to say, I'm already burning to get my hands on the next one." —The Bibliosanctum

"Wildly original and endearing, Network Effect is a complex work of genius that expands upon a fascinating scientific landscape in a conversational, sardonic tone." —Paperback Paris

"Unpredictable, hold-your-heart beautiful, heartbreaking and, all in all, my new favourite sci-fi book." —Orbiting Pluto


Praise for The Murderbot Diaries

"The Murderbot series is a heart-pounding thriller that never lets up, but it's also one of the most humane portraits of a nonhuman I've ever read. Come for the gunfights on other planets, but stay for the finely drawn portrait of a deadly robot whose smartass goodness will give you hope for the future of humanity." —Annalee Newitz

"I love Murderbot!"—Ann Leckie

"We are all a little bit Murderbot."—NPR

"Wells gives depth to a rousing but basically familiar action plot by turning it into the vehicle by which SecUnit engages with its own rigorously denied humanity." —Publishers Weekly starred review

"I already can't wait for the next one." —The Verge

"A great kick-off for a continuing series." —Locus
Free Media Mail shipping on U.S. orders over $50
Christmas ordering guidelines
"Ships from warehouse" items to be shipped: Order by Monday, 12/5
"Ships from warehouse" items to be picked-up in store: Order by Monday, 12/12
On hand items: We'll pull items in order of orders received, so keep them coming!