We Wait for the Sun (Hardcover)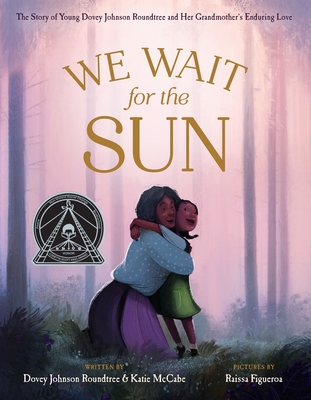 Description
---
A beautiful and uplifting non-fiction picture book from Katie McCabe and trailblazing civil rights lawyer and activist Dovey Johnson Roundtree, We Wait for the Sun.

In the hour before dawn, Dovey Mae and Grandma Rachel step into the cool, damp night on a secret mission: to find the sweetest, ripest blackberries that grow deep in the woods.

But the nighttime holds a thousand sounds—and a thousand shadows—and Dovey Mae is frightened of the dark. But with the fierce and fearless Grandma Rachel at her side, the woods turn magical, and berry picking becomes an enchanting adventure that ends with the beauty and power of the sunrise.

A cherished memory from Dovey Johnson Roundtree's childhood, this magical experience speaks to the joy that pulsed through her life, even under the shadow of Jim Crow. With Grandma Rachel's lessons as her guiding light, Dovey Mae would go on to become a trailblazer of the civil rights movement—fighting for justice and equality in the military, the courtroom, and the church. With warm, vibrant illustrations from Raissa Figueroa, We Wait for the Sun is a resonant, beautiful story told through one exquisite page turn after another.

A Chicago Public Library Best of the Best Book of 2021
Evanston Public Library 101 Great Books for Kids List of 2021
About the Author
---
KATIE McCABE is the co-author, with Dovey Johnson Roundtree, of Roundtree's biography Mighty Justice, winner of the Association of Black Women Historians' Letitia Woods Brown Award. Her National Magazine Award-winning article on Black medical legend Vivien Thomas was the basis for the Emmy-winning HBO film Something the Lord Made.

Raissa Figueroa is a children's book illustrator and overall art lover based out of San Diego, California. She loves taking in the early morning light while out on walks with her dog, Ghost, and letting her mind meander off to fantastical new places. Her other titles include Sophie and the Little Star, We Wait for the Sun, Oona and The More the Merrier.
Praise For…
---
"[A]n ode to ancestral Black courage and joy."—Shelf Awareness

"With nighttime scenes bathed in deep purples and a final scene of daybreak in golden hues, this touching tale successfully conveys special moments of hushed expectation and quiet exhilaration between a child and her strong, loving adult. Makes magic out of a true moment, as the best picture books do." —Kirkus Reviews, starred Review

"This is a poignant glimpse into the childhood of a storied civil rights luminary, simultaneously serving as a testament to the love between caretaker and child and a soothing, nature-based meditation." —Publishers Weekly, starred review

"Absolutely captivating; a first purchase for picture book collections. This peek into the childhood of a groundbreaking civil rights activist is an excellent choice for Black History Month, Women's History Month, Grandparents Day, or any time of the year." —School Library Journal, starred review

"Recalling a memorable moment of natural beauty, the tale is told simply and directly, underscoring the authenticity of the narrative and the warmth of the main characters' mutual affection. In the engaging, lyrical illustrations, Figueroa makes good use of deep, soft, subtle colors in the night scenes and startlingly bright hues at dawn. [A] beautiful picture book. —Booklist, starred review

"[I]nfused with the warm satisfaction many children experience (or wish they could experience) in the company of a favorite relative, for whose attention and affection they—at least temporarily—don't need to compete. —The Bulletin of the Center for Children's Books (BCCB)

"Figueroa's stunning illustrations, many of which depict a view from above the woodland scenes, illuminate the landscape, the diligent work of the women, and the lessons Dovey learns from her loving grandmother, which feed her tenacity and determination as an adult. Inspiring and exquisitely illustrated, this well-researched true story will spark conversations that prompt young readers to learn more about Roundtree." —Horn Book
Free Media Mail shipping on U.S. orders over $50
Christmas ordering guidelines
Ships from warehouse items to be shipped: Order by Monday, 12/5
Ships from warehouse items to be picked-up in store: Order by Monday, 12/16
On hand items: We'll pull items in order of orders received, so keep them coming!