Cleaning Sucks: An Unf*ck Your Habitat Guided Journal for Less Mess, Less Stress, and a Home You Don't Hate (Paperback)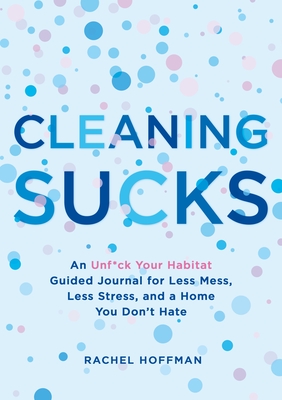 Staff Reviews
---
I suck at cleaning. I get too busy, or bored, or overwhelmed, or [insert excuse here]. That's why I loved this book — the prompts and challenges helped me work through some of my hangups, plus provided the motivation and accountability I need to actually get things done. There are also super helpful checklists to keep you on track for tasks that are infrequent, and a room-by-room guide. Hoffman even addresses chronic illness, and how to cope on difficult days. If you're looking for Marie Kondo-level help, this is not it. But if you could use some adjustments day-to-day, for whatever reason, this is truly a great start. 
— Amber
Description
---
Let go of perfect and embrace good enough!

Looking to change your messy ways? This full-color guided journal will help you explore your relationship with cleaning: why you hate it, what stands in your way, and how to make small changes that lead to big results down the road. Forget about those unattainable #goals in glossy magazines and TV makeover shows. Everyone deserves a space they love, and that means something different for everyone. So when you need a little extra motivation, Cleaning Sucks provides the tips, tricks, quotes, and gentle kicks in the pants you need to get off your butt and get cleaning up.

· Answer prompts and complete challenges and checklists to make big changes from small habits
· Find motivation through hilarious and kickass quotes to inspire the hell out of you
· Banish your inner critic, and bask in the glow of every accomplishment, no matter how small
About the Author
---
Rachel Hoffman launched Unf*ck Your Habitat in 2011 to motivate regular people to get up, start cleaning, and get their lives in order. Her advice has appeared in publications and websites such as Glamour, Elle, Real Simple, NBC News, Apartment Therapy, Livestrong, House Beautiful, The Times (London), Quick and Dirty Tips, Ravishly, and Lifehacker. She lives in New England with her husband and two Chihuahuas.
Praise For…
---
Praise for Unf*ck Your Habitat

"Unfuck Your Habitat is the perfect housekeeping guide for somebody who is overwhelmed with their mess and can't figure out how to start—or somebody who is always starting marathon cleaning projects only to watch everything go to hell again." –Lifehacker

"Hoffman's approach to tidying up is blunt, utilitarian, and […] the epitome of a moderation diet: Do what you can, when you can, and stop beating yourself up about it." –Elle

"With Unf*ck Your Habitat, Rachel Hoffman bursts into the genre like a cursing, #realtalk-spewing big sister determined to help us get our acts together." –L.A. Review of Books