The Seagull: A Vera Stanhope Mystery (Paperback)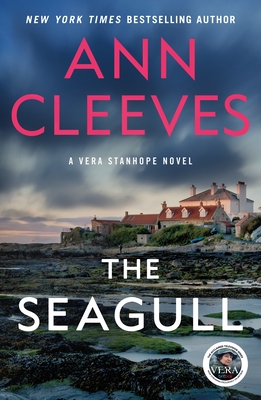 $17.99

Ships from warehouse to store in 3-6 business days
Other Books in Series
This is book number 8 in the Vera Stanhope series.
Description
---
From Ann Cleeves—New York Times bestselling and award-winning author of the Vera and Shetland series, both of which are hit TV shows—comes The Seagull.

"I loved The Seagull — quite simply it reminds me why Ann Cleeves is one of my favorite mystery writers! -Louise Penny

A visit to her local prison brings DI Vera Stanhope face to face with an old enemy: former detective superintendent, and now inmate, John Brace. Brace was convicted of corruption and involvement in the death of a gamekeeper – and Vera played a key part in his downfall.

Now, Brace promises Vera information about the disappearance of Robbie Marshall, a notorious wheeler-dealer who disappeared in the mid-nineties, if she will look out for his daughter and grandchildren. He tells her that Marshall is dead, and that his body is buried close to St Mary's Island in Whitley Bay. However, when a search team investigates, officers find not one skeleton, but two.

This cold case case takes Vera back in time, and very close to home, as Brace and Marshall, along with a mysterious stranger known only as 'the Prof', were close friends of Hector, her father. Together, they were the 'Gang of Four', regulars at a glamorous nightclub called The Seagull. Hector had been one of the last people to see Marshall alive. As the past begins to collide dangerously with the present, Vera confronts her prejudices and unwanted memories to dig out the truth . . .

The Seagull is a searing novel by Sunday Times bestselling author Ann Cleeves, about corruption deep in the heart of a community, and fragile, and fracturing, family relationships.

"Definitely one of the best crime novels of 2017."—Reviewing the Evidence

About the Author
---
ANN CLEEVES is the multi-million copy bestselling author behind three hit television series—Shetland, starring Douglas Henshall, Vera, starring Academy Award Nominee Brenda Blethyn, and The Long Call, starring Ben Aldridge—all of which are watched and loved in the United States. All three are available on BritBox.

The first Shetland novel, Raven Black, won the Crime Writers' Association Gold Dagger for best crime novel, and Ann was awarded the CWA Diamond Dagger in 2017. She was awarded the OBE in 2022 for services to reading and libraries. Ann lives in the United Kingdom.
Praise For…
---
Praise for The Seagull:

"Engrossing...This nuanced, adroitly paced tale should satisfy both series fans and new readers."—Publishers Weekly

"Cleeves [has an] unmistakable talent for combining deft plotting, a moody atmosphere and totally believable dialogue...a sure-fire formula for literary success. The eighth in a series that has already won the hearts of countless readers and a television audience to boot, The Seagull only adds to the lustre of this accomplished writer."—Reviewing the Evidence

"Stanhope will become the barmy-but-brilliant auntie we all wish we had."—Booklist

"Readers will enjoy Vera's relentless quest for the truth in this astutely observed, atmospheric crime novel."—Express

Praise for the Vera Stanhope series:

"Fans of the Vera Stanhope novels already available in the U.S., as well as the TV series Vera, will welcome Cleeves's intricate series opener. The Columbo-esque Vera, who hides a fierce intelligence and razor sharp instincts under garish clothing, uses every tool at her disposal to solve the crime."—Publishers Weekly on The Crow Trap

This first installment in Cleeves' Vera Stanhope series, now published in the U.S. for the first time, offers abundant evidence why the police-detective heroine, physically unattractive but extremely clever, and her meticulously plotted adventures (The Moth Catcher, 2016, etc.) have made such a splash in bookstores and in the TV series Vera."—Kirkus Reviews on The Crow Trap

"It would be foolish to discount Vera because she doesn't dress smartly--she can outfox even the wiliest of criminals, while wearing whatever she pleases, and readers will delight in getting the chance to see how such a quirky character evolved."—Library Journal on The Crow Trap

"Winning. It is Stanhope herself—a homely, overweight spinster with blotchy skin, a fondness for alcohol, and a toxic personality—who, using intuition and subtle intimidation, brings all the disorganization to an illogical but satisfying conclusion."—Publishers Weekly on Silent Voices

"Readers devoted to Cleeves' tales of Jimmy Perez (Blue Lightning, 2010, etc.) will want to give Vera a try."—Kirkus Reviews on Silent Voices

"Cleeves expertly draws Vera's complex relations with her fellow detectives as well as the hidden springs of tension in the circle affected by the crime, touching on class relations, the ennui of middle age, and the deceits, frailties, and tenderness of long marriage."—Publishers Weekly on The Moth Catcher

"Characteristically well plotted, with plenty of complex characters to enjoy."—Kirkus Reviews on The Moth Catcher

"From the inside, Vera is somewhat self-hating, but she also possesses an endearing "what the hell" attitude. It's a delight to watch her exceed people's expectations and to watch as the tiny details she notices add up to the big revelation."—Booklist on The Moth Catcher

"Even though you may wish you could prod Cleeves (Dead Water, 2014, etc.) to pick up the leisurely pace, the complexities of the people and plot make the wait worthwhile."—Kirkus Reviews on Harbour Street

"Cleeves offers up evocative settings and flawed characters with depth, making her mysteries wonderfully addictive. Her latest is no exception."—Library Journal (starred) on Harbour Street


Praise for the Shetland Island series:

"Nothing short of riveting." —Louise Penny

"Creates a dark enough mood to keep you straining to see what will come to light next.—People

"Gripping from start to finish."—Booklist

"In true Christie fashion, Cleeves once more pulls the wool over our eyes with cunning and conviction." —Colin Dexter

"Chilling...enough to freeze the blood." —Marilyn Stasio, The New York Times Book Review

"Cleeve's taut, atmospheric thriller will keep readers guessing until the last page....Chilling."—Publishers Weekly (starred review)

"Cleeves once again proves herself a master of mystery, with fine writing, a broodingly atmospheric setting, a twist-filled plot, and a shocker of an ending."—Booklist

"Intricate and engrossing...offers readers the pleasures of the traditional locked room/isolated island mystery." —The Washington Post Book World
We will be open on Memorial Day from 10 AM until 6 PM.
Free Media Mail shipping on U.S. orders over $50