Be Free or Die: The Amazing Story of Robert Smalls' Escape from Slavery to Union Hero (Paperback)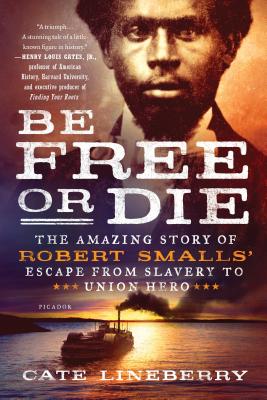 Description
---
"A stunning tale of a little-known figure in history. Robert Smalls' astounding heroism during the Civil War helped convince Lincoln and the country that African Americans were extraordinarily capable of fighting for their freedom. Lineberry has produced a triumph in this heroic story that illuminates our country's ongoing struggles with race." —Henry Louis Gates, Jr, Professor in American History Harvard University and Executive Producer of Finding Your Roots

"Be Free or Die makes you want to stand up and cheer. Cate Lineberry has done us all a great service by telling this incredibly moving, thrilling, and important story about an American hero who deserves to be remembered, and admired." —Candice Millard, author of Hero of the Empire

Facing death rather than enslavement—a story of one man's triumphant choice and ultimate rise to national hero

It was a mild May morning in Charleston, South Carolina, in 1862, the second year of the Civil War, when a twenty-three-year-old slave named Robert Smalls did the unthinkable and boldly seized a Confederate steamer. With his wife and two young children hidden on board, Smalls and a small crew ran a gauntlet of heavily armed fortifications in Charleston Harbor and delivered the valuable vessel and the massive guns it carried to nearby Union forces. To be unsuccessful was a death sentence for all. Smalls' courageous and ingenious act freed him and his family from slavery and immediately made him a Union hero while simultaneously challenging much of the country's view of what African Americans were willing to do to gain their freedom.

After his escape, Smalls served in numerous naval campaigns off Charleston as a civilian boat pilot and eventually became the first black captain of an Army ship. In a particularly poignant moment Smalls even bought the home that he and his mother had once served in as house slaves.

Be Free or Die is a compelling narrative that illuminates Robert Smalls' amazing journey from slave to Union hero and ultimately United States Congressman. This captivating tale of a valuable figure in American history gives fascinating insight into the country's first efforts to help newly freed slaves while also illustrating the many struggles and achievements of African Americans during the Civil War.
About the Author
---
CATE LINEBERRY is a journalist and the author of The Secret Rescue, a #1 Wall Street Journal e-book bestseller and a finalist for the Edgar and Anthony Awards. Lineberry was previously a staff writer and editor for National Geographic Magazine and the web editor for Smithsonian Magazine. Her work has also appeared in the New York Times. Lineberry lives in Raleigh, NC.
Praise For…
---
"An excellent read...provides fascinating insight into a little-known heroic incident of the Civil War and into race relationships in the Reconstruction South." —Bowling Green Daily News

"An immersive, well-crafted history." —The Atlanta-Journal Constitution

"A valuable narrative history that will benefit readers interested in African-American, Civil War, or naval history." —Library Journal

"Lineberry ably provides context for Smalls' saga: slavery's horrors, the story of blacks in the Union fighting force...in this compelling story." —Booklist

"Succinct and powerful prose...Lineberry elevates Smalls to America's pantheon of black leaders, showing him to have been as courageous and inspirational as Harriet Tubman...and Booker T. Washington." —Publishers Weekly

"Unquestionably a remarkable story...A worthwhile Civil War biography cogently presented and ready for the big screen." —Kirkus Reviews (Starred Review)

"A stunning tale of a little-known figure in history. Robert Smalls' astounding heroism during the Civil War helped convince Lincoln and the country that African Americans were extraordinarily capable of fighting for their freedom. Lineberry has produced a triumph in this heroic story that illuminates our country's ongoing struggles with race." —Henry Louis Gates, Jr, Professor in American History Harvard University and Executive Producer of Finding Your Roots

"When the Charleston slave Robert Smalls appropriated the Confederate steam vessel Planter and daringly piloted it out of the harbor to the Union blockade fleet in 1862, winning freedom for himself and fifteen others including his family, he became a Union hero and launched his own career as a black leader. Cate Lineberry tells this riveting and important story with great skill and verve." —James McPherson, author of the Pulitzer Prize-winning Battle Cry of Freedom and Professor Emeritus of United States History at Princeton University

"Be Free or Die makes you want to stand up and cheer. Cate Lineberry has done us all a great service by telling this incredibly moving, thrilling, and important story about an American hero who deserves to be remembered, and admired." —Candice Millard, New York Times bestselling author of Hero of the Empire: The Boer War, a Daring Escape, and the Making of Winston Churchill

"One of the great tales of heroism to come out of the Civil War now has the book it deserves. Be Free or Die brings us for the first time a complete picture of Robert Smalls, the slave who stole a Confederate ship, liberated his family and friends, and went on to be a member of Congress. Thank you, Cate Lineberry, for telling so well the extraordinary story of this extraordinary man." —Christopher Dickey, New York Times bestselling author of Our Man in Charleston: Britain's Secret Agent in the Civil War South

"The astonishing saga of Robert Smalls, from escaped slave to Union hero, springs to life in Cate Lineberry's remarkable account. Beautifully researched and movingly told, Be Free or Die is a timeless story of courage, determination and triumph." —Daniel Stashower, award-winning author of The Hour of Peril: The Secret Plot to Murder Lincoln Before the Civil War

"The story of Robert Smalls is one of the most remarkable and inspiring of the Civil War, and Cate Lineberry tells it here with great sensitivity, keen insight, and careful scholarship. Be Free or Die is a revelatory and page-turning tribute to a legitimate American hero." —Gary Krist, award-winning author of Empire of Sin: A Story of Sex, Jazz, Murder, and the Battle for Modern New Orleans

"Robert Smalls' daring, determined effort to free himself and his family from slavery stands as a thrilling representative of the thousands of unknown acts of self-liberation performed by slaves during the war. In Be Free or Die, Cate Lineberry brings to life the exciting story of this modest man whose dash for freedom under the guns of Charleston harbor led to service in the union navy, a successful business career, and election to the US House of Representatives." —Jamie Malanowski, author of Commander Will Cushing: Daredevil Hero of the Civil War and lead writer of the New York Times's award-winning "Disunion" series

"The life story of Robert Smalls has few equals in the annals of American history. He is the archetype of the American Dream. In Be Free or Die Cate Lineberry has brought diligent research, compelling descriptions and high drama to this all-American story." —Lawrence S. Rowland, Ph.D., Distinguished Professor Emeritus, University of South Carolina-Beaufort

"A fast-paced, well crafted work that properly and accurately portrays the incredible feats of Robert Smalls during the Civil War. His actions proved to doubters that blacks could and would serve the United States in the pursuit for victory. Robert Smalls inspired and still inspires people of all races and is truly an American hero." —Stephen R. Wise, Ph.D. Historian and author of Gate of Hell: The Campaign for Charleston 1863 and with Lawrence Rowland, Rebellion, Reconstruction and Redemption: The History of Beaufort County Volume 2, 1861-1893
Free Media Mail shipping on U.S. orders over $75
"Ships from warehouse" books to be shipped: order by Wednesday, 12/6
"Ships from warehouse" books for pickup: order by Tuesday, 12/12