A Well-Behaved Woman: A Novel of the Vanderbilts (Hardcover)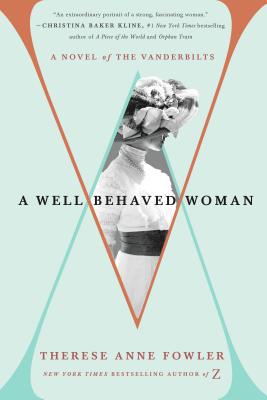 Staff Reviews
---
This is a must-read for lovers of historical fiction. Alva Smith married for money. That was the situation of many families in the post-Civil War south. Alva, smart and ambitious marries into the Vanderbilt family which is wealthy, but shunned by the society of New York's Gilded Age. This is a story of Alva's success in moving the family into society, her passion for building, her growing passion for women's suffrage, and her final demand for independence. Alva is a multidimensional character who grows into her social position, and then transcends it.
— Anne
December 2018 Indie Next List
---
"In her lifetime, Alva Smith Vanderbilt goes from being a Have to a Have-Not to a Have-It-All. Not content to just build spectacular mansions and host fabulous high-society balls, she uses her status and immense wealth to help the poverty-stricken, promote racial equality, and advocate for women's rights in the courts and voting booths. As she did in Z, Therese Anne Fowler digs beyond the sensational and scandalous newspaper headlines and brings depth to her protagonist to show us a life well-lived."
— Nancy Baenen, Arcadia Books, Spring Green, WI
Description
---
The New York Times and USA Today bestseller

The riveting novel of iron-willed Alva Vanderbilt and her illustrious family as they rule Gilded-Age New York, written by Therese Anne Fowler, a New York Times bestselling author of Z: A Novel of Zelda Fitzgerald.

Alva Smith, her southern family destitute after the Civil War, married into one of America's great Gilded Age dynasties: the newly wealthy but socially shunned Vanderbilts. Ignored by New York's old-money circles and determined to win respect, she designed and built nine mansions, hosted grand balls, and arranged for her daughter to marry a duke. But Alva also defied convention for women of her time, asserting power within her marriage and becoming a leader in the women's suffrage movement.

With a nod to Jane Austen and Edith Wharton, in A Well-Behaved Woman Therese Anne Fowler paints a glittering world of enormous wealth contrasted against desperate poverty, of social ambition and social scorn, of friendship and betrayal, and an unforgettable story of a remarkable woman. Meet Alva Smith Vanderbilt Belmont, living proof that history is made by those who know the rules—and how to break them.
About the Author
---
THERESE ANNE FOWLER is the New York Times bestselling author of A Good Neighborhood, A Well-Behaved Woman, and Z: A Novel of Zelda Fitzgerald. Raised in the Midwest, she migrated to North Carolina in 1995. She holds a B.A. in sociology/cultural anthropology and an MFA in creative writing from North Carolina State University.
Praise For…
---
"Delicious." —People (Best Books of Fall 2018)

"Fowler's Alva is tough, cagey and unwilling to settle for the role of high-society ornament — what's not to like?" —The Washington Post

"A Well-Behaved Woman draws beauty from paradox: it is both detailed and fast-paced, loving and critical, heart-breaking and hopeful." —Chicago Review of Books

"A tale well-researched and honest, it returns to Alva Vanderbilt that which many historians have taken away: her voice." —New York Journal of Books

"Fascinating....This novel looks below the surface of the Vanderbilt family during the Gilded Age from the little-known perspective of this fiery heroine." —Real Simple (Best Books of 2018)

"Nothing short of mesmerizing." —Kirkus Reviews (starred review)

"Genius....Though the novel's lavish sweep and gorgeous details evoke a vanished world, Fowler's exploration of the way powerful women are simultaneously devalued and rewarded resonates powerfully." —Publishers Weekly (starred review)

"With you-are-there immediacy fueled by assured attention to biographical detail and deft weaving of labyrinthine intrigue, Fowler (Z, 2013) creates a thoroughly credible imagining of the challenges and emotional turmoil facing this fiercely independent woman." —Booklist

"A striking portrait of a woman ahead of her time and a true feminist icon." —Popsugar ("The 28 Best New Books to Curl Up With This Fall")

"Like Gossip Girl minus more than a century." —The Skimm

"In this captivating novel about the indomitable Alva Vanderbilt, Therese Fowler plunges us with wonderful energy into New York's Gilded Age. Alva provides a fascinating prism for the challenges and pleasures of era, and is endlessly engrossing as a character, full of action and vision and will—just the sort of woman I love knowing more about. I dare you not to dive right in."—Paula McLain, author of The Paris Wife and Love and Ruin

"Oh how I loved every instant I spent in the world Fowler has recreated here. The story of Alva Vanderbilt is elegantly and empathetically told. Prepare to be enthralled!" —Elin Hilderbrand, New York Times bestselling author of The Perfect Couple

"A Well-Behaved Woman is a gem: a fascinating tale of Gilded Age manners and mores, and one remarkable woman's attempts to transcend them. Therese Anne Fowler, the immensely gifted writer who gave us all new insights into Zelda Fitzgerald in her novel, Z, has done it again for Alva Vanderbilt Belmont." —Chris Bohjalian, #1 New York Times Bestselling Author of The Flight Attendant

"History comes alive in this immensely readable novel. Therese Anne Fowler takes us behind the velvet drapes of the Vanderbilt mansions in the late 19th century, exposing a world of passions and betrayal in which all is not as it seems. A Well-Behaved Woman is an extraordinary portrait of a strong, fascinating woman who rose above societal convention and even her own expectations to become so much more than anyone might have predicted." —Christina Baker Kline, New York Times Bestselling author of A Piece of the World and Orphan Train

"The story of Alva Vanderbilt is long overdue for a telling, but it was worth the wait. Therese Anne Fowler has brought this compelling, complex woman to such dynamic life that she leaps off the pages. This is a delicious book, as well as a timely one." —Melanie Benjamin, New York Times bestselling author of The Girls in the Picture

"In another writer's hands, Alva Vanderbilt's immense wealth and carefully calculated life might have proved barriers to readerly sympathy. But Fowler's portrait is so nuanced, so complicated by context, and so informed by her own capacious generosity that we can't help being drawn in. A Well-Behaved Woman is a deeply and sympathetically imagined guess as to who Alva might have been. This is a wonderful book!"
— Karen Joy Fowler, New York Times bestselling author of The Jane Austen Book Club

"The best biographical novels reveal a life we never expected to know, and here, in Fowler's jaw-droppingly brilliant A Well-Behaved Woman, she uncovers Alva Smith, who was supposed to be proper and conventional, but instead she not only launched the Vanderbilt's Guilded Age dynasty, but dug in her heels to defy her times in ways that were nothing short of revolutionary. Not just breathtakingly alive, but dazzlingly and profoundly timely. A must-read masterpiece." —Caroline Leavitt, New York Times bestselling author of Pictures of You, Is This Tomorrow, and Cruel Beautiful World

"Activist, egalitarian, philanthropist, trailblazer—these are the qualities of a historic leader. In A Well-Behaved Woman, Therese Fowler illuminates the leading legacy of American heiress Alva Vanderbilt. Alva's gumption and glamour will resonate with modern women and remind all that history belongs to those who courageously persevere. A sparkling, powerful story that needs to be heard now more than ever." —Sarah McCoy, New York Times and international bestselling author of Marilla of Green Gables and The Baker's Daughter

"To step into Therese Anne Fowler's stunning novel is to step into Alva Vanderbilt's rarefied world of sprawling homes, delicious society intrigue, and incomparable Gilded Age luxury. But there's so much more to this world than appearances would indicate—as Alva and the reader both learn. Fowler's heroine is drawn with care and complexity, a woman of exquisite taste and depth, and one who dares to dream beyond the stifling role which society has assigned her." —Allison Pataki, New York Times Bestselling author of 'The Accidental Empress'
Free Media Mail shipping on U.S. orders over $75
"Ships from warehouse" books to be shipped: order by Wednesday, 12/6
"Ships from warehouse" books for pickup: order by Tuesday, 12/12