We are offering FREE media mail shipping on books. We are open from 10am-7pm Monday through Saturday and 10am-6pm Sunday. Phones may not be answered due to a high volume of calls.
Without Mercy: The Stunning True Story of Race, Crime, and Corruption in the Deep South (Hardcover)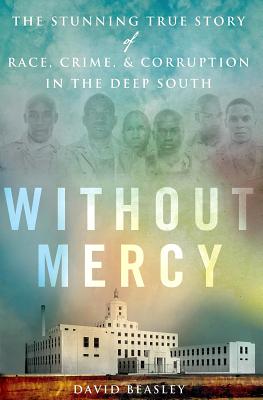 Email or call for price
Hard to find: allow 24 hours for information
Description
---
"Without Mercy reads like a John Grisham thriller."
---David R. Dow, author of "The Autobiography of an Execution"
""
On December 9, 1938, the state of Georgia executed six black men in eighty-one minutes in Tattnall Prison's electric chair. The executions were a record for the state that still stands today. The new prison, built with funds from FDR's New Deal, as well as the fact that the men were tried and executed rather than lynched were thought to be a sign of progress. They were anything but. While those men were arrested, convicted, sentenced, and executed in as little as six weeks---E. D. Rivers, the governor of the state, oversaw a pardon racket for white killers and criminals, allowed the Ku Klux Klan to infiltrate his administration, and bankrupted the state. Race and wealth were all that determined whether or not a man lived or died. There was no progress. There was no justice.
David Beasley's "Without Mercy" is the harrowing true story of the Great Depression, the New Deal, and the violent death throes of the Klan, but most of all it is the story of the stunning injustice of these executions and how they have seared distrust of the legal system into the consciousness of the Deep South, and it is a story that will forever be a testament to the death penalty's appalling inequality that continues to plague our nation.
About the Author
---
DAVID BEASLEY is a former editor for the Atlanta Journal-Constitution and the co-author of Inside Coca-Cola. He lives in Atlanta, Georgia.
Praise For…
---
Praise for Without Mercy

"Must-read."
--New York Post

"Georgia's history is a goldmine of corruption, and David Beasley... has reached in and grabbed a few glittering chunks for examination… Without Mercy is well researched and Beasley moves along his various plots with a mannered precision that emphasizes the giddy perversities of Georgia life in the '30s."
--Atlanta Journal-Constitution

"Beasley's catalogue of inequities accrues to a kind of tragic narrative, a tale in which progress is too slow to save those whom tradition would rather let die."
--The Boston Globe

"[Beasley] effectively juxtaposes the lives of the black men who were executed with white men who were not, following their passage through the judicial system. Beasley's well-documented and vivid account ultimately puts capital punishment itself on trial."
--Publishers Weekly

The book Without Mercy, is a stunning true story of race, crime and corruption in the deep South as it pertains to the pattern of convicting and in some cases executing people of color without fair a trial."
--Baltimore Sun

"This is a gripping read for anyone… This is a must read."
--Charleston Chronicle

"David Beasley's fastidiously researched Without Mercy tells the story of a justice system that was anything but just… Much like a nightmare or a heart-pounding action movie, this is a story one doesn't easily forget. Without Mercy is history, but its shadows and echoes are still very much alive today in the unsettling and eye-opening reality of capital punishment… A terrifying study of how lopsided the justice system can be while still technically maintaining the letter of the law."
--Shelf Awareness

"Beasley builds his thesis case by case. [and] retains his reporter's objectivity as he records the facts."
--Book Reporter

"Without Mercy reads like a John Grisham thriller, but unfortunately, it isn't. It is, sadly and regrettably, entirely true. In a meticulous and measured book that lifts the curtain on a handful of murders that took place in Georgia in the New Deal era, David Beasley has illuminated the role that race, wealth, social status, and privilege play in determining who lives and who dies in our nation's execution chambers. This is not only history and crime-writing at its very finest, it is a haunting and searing moral indictment of a legal system that remains to this day characterized by the very same inequalities."
---David R. Dow, author of The Autobiography of an Execution

"Without Mercy builds outward from one dramatic event, the mass execution of six black men in Georgia in 1938, to tell a compelling story that rings the bell of justice to our own time."
---James H. Madison, author of A Lynching in the Heartland: Race and Memory in America

"David Beasley's superb Without Mercy is that rare true-crime book that deepens your understanding of a time and place even as it shakes you to the bone. If Raymond Chandler and James Agee had gotten together, this is what they might have written."
---Steve Oney, author of And the Dead Shall Rise: The Murder of Mary Phagan and the Lynching of Leo Frank

"The modern death penalty in Georgia was preceded not too many years before by a system that was plagued by racism, injustice, and political corruption. In his fascinating book, Without Mercy, David Beasley tells the stories of many who vainly sought justice in this earlier system. Hopefully, all such prejudice and official misconduct has been weeded out, but it would be naive to think that human nature has changed so radically that executions can now be carried out without deep concerns."
---Richard C. Dieter, executive director of the Death Penalty Information Center

"David Beasley's prodigious research has excavated the bones of a sordid time in Georgia's history, when the unholy alliance of corruption and white supremacy, operating behind the mask of civility and the hood of the Ku Klux Klan, perverted justice all the way to the death chamber. Beasley shows men of privilege and of penury, white and black, all of them convicted criminals, as they move closer to the electric chair and beg for exemption from one of the nation's largest mass executions in a single day."
---Hank Klibanoff, Pulitzer Prize--winning coauthor of The Race Beat: The Press, the Civil Rights Struggle, and the Awakening of a Nation