We are offering FREE media mail shipping on books. We are open from 10am-7pm Monday through Saturday and 10am-6pm Sunday. Phones may not be answered due to a high volume of calls.
Necessary Lies: A Novel (Hardcover)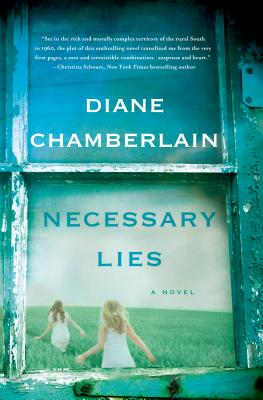 Description
---
Bestselling author Diane Chamberlain delivers a breakout book about a small southern town fifty years ago, and the darkest—and most hopeful—places in the human heart
After losing her parents, fifteen-year-old Ivy Hart is left to care for her grandmother, older sister and nephew as tenants on a small tobacco farm. As she struggles with her grandmother's aging, her sister's mental illness and her own epilepsy, she realizes they might need more than she can give.
When Jane Forrester takes a position as Grace County's newest social worker, she doesn't realize just how much her help is needed. She quickly becomes emotionally invested in her clients' lives, causing tension with her boss and her new husband. But as Jane is drawn in by the Hart women, she begins to discover the secrets of the small farm—secrets much darker than she would have guessed. Soon, she must decide whether to take drastic action to help them, or risk losing the battle against everything she believes is wrong.
Set in rural Grace County, North Carolina in a time of state-mandated sterilizations and racial tension, Necessary Lies tells the story of these two young women, seemingly worlds apart, but both haunted by tragedy. Jane and Ivy are thrown together and must ask themselves: how can you know what you believe is right, when everyone is telling you it's wrong?
About the Author
---
DIANE CHAMBERLAIN is the bestselling author of more than twenty novels published in over eleven languages. Her books include The First Lie, Her Mother's Shadow, The Good Father, and Kiss River. She lives in North Carolina with her partner, photographer John Pagliuca, and her shelties, Keeper and Cole.
Praise For…
---
"This enthralling novel transfixed me from the very first pages." —Christina Schwarz, New York Times bestselling author of Drowning Ruth
"Necessary Lies shines!" —Lesley Kagen, New York Times bestselling author of Mare's Nest
"Expertly intertwines history and matters of the heart - love, loyalty and choosing what is right, no matter the consequences." —Heather Gudenkauf, New York Times bestselling author of The Weight of Silence & One Breath Away
"Diane Chamberlain's Necessary Lies is the most important book she has ever written." —Dorothea Benton Frank, New York Times bestselling author of Porch Lights