We are offering FREE media mail shipping on books. We are open from 10am-7pm Monday through Saturday and 10am-6pm Sunday. Phones may not be answered due to a high volume of calls.
Furious Hours: Murder, Fraud, and the Last Trial of Harper Lee (Paperback)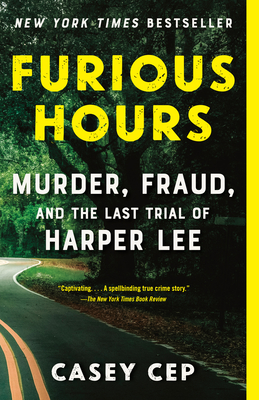 $16.95
Coming soon - PRE-ORDER NOW!
Staff Reviews
---
Did Reverend Willie Maxwell cause the deaths of his two wives, brother, cousin and stepdaughter in 1970's Alabama through voodoo, or by paying off hit men to do the job for him? Harper Lee hoped Maxwell's story would be her own In Cold Blood. Perhaps, if she had managed to finish it, it would have been. Casey Cep has done her research and, in Furious Hours: Murder, Fraud, and the Last Trial of Harper Lee, she's crafted a page turner that's half true-crime thriller and half an insightful and surprising look at what Harper Lee's life was like after her early catapult into literary stardom.
— Sarah
After assisting Truman Capote in the writing of In Cold Blood, Harper Lee wanted to write a true crime novel.
Reverend Willie Maxwell was a country preacher accused of killing five family members to collect their life insurance. After being tried and acquitted several times he was shot dead at the funeral of his last "victim", and the shooter was put on trial for murder. 
Lawyer Tom Radley successfully defended Maxwell through his several trials, and then became the defense attorney for Maxwell's killer. 
This is a thoroughly entertaining story of small-town intrigue and adept leagal maneuvers. But most of all this is about Harper Lee, the beloved author who  was the most private of people. I am so glad Ms. Cep has given us this portrait.
— Anne
May 2019 Indie Next List
---
"In Cold Blood and To Kill a Mockingbird kept me up reading all night as a teen, and I can now add Furious Hours to the list of couldn't-put-it-down tomes. I was enthralled, educated, and awestruck by Casey Cep's well-researched and masterfully written true-crime account of a rural minister, his lawyer, and his killer. Thankfully, Cep discovered and brought to light what surely could have been Harper Lee's second bestseller. Now…off to get a good night's rest!"
— Beth Stroh, Viewpoint Books, Columbus, IN
Description
---
In Furious Hours, Casey Cep masterfully brings together the tales of a serial killer in 1970s Alabama and of Harper Lee, the beloved author of To Kill a Mockingbird, who tried to write his story. Reverend Willie Maxwell was a rural preacher accused of murdering five of his family members, but with the help of a savvy lawyer, he escaped justice for years until a relative assassinated him at the funeral of his last victim. Despite hundreds of witnesses, Maxwell's murderer was acquitted—thanks to the same attorney who had previously defended the reverend himself. Sitting in the audience during the vigilante's trial was Harper Lee, who spent a year in town reporting on the Maxwell case and many more trying to finish the book she called The Reverend. Cep brings this remarkable story to life, from the horrifying murders to the courtroom drama to the racial politics of the Deep South, while offering a deeply moving portrait of one of our most revered writers.
About the Author
---
Casey Cep is a staff writer at The New Yorker. After graduating from Harvard College with a degree in English, she earned an M.Phil. in theology at Oxford as a Rhodes Scholar. She lives on the Eastern Shore of Maryland with her family. Furious Hours is her first book.
Praise For…
---
One of the Best Books of the Year
The New York Times * The Washington Post * Time * Dallas Morning News * The Economist

"Captivating. . . . A spellbinding true crime story." —The New York Times Book Review

"A triumph on every level. One of the losses to literature is that Harper Lee never found a way to tell a gothic true-crime story she'd spent years researching. Casey Cep has excavated this mesmerizing story and tells it with grace and insight and a fierce fidelity to the truth." —David Grann, author of Killers of the Flower Moon

"An enthralling work of narrative nonfiction. . . . Cep delivers edge-of-your-seat courtroom drama while brilliantly reinventing Southern Gothic." —O, The Oprah Magazine
 
"The sort of story that even Lee would have been proud to write." —Michael Lewis, The New York Times

"I woke up early just so I could keep reading Furious Hours, conflicted between feeling desperate to know more and not wanting it to end. It's a marvelous accomplishment that left me completely enthralled." —Sarah Jessica Parker

"A gripping, incredibly well-written portrait of not only Harper Lee, but of mid-20th century Alabama. . . . What I didn't see coming was the emotional response I'd have as I blazed through the last 20 pages of the book—yet there I was, weeping." —Ilana Masad, NPR
 
"A marvel. . . . Cep's is an account emotionally attuned to the toll that great writing takes, and shows that sometimes one perfect book is all we can ask for, even while we wish for another." —Time
 
"A terrific book about murder, race, and Harper Lee." —Al Roker via Twitter
 
"A brilliant take on the mystery of inspiration and the even darker mysteries of the human heart." —People
 
"Remarkable, thoroughly researched. . . . Cep manages the feat that all great nonfiction aspires to: combining the clean precision of fact with the urgency of gossip." —The New York Review of Books
 
"A compelling hybrid of a novel, at once a true-crime thriller, courtroom drama, and miniature biography of Harper Lee." —Southern Living
 
"It's been a long time since I picked up a book so impossible to put down. Furious Hours made me forget dinner, ignore incoming calls, and stay up reading into the small hours." —Helen Macdonald, author of H Is for Hawk
 
"There's a stirring poetry to Furious Hours that eludes most contemporary nonfiction. . . . [The book] fills in the gap of Lee's post-Mockingbird career with insatiable curiosity and impressive research. It reveals not just her intellectual interests, but within them, her personal relationships and motivations." —Entertainment Weekly
 
"A well-told, ingeniously structured double mystery—one an unsolved serial killing, the other an elusive book—rich in droll humour and deep but lightly worn research" —The Economist