Queens of the Conquest: England's Medieval Queens Book One (Paperback)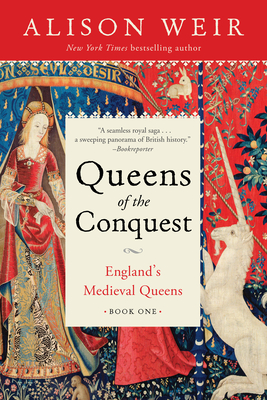 Staff Reviews
---
This was both informative and enjoyable. It occupies an interesting middle ground between academic works and pure storytelling, which makes it quite readable and yet thoroughly researched. Despite being alternately amused and frustrated that nearly everyone in this saga was named Matilda, I came out of the book actually feeling like I understand each of these queens as an individual - no small feat, considering how little about their lives has been preserved.
— Kaley
Description
---
In the first volume of an exciting new series, bestselling author Alison Weir brings the dramatic reigns of England's medieval queens to life.

The lives of England's medieval queens were packed with incident—love, intrigue, betrayal, adultery, and warfare—but their stories have been largely obscured by centuries of myth and omission. Now esteemed biographer Alison Weir provides a fresh perspective and restores these women to their rightful place in history.

Spanning the years from the Norman conquest in 1066 to the dawn of a new era in 1154, when Henry II succeeded to the throne and Eleanor of Aquitaine, the first Plantagenet queen, was crowned, this epic book brings to vivid life five women, including: Matilda of Flanders, wife of William the Conqueror, the first Norman king; Matilda of Scotland, revered as "the common mother of all England"; and Empress Maud, England's first female ruler, whose son King Henry II would go on to found the Plantagenet dynasty. More than those who came before or after them, these Norman consorts were recognized as equal sharers in sovereignty. Without the support of their wives, the Norman kings could not have ruled their disparate dominions as effectively.

Drawing from the most reliable contemporary sources, Weir skillfully strips away centuries of romantic lore to share a balanced and authentic take on the importance of these female monarchs. What emerges is a seamless royal saga, an all-encompassing portrait of English medieval queenship, and a sweeping panorama of British history.

Praise for Queens of the Conquest

"Best-selling author [Alison] Weir pens another readable, well-researched English history, the first in a proposed four-volume series on England's medieval queens. . . . Weir's research skills and storytelling ability combine beautifully to tell a fascinating story supported by excellent historical research. Fans of her fiction and nonfiction will enjoy this latest work."—Library Journal (starred review)
 
"Another sound feminist resurrection by a seasoned historian . . . Though Norman queens were largely unknowable, leave it to this prolific historical biographer to bring them to life. . . . As usual, Weir is meticulous in her research."—Kirkus Reviews
About the Author
---
Alison Weir is the New York Times bestselling author of numerous historical biographies, including The Lost Tudor Princess, Elizabeth of York, Mary Boleyn, The Lady in the Tower, Mistress of the Monarchy, Henry VIII, Eleanor of Aquitaine, The Life of Elizabeth I, and The Six Wives of Henry VIII, and the novels Anne Boleyn, A King's Obsession; Katherine of Aragon, The True Queen; The Marriage Game; A Dangerous Inheritance; Captive Queen; The Lady Elizabeth; and Innocent Traitor. She lives in Surrey, England, with her husband.
Praise For…
---
"Best-selling author [Alison] Weir pens another readable, well-researched English history, the first in a proposed four-volume series on England's medieval queens. . . . Weir's research skills and storytelling ability combine beautifully to tell a fascinating story supported by excellent historical research. Fans of her fiction and nonfiction will enjoy this latest work."—Library Journal (starred review)
 
"Another sound feminist resurrection by a seasoned historian . . . Though Norman queens were largely unknowable, leave it to this prolific historical biographer to bring them to life. . . . As usual, Weir is meticulous in her research."—Kirkus Reviews

Praise for Alison Weir

The Lost Tudor Princess

"This is a substantial, detailed biography of a fascinating woman who lived her extraordinary life to the full, taking desperate chances for love and for ambition. It will appeal to anyone with an interest in the powerful women of the Tudor period."—Philippa Gregory, The Washington Post

"Weir balances historical data with emotional speculation to illuminate the ferocious dynastic ambitions and will to power that earned her subject a place in the spotlight."—The New York Times Book Review

Elizabeth of York

"Weir tells Elizabeth's story well. . . . She is a meticulous scholar. . . . Most important, Weir sincerely admires her subject, doing honor to an almost forgotten queen."—The New York Times Book Review

"In Weir's skillful hands, Elizabeth of York returns to us, full-bodied and three-dimensional. This is a must-read for Tudor fans!"—Historical Novels Review

Mary Boleyn

"This nuanced, smart, and assertive biography reclaims the life of a Tudor matriarch."—Publishers Weekly

"Weir has achieved the enviable skill of blending the necessary forensic and analytical tasks of academia with the passionate engagement that avocational history lovers crave."—Bookreporter