FREE Media Mail shipping on eligible items! We are open for browsing by appointment from 10am-7pm M-S and 10am-6pm Sundays. Email books@quailridgebooks.com for a reservation. Phones may not be answered due to high volume of calls.
You Should Have Left: A Novel (Hardcover)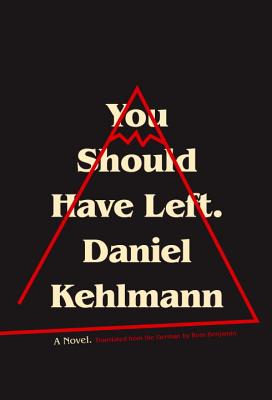 $18.00
Hard to find: allow 24 hours for information
Description
---
From the internationally best-selling author of Measuring the World and F, an eerie and supernatural tale of a writer's emotional collapse

"It is fitting that I'm beginning a new notebook up here. New surroundings and new ideas, a new beginning. Fresh air."

This passage is from the first entry of a journal kept by the narrator of Daniel Kehlmann's spellbinding new novel. It is the record of the seven days that he, his wife, and his four-year-old daughter spend in a house they have rented in the mountains of Germany—a house that thwarts the expectations of the narrator's recollection and seems to defy the very laws of physics. He is eager to finish a screenplay for a sequel to the movie that launched his career, but something he cannot explain is undermining his convictions and confidence, a process he is recording in this account of the uncanny events that unfold as he tries to understand what, exactly, is happening around him—and within him.
About the Author
---
DANIEL KEHLMANN was born in Munich in 1975 and lives in Berlin and New York. His works have won the Candide Prize, the Doderer Prize, the Kleist Prize, the Welt Literature Prize, and the Thomas Mann Prize. Measuring the World was translated into more than forty languages and is one of the greatest successes in postwar German literature.
Praise For…
---
"This mind-bending novella about a writer losing his marbles contains images that startle and linger....The most arresting of the book's chilling moments might do for baby monitors what 'Jaws' did for swimming in the ocean....[Kehlmann] manages a few darkly comic flourishes...provocative...potent...pleasantly unsettling." 
—John Williams, The New York Times

"A quick, fun breathless read. It's inventive and scary—and a delightful take on the writing life."
—Huffington Post

"A beautifully crafted exercise in terror from one of Germany's most celebrated contemporary authors….This novel is, in many ways, a classic haunted-house tale. There are warnings about the house from the people in the village below. There's a creeping sense of horror. There are frightening phenomena that the narrator cannot explain. And there are specters. Kehlmann uses all these familiar tropes beautifully. But he also creates a sense of existential dread that transcends the typical ghost story….A book to keep you up at night."
—Kirkus Reviews, *starred review*

"A well-crafted tale about one man unravelling due to forces beyond his control….You Should Have Left—part-horror, part-psychodrama—serves up effective shocks and thrills that keep us rapt and on the edge of our seats. The narrator's journal slides from excerpts from his screenplay to accounts of his own creeped-out tragedy, and slips from coherence to jumbled trains of thought, and each time we lose purchase yet delight in the confusion and the tension."
—Malcolm Forbes, The National

"My favorite German novelist.″
—Ian McEwan, The Sunday Times (London)