Something to Say (MP3 CD)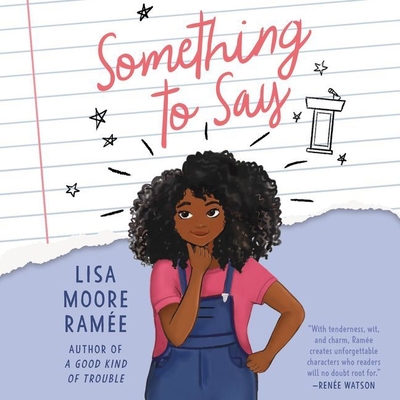 Jenae has just started a new school, but she has a problem. Jenae doesn't have any friends.
Soon she realizes a new boy named Aubrey (who has bright red hair) is in a few of her classes and seems determined to be friends with her.
You should probably know that Jenae heavily dislikes public speaking. This creates a huge dilemma when she and Aubrey are paired up together for a debate project that has high stakes. Can this friendship stand the test of time?
I really enjoyed reading this book because when I was younger, I also struggled with public speaking like Jenae. If I had read this book, it would have helped me to understand that this challenge is pretty normal and I can work hard to improve.
— Laurel
Description
---
From the author of A Good Kind of Trouble, a Walter Dean Myers Honor Book, comes another unforgettable story about finding your voice--and finding your people. Perfect for fans of Sharon Draper, Meg Medina, and Jason Reynolds.
Eleven-year-old Jenae doesn't have any friends--and she's just fine with that. She's so good at being invisible in school, it's almost like she has a superpower, like her idol, Astrid Dane. At home, Jenae has plenty of company, like her no-nonsense mama; her older brother, Malcolm, who is home from college after a basketball injury; and her beloved grandpa, Gee.
Then a new student shows up at school--a boy named Aubrey with fiery red hair and a smile that won't quit. Jenae can't figure out why he keeps popping up everywhere she goes. The more she tries to push him away, the more he seems determined to be her friend. Despite herself, Jenae starts getting used to having him around.
But when the two are paired up for a class debate about the proposed name change for their school, Jenae knows this new friendship has an expiration date. Aubrey is desperate to win and earn a coveted spot on the debate team.
There's just one problem: Jenae would do almost anything to avoid speaking up in front of an audience--including risking the first real friendship she's ever had.
Free Media Mail shipping on U.S. orders over $75