Becoming Duchess Goldblatt (MP3 CD)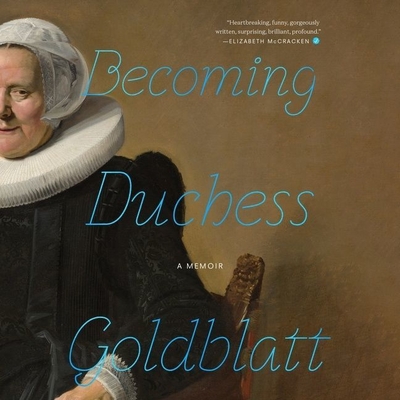 $39.99
Email or call for price.
Staff Reviews
---
"A lot of people go very Martha Graham when dancing on their enemies' graves. Me, I like Flamenco. I want the souls of the dead to feel it." Duchess Goldblatt
If you know the Duchess on social media, then you have already purchased this book (congratulations on your excellent taste. I certainly hope you bought it from an Independent book store). If you don't know the Duchess...then get to know her (and her equally fascinating creator).
(You are very welcome.)
— Abbe
July 2020 Indie Next List
---
"After the collapse of her marriage and her whole life, the anonymous author of Becoming Duchess Goldblatt started a Twitter account, speaking in the voice of an imperious, slightly dotty, always caring 81-year-old writer. The Duchess became the focus of intense adoration and eventually helped her creator to reconnect with the 'real world' even as she kept her identity a secret. Becoming Duchess Goldblatt is a glorious memoir, a truly 21st-century tale of life both online and off."
— David Enyeart, Next Chapter Booksellers, St. Paul, MN
Description
---
Part memoir and part joyful romp through the fields of imagination, the story behind a beloved pseudonymous Twitter account reveals how a writer deep in grief rebuilt a life worth living.Becoming Duchess Goldblatt is two stories: that of the reclusive real-life writer who created a fictional character out of loneliness and thin air, and that of the magical Duchess Goldblatt herself, a bright light in the darkness of social media. Fans around the world are drawn to Her Grace's voice, her wit, her life-affirming love for all humanity, and the fun and friendship of the community that's sprung up around her. @DuchessGoldblat (81 year-old literary icon, author of An Axe to Grind) brought people together in her name: in bookstores, museums, concerts, and coffee shops, and along the way, brought real friends home--foremost among them, Lyle Lovett. "The only way to be reliably sure that the hero gets the girl at the end of the story is to be both the hero and the girl yourself." -- Duchess Goldblatt