The Christmas Quest (Board book)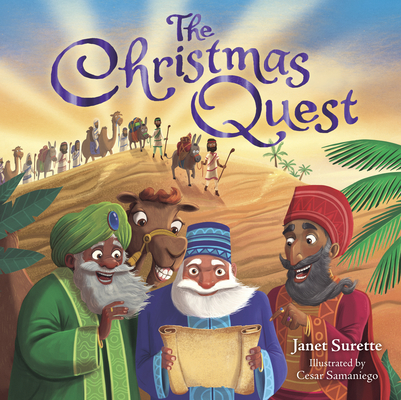 $9.99
Coming soon - PRE-ORDER NOW!
Description
---
Long ago, wise men from the east spotted a new star in the heavens. They wondered, Can it be? Is this star announcing the arrival of the King of the Jews? There was only one way to find out—to journey to Jerusalem! The Christmas Quest is an energetic, rhyming board book that invites children ages 2-6 to accompany the wise men and their entourage on their epic treasure hunt. True to the historical realities of the time period, there will be bandits, beasts, and bugs to brave along with sunny, scorching sandstorms to weather. Yet, the long and hard adventure will certainly be worth it because the star is leading them to the greatest treasure of all: Jesus!
About the Author
---
Janet Surette and her husband, Glen, are happy parents to Taylor the Strong, Avery the Good, and Scarlett the Loud. Janet is a speaker and author who uses cheerful rhyme, compelling imagery, and a smidge of spunk to craft timeless messages into memorable resources that instruct and delight. Janet divided her formative years between the United States and Canada, and though she loves her adopted hometown of Barrie, Ontario, she cherishes her friends and fans on both sides of the border! You can learn more about Janet at www.janetsurette.com.