Perpetua's Kin (Paperback)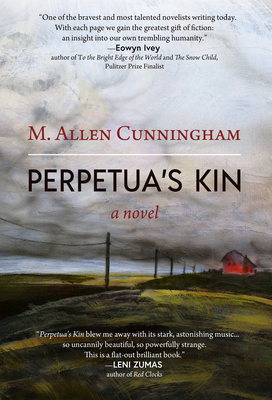 $17.00

Ships from warehouse to store in 3-6 business days
(NOTE: This book cannot be returned and may not be eligible for discounts.)
Description
---
The author of the much-acclaimed #1 Indie Next Pick The Green Age of Asher Witherow returns with a masterful new work, epic in scope and yet intimate in its emotional power, about a family shaped as much by tumultuous world events as by each of its members' long-kept secrets.

Benjamin Lorn, sensitive son of an embittered Civil War veteran, comes of age in the tiny Iowa town of Perpetua where, in a single summer, he mourns the recent loss of his mother, falls in love, and uncovers a shameful family secret that sends him fleeing west. Tormented with this new knowledge, Benjamin seeks transcendence through the telegraph wires that have enchanted him since boyhood. Meanwhile the weight of a dark duty grows more and more pressing.

Thus begins Perpetua's Kin, M. Allen Cunningham's enthralling multi-generational mystery, reworking of Hamlet, and profoundly contemporary exploration of the American experience as one family embodies it. Spanning much of North America over more than a century, from the 1820s Midwest through the American south of the Civil War, to World War II San Francisco, Cunningham's novel is a powerful portrait of this nation's violent heritage, our vulnerability to the vastness of our own geography, our chronic restlessness and desire for regeneration through technology, and the impossibility of escaping the history that forms us and, always, demands a reckoning.
About the Author
---
M. Allen Cunningham is the author of the novels The Green Age of Asher Witherow, Lost Son, and Partisans, as well as the short story collection Date of Disappearance, an essay collection entitled The Honorable Obscurity Handbook, and an illustrated work of cultural criticism entitled The Flickering Page. He edited and wrote the introduction for Funny-Ass Thoreau. His work has been shortlisted for the Indie Next Book of the Year Award, a Finalist for the Flann O'Brien Award, a Semi-finalist for the American Short Fiction Prize, and has appeared in many national and regional literary outlets including The Kenyon Review, Glimmer Train, Tin House, Alaska Quarterly Review, Catamaran, Boulevard, and Epoch. The recipient of multiple fellowships, as well as residencies at Yaddo, Cunningham is a contributing editor for the literary journal Moss. He teaches creative writing in Portland, Oregon and elsewhere.
Praise For…
---
"With Perpetua's Kin, M. Allen Cunningham once again demonstrates he is one of the bravest and most talented novelists writing today. His prose sings with a rare kind of poetry, even as the story sweeps you along with its dark mystery and heartbreaking tension. With each page we gain the greatest gift of fiction: an insight into our own trembling humanity."  —Eowyn Ivey, author, The Snow Child

"A novel in conversation with Faulkner and Melville and possibly even Robert Louis Stevenson . . . A writer both original and well aware of the writers who have come before him. Cunningham's writing, like the scope of his novel, is bold and ambitious."  —Peter Turchi, author, Maps of the Imagination

"Perpetua's Kin is beautiful, reminiscent of The Green Age of Asher Witherow in that it has the cadence I remember that takes the reader right in . . . M. Allen Cunningham gives us a book to savor—a fulfilling, substantial book, and a joy to read."  —Janet Boreta, founder, Orinda Books, California

"With a vast scope and penetrating psychological depth, Perpetua's Kin achieves what I want most from historical fiction, making the past not only vividly real but essential to our understanding of the complicated present." —Scott Nadelson, author of The Fourth Corner of the World

"From the first sentence to the last, the lyric majesty of Cunningham's prose ushers us on a brilliant magic carpet ride steered by a master storyteller." —Gina Ochsner, author of The Russian Dreambook of Colour and Flight

"Like the invisible electricity of the telegraph, or a retrieved packet of hidden letters, this narrative's power is irresistible." —Peter Rock, author of Spells and My Abandonment

"A tour de force performance... Cunningham transports the reader across the continent, through multiple eras, and into the souls of his characters... An aching meditation on solitude and connection, and the vast American landscape that breeds both." —Justin Hocking, author of The Great Floodgates of the Wonderworld

"Perpetua's Kin blew me away with its stark, astonishing music. I've never seen the raw devastations of war brought alive in language so uncannily beautiful, so powerfully strange. This is a flat-out brilliant book." —Leni Zumas, author of Red Clocks

"Expertly imagined... From the battlefields of the Civil War, to Ocean Beach in 1940s San Francisco, the characters in this family strive to understand each other's demons and motivations. Much to contemplate in this thought-provoking novel." —Marion Abbott, owner, Mrs. Dalloway's Bookstore (Berkeley, CA)
Free Media Mail shipping on U.S. orders over $50
Christmas ordering guidelines
"Ships from warehouse" items to be shipped: Order by Monday, 12/5
"Ships from warehouse" items to be picked-up in store: Order by Monday, 12/12
On hand items: We'll pull items in order of orders received, so keep them coming!