We are offering FREE media mail shipping on books. We are open from 10am-7pm Monday through Saturday and 10am-6pm Sunday. Phones may not be answered due to a high volume of calls.
GOOD BUSY: Productivity, Procrastination, and the Endless Pursuit of Balance (Paperback)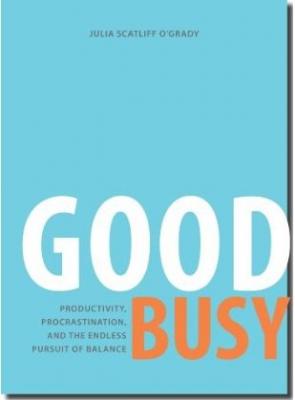 $20.00
Hard to find: allow 24 hours for information
Description
---
A philosophical and provocative look into Time and what it might mean to be GOOD BUSY.



We say we want to better manage our time—but what do we really mean?



Julia Scatliff O'Grady set out on a journey to discover how we might experience the gift of time on our own terms. She listened and she questioned and she listened some more. What she heard was not just a clock ticking, but something perhaps even promising—something as useful as philosophical.



Among 10 approaches, found by 10 people, whose day-to-day lives are successfully GOOD BUSY:

HUNT—Discover the source and psychology of your busyness.

SLIVER—Find snatches of time for artistic endeavors, while managing the day-to-day.

GEOLOGICAL—Take the long-view.

MIRRORS—Be watchful of what is going on around you, yet focused.



From 10 people and 10 approaches, we may borrow directly, cobble together, or, better yet, be inspired to identify—and find words for—our own approach.



GOOD BUSY was launched locally ,with the help of independent bookstores and cultural organizations in Durham and Chapel Hill, NC, September 2012. And October 12. GOOD BUSY launches regionally, through SIBA. January 1, 2013 GOOD BUSY will launch nationally.
Praise For…
---
"Julia Scatliff O'Grady made the time to step back and think deeply about how we use time itself. She helps us see that much of the change we'd like to create in our lives and in the world around us begins with changing how we think about time. O'Grady packs the book with learnings that are personal, provocative, practical, and ultimately deeply spiritual. What more can a great book do than help you think anew about how to live your life? "

—Bill Shore, The Cathedral Within: Transforming Your Life by Giving Something Back



"O'Grady has assembled a true diversity of folks to enlighten us in GOOD BUSY. Their lessons learned about time, rendered in precise and elegant language, make this book an absolute treasure that will captivate anyone who has ever wondered: Why don't I have more time?"

—Faulkner Fox, Dispatches from a Not-So-Perfect Life



"In a world of constant change, growing distractions, and information deluge, it is so easy to end up multi-tasking ourselves into exhaustion. Julia's book has some important reminders and practical lessons on how to shift the balance in our lives from 'bad busy' to 'good busy.''"

—Heather McLeod Grant, Forces for Good: The Six Practices of High Impact Non-Profits



"O'Grady's beautifully drawn portraits of 10 busy people were a mirror for my own busyness. I learned a lot—and I am sure you will too."

—Mark Gerzon, Leading Through Conflict and American Citizen, Global Citizen



"O'Grady cuts right to the heart of the matter of time and how we live our lives. GOOD BUSY is full of truths that speak to wherever we are on the journeys and whoever we are. Some of the practices already leapt off the page and seared themselves into my daily life."

—Claudia Horwitz, The Spiritual Activist