Master of Reality (33 1/3 #56) (Paperback)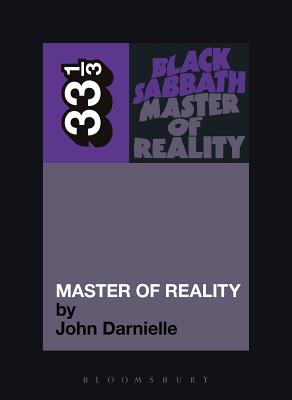 Staff Reviews
---
In Master of Reality, John Darnielle (who was nominated for a National Book Award for his novel Wolf in White Van) gives us the story of Roger Painter, a young man who has been locked up in a psychiatric care facility. Upon being checked in, the staff at the center takes Painter's cassette Walkman, which contains the album Master of Reality. Over the course of this novella, Painter writes a letter to the psychiatric care staff in an effort to convince them of why he needs the Walkman–and the Black Sabbath album–returned.
Master of Reality is a fantastic piece of fiction and creative music criticism. Knowledge or appreciation of Black Sabbath's music isn't necessary.
— Jason
Description
---
Black Sabbath's Master of Reality has maintained remarkable historical status over several generations; it's a touchstone for the directionless, and common coin for young men and women who've felt excluded from the broader cultural economy. John Darnielle hears it through the ears of Roger Painter, a young adult locked in a southern California adolescent psychiatric center in 1985; deprived of his Walkman and hungry for comfort, he explains Black Sabbath as one might describe air to a fish, or love to an android, hoping to convince his captors to give him back his tapes.
About the Author
---
John Darnielle is the singer and songwriter otherwise known as the Mountain Goats.