The Replacements' Let It Be (33 1/3 #16) (Paperback)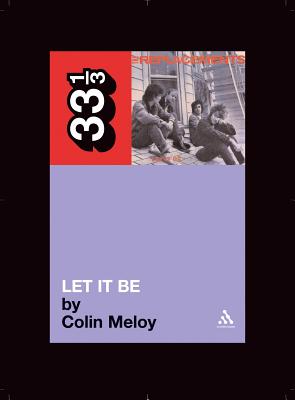 Staff Reviews
---
One of the things I like best about the 33 1/3 series is that you never know what you're going to get: song-by-song analysis, cultural context, personal memoir, even fiction. Here, Colin Meloy transports us to the late 80's Montana of his childhood where he discovers his budding identity through rock n' roll.
In the midst of a typical Midwestern musical wasteland, Colin's cool uncle Paul sends him cassettes with a new kind of music, including R.E.M.,  Hüsker Dü , and the Replacements. He soon buys a copy of Let It Be on cassette from his local record store. From those first chords of "I Will Dare" Colin is hooked. And he is forever changed, as we all have been at one time or another, by music.
This is a wonderful snapshot of a young music fan before he becomes an accomplished musician himself. (Meloy went on to indie-rock stardom with his band, The Decemberists.)  I particularly appreciate the parallel between this awkward time in Meloy's adolescence and the transitional time in the career of the Replacements, represented by what many consider to be their quintessential album. Some fans may want more concrete information on the band and the making of the record, but Meloy deftly appends some bits of the band's origin story to the end, which contrasts nicely with his own musical coming of age.
— Tony
Description
---
One of the greatest moments of College Rock in the 1980s, Let It Be had a huge impact on the fans who fell under its spell. For Colin Meloy, growing up in Montana - a state that's strangely missing from the tour itineraries of almost every band - the album was a lifeline and an inspiration. In this disarming memoir, Meloy lovingly recreates those feverish first years when rock music grips you and never lets go.
About the Author
---
Colin Meloy is the lead singer and song writer for the Decemberists. Their first two albums, Castaways and Cutouts and Her Majesty the Decemberists, have been released to widespread critical acclaim. He lives in Portland, OR