Marty (Hardcover)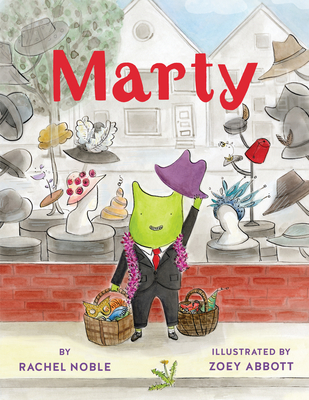 Description
---
An alien makes an unexpected friend in this irresistible picture book about finding your place in the universe.

A Golden Duck Notable Picture Book

Marty is a tiny green Martian who lives here on Earth. You've never noticed him before, because he is undercover . . . Marty wears disguises and studies human behavior in order to fit in. He is always watching, learning, and laughing.

And then one day, after much preparation, Marty gets a job! He loves to watch his customers, and he even makes some friends. But Marty knows he can never reveal his secret. Humans are terrified of Martians.

When his cover gets blown, Marty needs somewhere safe to go. Who will see beyond his strange, green looks to show him kindness?

This adorable story of an outsider with a good heart reminds readers that everyone needs a place to call home--and a friend for company. Zoey Abbott's colorful art, full of elaborate costumes and whimsical details, pops against Rachel Nobel's spare, sweet text. With its charming way of promoting inclusivity, the book makes for a perfect companion to All Are Welcome.
About the Author
---
Rachel Noble has worked as a producer, journalist, and presenter for many years. Her debut picture book, Finn's Feather, was illustrated by Zoey Abbott. She lives in Australia with her family, where she is always watching, learning, and laughing. Visit her at http://rachelnobleauthor.com/.

Zoey Abbott's picture books include Over the Moon, Twindergarten, and Finn's Feather. After graduating from Smith College with a degree in Women's Studies and History, she spent four years living and painting in Japan. She currently lives in Portland, Oregon with her husband, kids, and a large dog named Carrots. Visit her at https://www.zoeydraws.com/.
Praise For…
---
"This satisfying and surprisingly tender story beams an encouraging message about acceptance to young Earthlings (and to undercover Martians)." —The Horn Book

"The protagonist is an endearing, empathetic character, and the book's resolution is genuinely touching. That a bystander steps in to seek and ultimately provide 'a safe place' for Marty serves as a superb example of allyship, all wrapped up in an entertaining story that makes its point gracefully. Charming." —Kirkus Reviews

"This is a heartwarming story about accepting others for who they are, no strings attached; it celebrates the fun that ensues when you do."—Foreword Reviews

"With delicate, expressive lines and effective use of color, the illustrations engage viewers while providing hints regarding Marty's identity before it's stated in the text. Noble, an Australian writer, captures Marty's loneliness, yearning, and eventual happiness in a story that is well suited to reading aloud. By showing one outsider's viewpoint, this pleasing picture book encourages openness toward others who are different."—Booklist

"Underneath the Martian theme, this bubbly fable by Noble embraces being oneself as, far from frightening others, Marty finds out that he doesn't have to hide."—Publishers Weekly  

"Rachel Noble and Zoey Abbott's Marty is a charming story of acceptance, friendship and finding home."—BookPage
 
"Abbott's whimsical line and watercolor art is bound to invoke more than a few laughs; background details, such as Marty's home tree filled with his costumes and treasured possessions, add to the humor and the potential for new insight upon rereading. The outlandishness of the story contributes to the fun as it doesn't take itself too seriously, but it has positive implications for making friends with those who feel left out of social circles."—The Bulletin of the Center for Children's Books

Free Media Mail shipping on U.S. orders over $75