The Irreversible Decline of Eddie Socket (Paperback)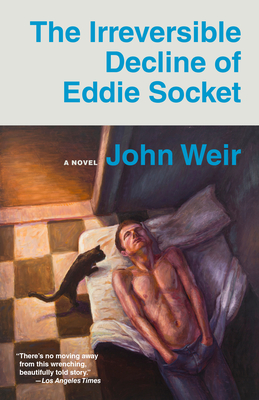 Description
---
Before the onset of his irreversible decline, Eddie Socket always suspected he was on the verge of something. Now that "something" has arrived in the form of Merrit Mather, an attractive older gentleman of impeccable taste in everything from sweaters to his numerous sexual conquests. That Merrit happens to be the lover of Eddie's agitated boss, Saul, hardly fazes the smitten Eddie; that the elusive Merrit loses interest in Eddie with dizzying speed hardly dims his ardor. While Eddie continues his futile chase, he finds solace in his roommate, Polly, involved in her own implausible affair with a self-involved banker. Both Eddie and Polly eventually conclude that solitude is their best option. But even that is not possible as Eddie finds his life taking an unexpected turn--a turn that that serves as the catalyst for Eddie, love-ravaged Polly, and the indomitable Saul to reclaim their lives.
First published in 1989 and winner of the 1990 Lambda Literary Award for Best Gay Debut Novel,
The Irreversible Decline of Eddie Socket
is one of the first novels to respond to the global AIDS crisis. A comedy of absurdist horror, it weaponizes the comic as a way of intensifying the tragic aspects of AIDS, which were especially acute in the early 1980s, and the scars of which are still visible today.
About the Author
---
John Weir is a professor of English and creative writing at Queens College, CUNY. He is the author of two novels, The Irreversible Decline of Eddie Socket and What I Did Wrong, both available from New York ReLit, an imprint of Fordham University Press. Weir's short story collection, Your Nostalgia Is Killing Me (Red Hen Press, 2022), is the winner of the 2020 AWP Grace Paley Prize for Short Fiction.
Free Media Mail shipping on U.S. orders over $50