Mineralogy of Arizona, Fourth Edition (Hardcover)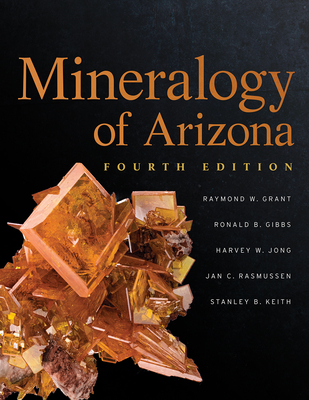 $89.25

Ships from warehouse to store in 3-6 business days
Description
---
Completely revised and expanded, this fourth edition covers the 986 minerals found in Arizona, showcased with breathtaking new color photographs throughout the book. The new edition includes more than 200 new species not reported in the third edition and previously unknown in Arizona.

Chapters in this fourth edition of Mineralogy of Arizona cover gemstones and lapidary materials, fluorescent minerals, and an impressive catalog of mineral species. The authors also discuss mineral districts, including information about the geology, mineralogy, and age of mineral occurrences throughout the state. The book includes detailed maps of each county, showing the boundaries and characteristics of the mineral districts present in the state.

Arizona's rich mineral history is well illustrated by the more than 300 color photographs of minerals, gemstones, and fluorescent minerals that help the reader identify and understand the rich and diverse mineralogy of Arizona. Anyone interested in the mineralogy and geology of the state will find this the most up-to-date compilation of the minerals known to occur in Arizona.
About the Author
---
Raymond W. Grant, co-author of the Mineralogy of Arizona, 3rd Edition, has a PhD in geology and has retired after teaching geology at Mesa Community College in Mesa, Arizona, for thirty-one years.

Ronald B. Gibbs has bachelor's degrees in geology and mining engineering and has retired after a career in the copper mining industry.

Harvey W. Jong received a bachelor's degree from MIT and a master's degree from the University of California, Santa Barbara; both degrees are in electrical engineering. After working in the microprocessor industry for fifteen years, he decided to pursue his passion for photography and started a digital media studio.

Jan C. Rasmussen holds a PhD in economic geology from the University of Arizona and has served as the associate curator of the University of Arizona Mineral Museum and later as the curator of the Arizona Mining and Mineral Museum in Phoenix.

Stanley B. Keith has a master's degree in geology from the University of Arizona and has worked for the Arizona Geological Survey before co-founding MagmaChem Exploration.
 
Praise For…
---
"This is a significant update from the 3rd Edition. The chapters on fluorescence, mineral districts and the geology and formation of ore deposits and the resulting mineral species and specimens are interesting and very informative. This sets Mineralogy of Arizona, 4th Edition, apart from all other mineralogy texts. This should be required reading for all geology and mineralogy students." —Les Presmyk, chairman of Flagg Mineral Foundation

Praise for previous editions
"This book is among the best of the various US state and regional guides to minerals and their localities. Arizona minerals are of popular interest, and Arizona mineral specimens are especially apparent in collections and museums throughout the world. The authors, respected academic mineralogists, have directed this expanded update of two widely used earlier editions to the needs of the professional geologist and the serious mineral collector."—Choice

"This handsome edition, like its predecessors, is the definitive source of information on Arizona minerals. The size of this exceptional work is more than double that of the first and second editions. . . . Essential for anyone interested in Arizona's minerals, from the novice to the professional geologist."—Arizona Mineral Resources

 
Free Media Mail shipping on U.S. orders over $50