Olive, Again: A Novel (Hardcover)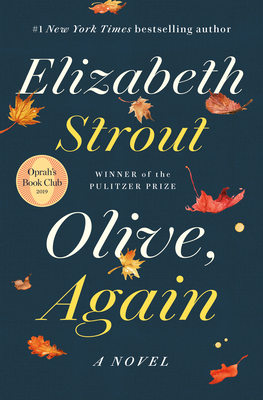 Staff Reviews
---
I didn't realize how much I'd missed Olive Kitteridge until I started reading Elizabeth Strout's new episodic novel. In moments, I had settled into the pages of this book and the familar streets of Crosby where I encountered well-known characters like Jack Kennison and Olive's son, Christopher, and made some new friends too. Through most of the book Olive remained almost the same, except that in this sequel she seems to have a tiny bent toward self-improvement and making amends with Christopher. Strout has a way of drawing the readers into an intimate relationship with every person she writes about. And it's obvious that Strout knows Olive Kitteridge as well as she knows anyone and loves her in spite of herself. This is the same fine writing and thoughtful characterization that won Strout the Pulitzer Prize in 2008. Could it happen twice?
— Mamie
October 2019 Indie Next List
---
"Thank goodness Elizabeth Strout decided to return for another round with one of the most beloved, maddening, confounding, and compelling characters I have ever had the pleasure of meeting. Readers will delight in the fact that Olive, while forging new relationships and puzzling over long-existing ones, remains the crazy, complicated family member you just can'tquit. Add in spareyet beautifully rendered prose about the rugged, breathtaking state of Maine and you've got a gem of a book, one that leaves you rooting for Olive, despite her numerous shortcomings, as she stumbles through love, friendship, loss, and what it means to growold. Strout, through Olive, reminds us that it's a messy business being human, but it's a privilege to be along for the ride."
— Page Berger, Barrett Bookstore, Darien, CT
Description
---
#1 New York Times bestselling author and Pulitzer Prize winner Elizabeth Strout continues the life of her beloved Olive Kitteridge, a character who has captured the imaginations of millions.

"Strout managed to make me love this strange woman I'd never met, who I knew nothing about. What a terrific writer she is."—Zadie Smith, The Guardian

NAMED ONE OF FALL'S MOST ANTICIPATED BOOKS BY People • Time • Entertainment Weekly • Vanity Fair • BuzzFeed • Vogue • USA Today • The Seattle Times • HuffPost • Newsday • Vulture • Bustle • Vox • PopSugar • Good Housekeeping • LitHub • Book Riot
 
Prickly, wry, resistant to change yet ruthlessly honest and deeply empathetic, Olive Kitteridge is "a compelling life force" (San Francisco Chronicle). The New Yorker has said that Elizabeth Strout "animates the ordinary with an astonishing force," and she has never done so more clearly than in these pages, where the iconic Olive struggles to understand not only herself and her own life but the lives of those around her in the town of Crosby, Maine. Whether with a teenager coming to terms with the loss of her father, a young woman about to give birth during a hilariously inopportune moment, a nurse who confesses a secret high school crush, or a lawyer who struggles with an inheritance she does not want to accept, the unforgettable Olive will continue to startle us, to move us, and to inspire moments of transcendent grace.

Advance praise for Olive, Again

"There's no simple truth about human existence, Strout reminds us, only wonderful, painful complexity. 'Well, that's life,' Olive says. 'Nothing you can do about it.' Beautifully written and alive with compassion, at times almost unbearably poignant. A thrilling book in every way."—Kirkus Reviews (starred review)

"Strout's stories form a cohesive novel, both sequel and culmination, that captures, with humor, compassion, and embarrassing detail, aging, loss, loneliness, and love. Strout again demonstrates her gift for zeroing in on ordinary moments in the lives of ordinary people to highlight their extraordinary resilience."—Publishers Weekly (starred review)
About the Author
---
Elizabeth Strout is the #1 New York Times bestselling author of Olive Kitteridge, winner of the Pulitzer Prize; Anything Is Possible, her most recent book and winner of The Story Prize; My Name Is Lucy Barton, longlisted for the Man Booker Prize; The Burgess Boys, named one of the best books of the year by The Washington Post and NPR; Abide with Me, a national bestseller; and Amy and Isabelle, winner of the Los Angeles Times Art Seidenbaum Award for First Fiction and the Chicago Tribune Heartland Prize. She has also been a finalist for the National Book Critics Circle Award, the PEN/Faulkner Award for Fiction, the International Dublin Literary Award, and the Orange Prize. Her short stories have been published in a number of magazines, including The New Yorker. Elizabeth Strout lives in New York City.
Praise For…
---
"Return to the wonderful world of Strout's unforgettable Pulizer Prize–winning novel, Olive Kitteridge, with Olive, Again. Strout weaves together the stories of the different characters populating Crosby, Maine, in her inimitable voice, all tied together by Olive. . . . Lose yourself in the world of Olive, Again. You'll be so glad you did."—PopSugar
 
"The lovable, irascible Olive Kitteridge is back in this sequel to the charming (but also casually devastating) 2008 novel that won a Pulitzer Prize and spawned an HBO miniseries. Strout sticks to her winning formula: interrelated short stories linked by the presence of familiar faces. . . . In this novel—set against the backdrop of a rapidly changing Maine, ravaged by opioid addiction and economic neglect—Strout wields great pathos out of life and all its attendant tragedies."—BuzzFeed 
 
"Maybe you read the wonderful Olive Kitteridge—or saw the HBO series—and thought you'd had enough of Strout's dour, prickly heroine? Guess again: Her return is a stunner."—People
 
"Fans of Olive Kitteridge will devour Strout's sequel."—New York
 
"After a No. 1 spot on the bestseller list, the Pulitzer Prize and a TV miniseries starring Frances McDormand, Olive Kitteridge is surely the most beloved unlikable character in recent literary history. . . . This new collection of stories about Olive's friends and family hits it out of the park."—Newsday
 
"Strout aims the spotlight on her wry heroine and the characters of Crosby, Maine, in another book that's sure to have you flipping pages long into the night."—Bustle
 
"Olive, Again returns to Olive and the town of Crosby to do what Strout does best: find meaning in the tiniest and most mundane details of everyday life."—Vox
 
"Olive Kitteridge is back, crustier than ever and just as unapologetic as she was when she first appeared 11 years ago. . . . Caught up in scenes of great hilarity . . . and bewildering grief, Olive may offer blunt honesty that defies societal norms, but her clarity is refreshing and never cruel. . . . Strout, who won the Pulitzer for Olive Kitteridge, wrote that Olive forced her way back into Strout's consciousness long after the author thought she was done with her. Olive demanded Strout write these new stories. Of course Olive did that. It's so . . . Olive. Thank goodness Olive prevailed. Exquisite."—Library Journal (starred review)
Coverage from NPR