We are offering FREE media mail shipping on books. We are open from 10am-7pm Monday through Saturday and 10am-6pm Sunday. Phones may not be answered due to a high volume of calls.
The Last of the Mohicans (Mass Market Paperback)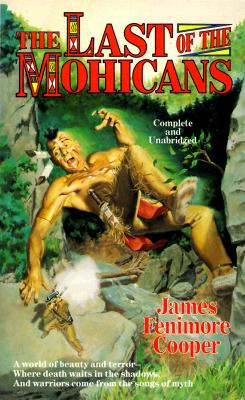 $3.99
Hard to find: allow 24 hours for information
Description
---
Tor Classics are affordably-priced editions designed to attract the young reader. Original dynamic cover art enthusiastically represents the excitement of each story. Appropriate "reader friendly" type sizes have been chosen for each title—offering clear, accurate, and readable text. All editions are complete and unabridged, and feature Introductions and Afterwords.

This edition of The Last of the Mohicans includes a Foreword, Biographical Note, and Afterword by Richard S. Wheeler.

Betrayed--trapped in a death-ravaged alien land--beautiful, innocent sisters Cora and Alice Munro, singer David Gamut, and Major Duncan Heyward are running blind through a murderous nightmare where capture, torture, and bloody enemies lurk in every tree, every shadow--

Their only chance lies with three strangers who emerge from the wildlands: Hawkeye, the lethal manhunter who has turned his back on the world; Great Serpent, self-exiled lord of a doomed nation; and Bounding Elk, a young warrior of nearly superhuman grace, speed and strength. And the destinies of refugees and heroes will explode beside a holy lake, when the savage armies of terror must face and fight a living legend--

For one of these seven is the lost godking of the Mohicans....