Time Without Keys: Selected Poems (Paperback)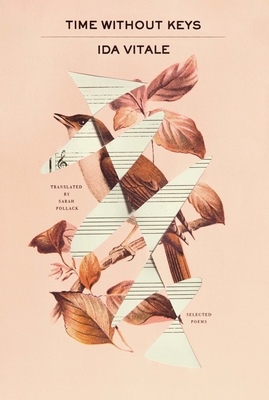 Description
---
A landmark collection of poetry by one of Latin America's most important living writers. 
The celebrated writer Álvaro Mutis envied new readers of Ida Vitale's poetry: "unexpected pleasures await them."
Time Without Keys: Selected Poems
is the first volume of Vitale's illustrious poetry to appear in the US. The selection spans seventy-five years and the wonders within abound—the skies over Montevideo, falconry, the saxifrage's bloom, gratitude for the alphabet and summer—as do urgent questions about our relationship with the world. How does our perception of time shape history, as well as our social and political constructs? Vitale's poetic and human vitality have made her a storied figure in the Spanish language and beyond; her writing revered for being classic and modern, precise and lucid, intellectually challenging and rich in tradition. This bilingual edition, presented in reverse chronological order, offers the reader both a wide range of Vitale's most beloved poems, as well as a wealth of recent work. The translator Sarah Pollack, Vitale's first translator into English, has written an informative afterword about Vitale's life and work.
About the Author
---
Ida Vitale was born in Montevideo, Uruguay in 1923. She is one of Latin America's most celebrated and respected poets. Vitale has published over thirty works of poetry, prose, and literary criticism, in addition to numerous translations. In Uruguay and Mexico, where she lived in exile, she was an important intellectual figure. In the late 1980s, Vitale settled in Austin, TX until her return to Montevideo in 2016, after the death of her husband. She is the fifth woman to win the Miguel de Cervantes Prize, the highest accolade in Spanish. Her awards include the National Prize in Uruguay, the Reina Sofía Prize, the Octavio Paz Prize, the García Lorca Prize, and the Max Jacob Prize. In 2019, the BBC named her one of the world's 100 most influential women.

Sarah Pollack is a professor of Latin American literature and translation studies at the College of Staten Island and The Graduate Center, CUNY. She has also translated works by Juan Villoro, Silvia Eugenia Castillero, Fabio Morábito, Enrique Fierro, and Cristina Peri Rossi.
Praise For…
---
Thank you Ida for being you, for your restrained and necessary poetry, for that Uruguayan memory that fills this cold apartment in Paris with birds.
— Julio Cortárzar

Throughout, we taste Vitale's elemental attention, turned to the snail, the bird, the word itself… [these are] selections from 75 years of celebrated lyric imagination.
— Rebecca Morgan Frank - Literary Hub

Vitale's affinity for that which is transient gives the book a buoyant edge… Her poems carry this spirit of secrecy—as if someone were speaking from the other side of a barrier, and as if the poem could get you there.
— Janani Ambikapathy - Harriet Books

Vitale's poems are short—rarely more than a page—as if, having perched for a moment on our attention, they have determined not to overstay their welcome. Their ludic play [is] combined with a light (gentle, not jovial) tone. … Vitale's poems aren't mystical effusions; they are made things.
— Ange Mlinko - New York Review of Books
Free Media Mail shipping on U.S. orders over $75
"Ships from warehouse" books to be shipped: order by Wednesday, 12/6
"Ships from warehouse" books for pickup: order by Tuesday, 12/12