Thirst: Poems (Paperback)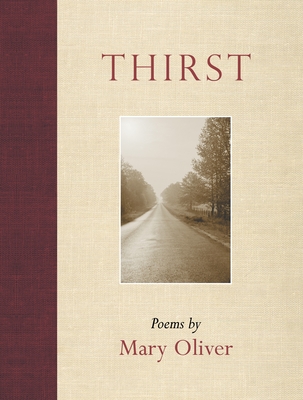 $16.00

Ships from warehouse to store in 3-6 business days
Description
---
Thirst, a collection of forty-three new poems from Pulitzer Prize winner Mary Oliver, introduces two new directions in the poet's work. Grappling with grief at the death of her beloved partner of over forty years, she strives to experience sorrow as a path to spiritual progress, grief as part of loving and not its end. And within these pages she chronicles for the first time her discovery of faith, without abandoning the love of the physical world that has been a hallmark of her work for four decades.
About the Author
---
A private person by nature, Mary Oliver (1935–2019) gave very few interviews over the years. Instead, she preferred to let her work speak for itself. And speak it has, for the past five decades, to countless readers. The New York Times recently acknowledged Mary Oliver as "far and away, this country's best-selling poet." Born in a small town in Ohio, Oliver published her first book of poetry in 1963 at the age of 28; No Voyage and Other Poems, originally printed in the UK by Dent Press, was reissued in the United States in 1965 by Houghton Mifflin. Oliver has since published twenty books of poetry and six books of prose. As a young woman, Oliver studied at Ohio State University and Vassar College, but took no degree. She lived for several years at the home of Edna St. Vincent Millay in upper New York state, companion to the poet's sister Norma Millay. It was there, in the late '50s, that she met photographer Molly Malone Cook. For more than forty years, Cook and Oliver made their home together, largely in Provincetown, Massachusetts, where they lived until Cook's death in 2005. Over the course of her long and illustrious career, Oliver has received numerous awards. Her fourth book, American Primitive, won the Pulitzer Prize for Poetry in 1984. She has also received the Shelley Memorial Award; a Guggenheim Fellowship; an American Academy and Institute of Arts and Letters Achievement Award; the Christopher Award and the L.L. Winship/PEN New England Award for House of Light; the National Book Award for New and Selected Poems; a Lannan Foundation Literary Award; and the New England Booksellers Association Award for Literary Excellence. Oliver's essays have appeared in Best American Essays 1996, 1998, 2001; the Anchor Essay Annual 1998, as well as Orion, Onearth and other periodicals. Oliver was editor of Best American Essays 2009. Oliver's books on the craft of poetry, A Poetry Handbook and Rules for the Dance, are used widely in writing programs. She is an acclaimed reader and has read in practically every state as well as other countries. She has led workshops at various colleges and universities, and held residencies at Case Western Reserve University, Bucknell University, University of Cincinnati, and Sweet Briar College. From 1995, for five years, she held the Catharine Osgood Foster Chair for Distinguished Teaching at Bennington College. She has been awarded Honorary Doctorates from The Art Institute of Boston (1998), Dartmouth College (2007) and Tufts University (2008).
Praise For…
---
To read Thirst, is to feel gratititude for the simple fact of being alive. This is not surprising, as it is the effect [Oliver's] best work has produced in readers for the past 43 years. —Angela O'Donnell, America Magazine

"Mary Oliver moves by instinct, faith, and determination. She is among our finest poets, and still growing." —Alicia Ostriker, The Nation

"It has always seemed, across her [many] books of poetry, . . . that Mary Oliver might leave us at any minute. Even a 1984 Pulitzer Prize couldn't pin her to the ground. She'd change quietly into a heron or a bear and fly or walk on forever." —Susan Salter Reynolds, Los Angeles Times

"Mary Oliver. In a region that has produced most of the nation's poet laureates, it is risky to single out one fragile 71-year-old bard of Provincetown. But Mary Oliver, who won the Pulitzer Prize in poetry in 1983, is my choice for her joyous, accessible, intimate observations of the natural world. Her Wild Geese has become so popular it now graces posters in dorm rooms across the land. But don't hold that against her. Read almost anything in New and Selected Poems. She teaches us the profound act of paying attention—a living wonder that makes it possible to appreciate all the others."—Renée Loth, Boston Globe
Free Media Mail shipping on U.S. orders over $50
Christmas ordering guidelines
"Ships from warehouse" items to be shipped: Order by Monday, 12/5
"Ships from warehouse" items to be picked-up in store: Order by Monday, 12/12
On hand items: We'll pull items in order of orders received, so keep them coming!