Between Pacific Tides: Fifth Edition (Paperback)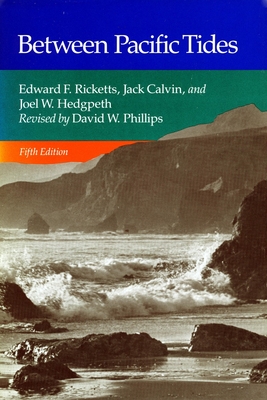 $33.95

Ships from warehouse to store in 3-6 business days
Description
---
One of the classic works of marine biology, a favorite for generations, has now been completely revised and expanded. Between Pacific Tides is a book for all who find the shore a place of excitement, wonder, and beauty, and an unsurpassed introductory text for both students and professionals.

This book describes the habits and habitats of the animals that live in one of the most prolific life zones of the world—the rocky shores and tide pools of the Pacific Coast of the United States. The intricate and fascinating life processes of these creatures are described with affectionate care. The animals are grouped according to their most characteristic habitat, whether rocky shore, sandy beach, mud flat, or wharf piling, and the authors discuss their life history, physiology, and community relations, and the influence of wave shock and shifting tide level.

Though the basic purpose and structure—and much of the text—of the book remain the same, content has been increased by about 20 percent; a multitude of changes and additios has been made in the text; the Annotated Systematic Index and General Bibliography have been updated and greatly expanded (now almost 2,300 entries); more than 200 new photographs and drawings have been incorporated; and an entirely new chapter has been added—a topical presentation of the several factors influencing distribution of organisms along the shore. This edition also includes John Steinbeck's Foreword to the 1948 edition.


Praise For…
---
"John Steinbeck himself wrote the Foreword to the revised edition for Ricketts and his co-author Jack Calvin."—Palo Alto Times

"Ritchie Lovejoy's exquisite line drawings, 100 pages of them form a treasure trove both for the scientist and the lover of nature who is not scientifically trained. The general reader may take refuge here on hot days. To the scientist the book is a must."—The Book Shelf

"The book is filled with interesting information on familiar acquaintances, from crabs and limpets to the toredo, and many less familiar."—CTA Journal

"This revised edition of Between Pacific Tides, is an intensely interesting account, for laymen and beginners, about . . .strange and unusual animals and plants."—Long Beach (Calif) Press

"As Steinbeck says in his foreword: "There are good things to see in the tidepools and there are exciting and interesting thoughts to be generated from the seeing." This is the book to introduce one to these forms, and, certainly, to generate those thoughts."—Nature Magazine
"That Between Pacific Tides will become a classic of western American marine ecology is unquestioned."—Pacific Discovery
"New and revised edition of th best and most complete guide to the invertebrate animals of the Pacific Coast. Invaluable for anyone who wants to identify what he sees along the beach. Well illustrated."—Los Angeles News
"Both the ecologist who would like to familiarize himself with some of the common invertebrates of the Pacific Coast, and the invertebrate specialist who needs to get away from the phylogenetic viewpoint and look upon invertebrates in relation to habitat and as members of a community, will want to have this book."—Ralph Buchsbaum, The University of Chicago
"The book is written with grace and gusto, and is generously and delightfully illustrated."—The Rotarian

"That <I>Between Pacific Tides</I> will become a classic of western American marine ecology is unquestioned."—<I>Pacific Discovery</I>

"New and revised edition of th best and most complete guide to the invertebrate animals of the Pacific Coast.  Invaluable for anyone who wants to identify what he sees along the beach.  Well illustrated."—<I>Los Angeles News</I>

"Both the ecologist who would like to familiarize himself with some of the common invertebrates of the Pacific Coast, and the invertebrate specialist who needs to get away from the phylogenetic viewpoint and look upon invertebrates in relation to habitat and as members of a community, will want to have this book."—Ralph Buchsbaum, The University of Chicago
Free Media Mail shipping on U.S. orders over $75