FREE Media Mail shipping on eligible items! We are open for browsing by appointment from 10am-7pm M-S and 10am-6pm Sundays. Email books@quailridgebooks.com for a reservation. Phones may not be answered due to high volume of calls.
Ship of Gold in the Deep Blue Sea (Paperback)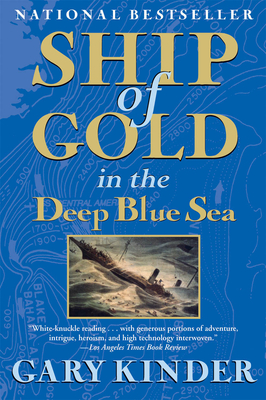 Description
---
Originally published in 1998 and a best seller in its hardcover and paperback publications, Gary Kinder's Ship of Gold in the Deep Blue Sea tells the story of the sinking of the SS Central America, a side-wheel steamer carrying nearly six hundred passengers returning from the California Gold Rush, two hundred miles off the Carolina coast in September 1857. Over four hundred lives and twenty-one tons of California gold were lost. It was the worst peacetime disaster at sea in American history, a tragedy that remained lost in legend for over a century. In the 1980s, a young engineer from Ohio set out to do what no one, not even the U.S. Navy, had been able to do: establish a working presence on the deep ocean floor and open it to science, archaeology, history, medicine, and recovery. The SS Central America became the target of his project. After years of intensive efforts, Tommy Thompson and the Columbus-America Discovery Group found the Central America in eight thousand feet of water, and in October 1989 they sailed into Norfolk with her recovered treasure: gold coins, bars, nuggets, and dust, plus steamer trunks filled with period clothes, newspapers, books, journals, and even an intact cigar sealed under water for 130 years. Life magazine called it "the greatest treasure ever found." Gary Kinder tells an extraordinary tale of history, human drama, heroic rescue, scientific ingenuity, and individual courage. Ship of Gold in the Deep Blue Sea is a testament to the human will to triumph over adversity. It is also a great American adventure story of the opening of Earth's last frontier.
About the Author
---
Gary Kinder is the author of the bestselling books Victim and Light Years. He lives in Seattle with his wife and two daughters.
Coverage from NPR