FREE Media Mail shipping on eligible items! We are open for browsing by appointment from 10am-7pm M-S and 10am-6pm Sundays. Email books@quailridgebooks.com for a reservation. Phones may not be answered due to high volume of calls.
The Bible: A Biography (Books That Changed the World) (Paperback)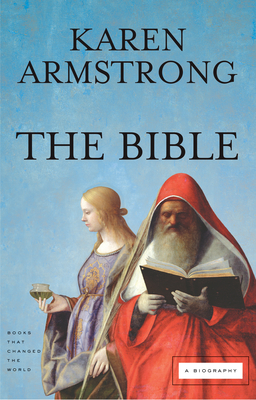 $14.95
Hard to find: allow 24 hours for information
Description
---
As the single work at the heart of Christianity, the world's largest organized religion, the Bible is the spiritual guide for one out of every three people in the world. It is also the world's most widely distributed book and its best-selling, with an estimated six billion copies sold in the last two hundred years. But the Bible is a complex work with a complicated and obscure history. Its contents have changed over the centuries, it has been transformed by translation and, through interpretation, has developed manifold meanings to various religions, denominations, and sects. In this seminal account, acclaimed historian Karen Armstrong discusses the conception, gestation, life, and afterlife of history's most powerful book. Armstrong analyzes the social and political situation in which oral history turned into written scripture, how this all-pervasive scripture was collected into one work, and how it became accepted as Christianity's sacred text, and how its interpretation changed over time. Armstrong's history of the Bible is a brilliant, captivating book, crucial in an age of declining faith and rising fundamentalism.
Praise For…
---
A fascinating investigation." Christian Advance

For the Books That Changed the World series . . . Armstrong accepted the arguably most daunting assignment. What other book has as long a history of influence as the Bible, or has affected more people and societies? [Armstrong] is, of course, up to the task and provides an excellent précis of the writing and compiling of the Bible and the ensuing centuries of biblical interpretation. . . . This is one terrific little book." Booklist

Dispels any notion of religion as a rigidly fixed reading of sacred texts. Spanning millennia, from the scripture's origins in oral stories to the conflicting beliefs, ancient and modern, over its message, her book will discomfort fundamentalists who believe that the Bible means what it says and says what it means." Rich Barlow, The Boston Globe

One of the merits of Armstrong's book is that it points to the modern origin of literalist interpretations of Scripture, and then revisits the preceding centuries of Biblical scholarship to bring its considerable diversity to the notice of modern readers." Edward Norman, Literary Review

Vintage Armstrong: sweeping, bold, incisive, and insightful. In eight chapters it covers the history of the writing, canonizing, and reading of the Bible Her choice of topics is impeccable and her brief, 23-page discussion on the rise of the Talmud is masterful." P.L. Redditt, Choice

A handy, erudite primer on the Holy Books." The Jerusalem Report

A whirlwind tour through biblical studies. . . Armstrong's analysis of the freedom previous generations (however far removed) felt with adapting, editing, redacting and re-writing the texts to suit contemporary purposes will undoubtedly remind savvy readers of all the current uses to which these same texts are being put." Kel Munger, Sacramento News & Review

[Armstrong] shows how the highly disparate writings that now compose the Jewish and Christian scriptures came together and examines the very different methods of interpretation used over the centuries. Her book's great strength is the way she unfolds the Jewish and Christian histories of formation and interpretation in parallel with one another." Richard Harries, The GuardianA learned but accessible history of the Bible's origins and genesis. Armstrong goes behind the authorized versions preached by the churches to recreate the order and the political and social circumstances in which the books of the Old and New testaments were first written down, amended, and then endlessly reinterpreted and recast. Armstrong's great achievement, however, is that, as well as leaving you with a clearer, more historically accurate picture as to what precisely the Bible is (and isn't), she also makes you want to go back and read it again with fresh eyes." Peter Stanford, The Independent (UK)

"[Armstrong] has never written on such a broad scale, or with as much passion . . . [her] concern that religion should no longer be used to promote violence animates her measured, lucid prose and vivifies her summar of the development of the Bible and its interpretation."
Bruce Chilton, New York Sun

Karen Armstrong preaches the gospel truth in The Bible, explaining how the spiritual guide for one out of three people on the planet came into being and evolved over the centuries"
Elissa Schappell, Vanity Fair

[A] richly interwoven and often surprising history." Michael Alec Rose, Bookpage

While there are countless guides to reading the Bible, noted academic Karen Armstrong looks at the history of the book with a keen historian's eye. Armstrong condenses into a manageable volume the many ideas and traditions that influenced the creation of the Good Book." Kirkus Reviews

This is one terrific little book." Booklist

[A] spending series." Bill Ward, Minneapolis Star-Tribune

[Armstrong] does an exceptional job of balancing and interweaving Jewish and Christian approaches to scripture." Kirkus Reviews

Of all the Books that Changed the World' surely the Bible is among the most important. And of all contemporary popularizes of religious history, surely Armstrong is among the bestselling. Who better, then, to recount the history of the Bible in eight short chapters than this former nun and literature professor who relishes huge topics and panoramic descriptions? Armstrong not only describes how, when and by whom the Bible was written, she also examines some 2,000 years of biblical interpretation." Publishers Weekly

Armstrong judiciously summarizes centuries of history and writes with remarkable insight."
Christian Science Sentinel

"Armstrong is at her best when explaining how today's focus on the Bible as a literal, static text runs counter to a longstanding interpretative tradition that viewed study of the good book as an activity for attaining transcendence.'" Andrea McQuillin, Shambhala Sun