We are offering FREE media mail shipping on books. We are open from 10am-7pm Monday through Saturday and 10am-6pm Sunday. Phones may not be answered due to a high volume of calls.
Heart of Palm (Hardcover)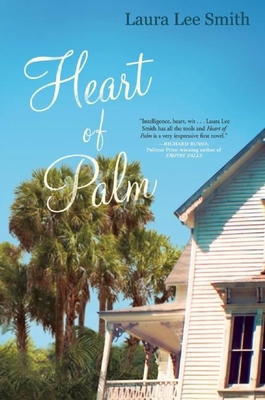 Description
---
"Intelligence, heart, wit . . . Laura Lee Smith has all the tools and Heart of Palm is a very impressive first novel."--Richard Russo, Pulitzer Prize-winning author of Empire Falls Utina, Florida, is a small, down-at-heels southern town. Once enlivened by the trade in Palm Sunday palms and moonshine, Utina hasn't seen economic growth in decades, and no family is more emblematic of the local reality than the Bravos. Deserted by the patriarch years ago, the Bravos are held together in equal measure by love, unspoken blame, and tenuously brokered truces. The story opens on a sweltering July day, as Frank Bravo, dutiful middle son, is awakened by a distress call. Frank dreams of escaping to cool mountain rivers, but he's only made it ten minutes from the family restaurant he manages every day and the decrepit, Spanish-moss-draped house he was raised in, and where his strong-willed mother and spitfire sister--both towering redheads, equally matched in stubbornness--are fighting another battle royale. Little do any of them know that Utina is about to meet the tide of development that has already engulfed the rest of Northeast Florida. When opportunity knocks, tempers ignite, secrets are unearthed, and each of the Bravos is forced to confront the tragedies of their shared past. Reminiscent of Kaye Gibbons, Lee Smith, Anne Tyler, and Fannie Flagg, Heart of Palm introduces Laura Lee Smith as a captivating new voice in American fiction. "Like a sandspur, Heart of Palm sticks with you, drawing blood."--Rita Mae Brown, author of The Sand Castle "Laura Lee Smith masterfully creates a deep, compassionate, and often heartbreakingly funny portrait of a wild, complex Southern family on the brink of massive change . . . . Smith is a brilliant writer, and Heart of Palm brims with lush vitality, loss, and desire."--Julianna Baggott, author of Pure and The Prince of Fenway Park " An] incandescent debut novel . . . I can't get the astonishing and benighted Bravos out of my head. And I don't want to. What an extravagantly and engagingly flawed family this is Smith is an enchanter casting her spell with lyrical prose, evocative details, and spellbinding characters. She explores familial chaos, reckless behavior, and hopeless love with grace, intelligence, and tenderness. She gives me what I long for in fiction: compassion and provocation. What talent, what nerve, what a wondrous and spellbinding story. Trust me, these Bravos will haunt your dreams."--John Dufresne, author of Requiem, Mass. and Louisiana Power and Light
About the Author
---
Laura Lee Smith's short fiction was selected by guest editor Amy Hempel for inclusion in New Stories from the South 2010. Her work has also appeared in The Florida Review, Natural Bridge, Bayou and other journals. She lives in Florida and works as an advertising copywriter.
Praise For…
---
Praise for Heart of Palm

Independence Day is a turning point for the Bravo family of small-town Utina on Florida's Intracoastal Waterway. . . . The Bravos, once notorious Utina badasses, find their adult ties of guilt and regret beginning to frazzle as long-dormant resentments emerge. Smith's debut novel exudes authenticity. . . . She turns a phrase with wit. . . . Writ[ten] with agility and empathy."Publishers Weekly

From the lyrical opening that sets up this story, Smith's voice moves to an earthy voice grounded in the tradition of our great yarn-spinners, giving us a Florida Cracker family saga rich in humor and vivid characters who are all-too-realistically violent, crazy, hilarious, big-hearted, and tragic. This is a heartily ambitious novel that's also a real page-turner, a real story with real people in a place rendered in such palpable detail you feel you know it as well as the people who live there."Brad Watson, author of The Heaven of Mercury and Aliens in the Prime of Their Lives