The Perfumist of Paris: A Novel from the Bestselling Author of the Henna Artist (Hardcover)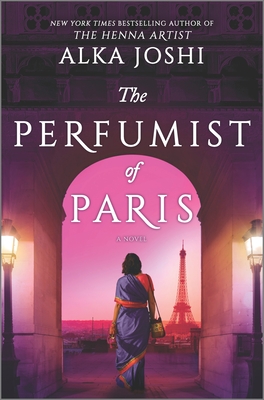 Staff Reviews
---
The third book in the trilogy started by THE HENNA ARTIST reveals Radhi now all grown up - and far away from the big sister who mothered and over-shadowed her. Radhi is now the mother of two daughters herself and a highly skilled perfumist with a huge opportunity ahead of her - if only her husband could understand that her career feeds a need in her beyond the financial security he provides.
We touch back in on the main characters we've known for two books. In particular, the push-pull of affection and identity-threat between Radhi and her sister continues. She needs Lakshmi but needs to feel independent, and as family secrets threaten to come to light, the tension between independence and connection echoes through her other important relationships. 
A satisfying conclusion to a wonderful trilogy!
— Ginger
Description
---

"A stunning portrait of a woman blossoming into her full power...this is Alka Joshi's best book yet " --Kate Quinn, New York Times bestselling author of The Diamond Eye

From the author of Reese's Book Club Pick The Henna Artist, the final chapter in Alka Joshi's New York Times bestselling Jaipur trilogy takes readers to 1970s Paris, where Radha's budding career as a perfumer must compete with the demands of her family and the secrets of her past.

Paris, 1974. Radha is now living in Paris with her husband, Pierre, and their two daughters. She still grieves for the baby boy she gave up years ago, when she was only a child herself, but she loves being a mother to her daughters, and she's finally found her passion--the treasure trove of scents.

She has an exciting and challenging position working for a master perfumer, helping to design completely new fragrances for clients and building her career one scent at a time. She only wishes Pierre could understand her need to work. She feels his frustration, but she can't give up this thing that drives her.

Tasked with her first major project, Radha travels to India, where she enlists the help of her sister, Lakshmi, and the courtesans of Agra--women who use the power of fragrance to seduce, tease and entice. She's on the cusp of a breakthrough when she finds out the son she never told her husband about is heading to Paris to find her--upending her carefully managed world and threatening to destroy a vulnerable marriage.

The Jaipur Trilogy

Book 1: The Henna Artist
Book 2: The Secret Keeper of Jaipur
Book 3: The Perfumist of Paris
Free Media Mail shipping on U.S. orders over $75