The Red Threads of Fortune (The Tensorate Series #2) (Paperback)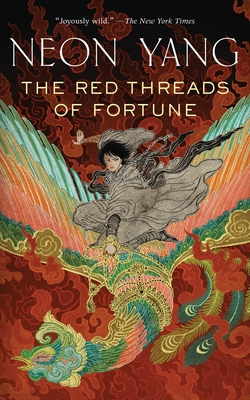 $15.99

Ships from warehouse to store in 1-5 business days
Other Books in Series
This is book number 2 in the The Tensorate Series series.
Description
---
"Joyously wild stuff. Highly recommended." —The New York Times

The Red Threads of Fortune is one of a pair of unique, standalone introductions to Neon Yang's Tensorate Series, which Kate Elliott calls "effortlessly fascinating." For more of the story you can read its twin novella The Black Tides of Heaven, available simultaneously.

Fallen prophet, master of the elements, and daughter of the supreme Protector, Sanao Mokoya has abandoned the life that once bound her. Once her visions shaped the lives of citizens across the land, but no matter what tragedy Mokoya foresaw, she could never reshape the future. Broken by the loss of her young daughter, she now hunts deadly, sky-obscuring naga in the harsh outer reaches of the kingdom with packs of dinosaurs at her side, far from everything she used to love.

On the trail of a massive naga that threatens the rebellious mining city of Bataanar, Mokoya meets the mysterious and alluring Rider. But all is not as it seems: the beast they both hunt harbors a secret that could ignite war throughout the Protectorate. As she is drawn into a conspiracy of magic and betrayal, Mokoya must come to terms with her extraordinary and dangerous gifts, or risk losing the little she has left to hold dear.

The Tensorate Series
Book 1: The Black Tides of Heaven
Book 2: The Red Threads of Fortune
Book 3: The Descent of Monsters
Book 4: The Ascent to Godhood
About the Author
---
Neon Yang (they/them) is the author of the Tensorate series of novellas from Tor.Com Publishing (The Red Threads of Fortune, The Black Tides of Heaven, The Descent of Monsters and The Ascent to Godhood). Their work has been shortlisted for the Hugo, Nebula, World Fantasy, Lambda Literary and Locus awards, while the Tensorate novellas were a Tiptree honoree in 2018. They have over two dozen works of short fiction published in venues including Tor.com, Uncanny Magazine, Lightspeed, Clarkesworld, and Strange Horizons.

Neon attended the 2013 class of Clarion West, and received their MA in Creative Writing from the University of East Anglia in 2016. In previous incarnations, they have been a molecular biologist, a writer for animation, comics and games, a science communicator, and a journalist for one of Singapore's national papers.

Neon is currently based out of Singapore. They are queer and non-binary.
Praise For…
---
"Joyously wild stuff. Highly recommended." —The New York Times

"Yang conjures up a world of magic and machines, wild monsters and sophisticated civilizations, that you'll want to return to again and again." —Ars Technica

"I love Neon Yang's effortlessly fascinating world-building for its layers and the seamless way it intertwines with her characters' lives and choices. Pack in thrilling action and mysteries to be solved, and this novella heralds the opening of a great new universe of tales." —Kate Elliott, author of Black Wolves and Court of Fives

"Full of love and loss, confrontation and discovery. Each moment is a glistening pearl, all strung together in a wonder of world-creation." — Ken Liu, Nebula, Hugo, and World Fantasy Award winner and author of The Grace of Kings and The Paper Menagerie

"An inventive fantasy from an exciting new talent, The Red Threads of Fortune will immerse readers in a fascinating world of battles, politics, magic and romance." —Zen Cho, author of Sorcerer to the Crown

"An epic, moving story of people fighting to protect their city. Filled with memorable characters and set in a wonderfully imaginative and original universe, this will leave you eager for more." —Aliette de Bodard, Nebula Award-winning author of The House of Shattered Wings

"JY Yang's strikingly confident debut novella The Red Threads of Fortune is a work of soaring, kinetic fantasy, like a Miyazaki movie decided to jump off the screen and sear itself into prose, and in doing so became something entirely new." —Indrapramit Das, author of The Devourers

"The extraordinary creatures and landscapes of JY Yang's relentlessly captivating, heartbreaking, and powerful Tensorate series will sweep you up, while the vivid characters — especially Sanako Mokoya — will keep your heart earthbound and enthralled. I couldn't put these books down, and can't wait to pick them up again." —Fran Wilde, award-winning, Nebula & Hugo-nominated author of Updraft, Cloudbound, and Horizon

"A fantastic novella... I can't wait to see what else Yang will do." —Locus

"Yang's writing is quiet, but it is the quiet of strength. It doesn't need to shout to be heard." —Michelle West for The Magazine of Fantasy and Science Fiction

"[The Red Threads of Fortune] authentically depicts trauma and lays promising groundwork for future books in the series." —Publishers Weekly