Gluttony Bay: A Sin du Jour Affair (Paperback)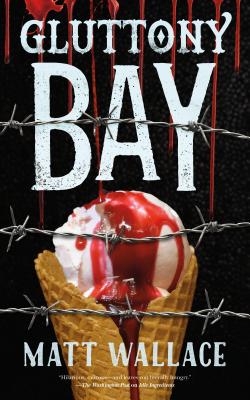 Other Books in Series
This is book number 6 in the A Sin du Jour Affair series.
Description
---
Gluttony Bay is the penultimate Sin du Jour affair, Matt Wallace's funny foodie series about the New York firm that caters to the paranormal, which began with Envy of Angels.

Welcome to Gluttony Bay High Security Supernatural Prison. We value your patronage. For your entertainment this evening, we are delighted to welcome the world's most renowned paranormal culinary experts.

And on the menu: You.

Sin du Jour
Book 1: Envy of Angels
Book 2: Lustlocked
Book 3: Pride's Spell
Book 4: Idle Ingredients
Book 5: Greedy Pigs
Book 6: Gluttony Bay
Book 7: Taste of Wrath
About the Author
---
MATT WALLACE is the author of The Next Fix, The Failed Cities, and the novella series, Slingers. He's also penned over one hundred short stories, some of which have won awards and been nominated for others, in addition to writing for film and television. In his youth he traveled the world as a professional wrestler and unarmed combat and self-defense instructor before retiring to write full-time. He now resides in Los Angeles with the love of his life and inspiration for Sin du Jour's resident pastry chef.
Praise For…
---
"A gem to be savored." —Publishers Weekly

PRAISE FOR THE SIN DU JOUR AFFAIRS

Praise for Idle Ingredients —

"[Idle Ingredients] is hilarious, raucous — and leaves you literally hungry." —The Washington Post

"Matt Wallace's Sin du Jour series is a crass, funny, gross, and sweet blend of fight sequences and top chef cooking, with entertaining characters and their all too human (and extra-human) dilemmas the cherry on top. Chicken nuggets and the Easter Bunny will never look the same to you again." —Kate Elliott, author of Black Wolves and Court of Fives

"Wallace's imagination is boundless, and his wryly funny storytelling manages to be heartfelt and completely gonzo at the same time." —Publishers Weekly

Praise for Pride's Spell —

"A smart, action-packed, hilariously absurdist romp." —SF Bluestocking

Praise for Lustlocked —

"Magic and humor combine with delicious results in this unusual, wildly fun novella." - Publishers Weekly starred review

"This series continues to combine magic, food, and a hefty scoop of humor." —Library Journal

Praise for Envy of Angels —

"No one makes me think, 'Dammit, I should have thought of that!' like Matt Wallace. The Sin du Jour series is something I read with equal amounts of envy and delight." — Mur Lafferty, Campbell Award winning author of The Shambling Guide to New York City

"Matt Wallace tells a raucous, riotous tale of culinary madness — a jaw-dropping horror-fantasy restauranteur Thunderdome that makes the 'monkey brain' scene in Temple of Doom look like something you'd see on Nickelodeon. It's like I dropped a heroic dose of acid and turned on the Food Network for eight hours. It's funny and demented and sticks in you like a pinbone. Matt Wallace writes like someone just jammed a needle full of adrenaline in his heart — and then, in yours. From this point forward, I'll read anything this guy writes." — Chuck Wendig, author of Blackbirds and Zer0es

"Envy of Angels is one of the most original urban fantasies I've read in a damn long time. Angels, demons and the New York restaurant scene. It doesn't get any weirder than this. Matt Wallace is an author to watch." — Stephen Blackmoore, author of Dead Things and Broken Souls

"Envy of Angels is exactly the breath of fresh air I didn't know I needed: darkly funny, sweepingly inventive, and just plain fun to read. Every time I thought I got the hang of this book, the next turn took me someplace even more breathtakingly weird and wonderful. Buy it. DO IT NOW. It's the only way we can force him to write a dozen more of these!" — Andrea Phillips, author of Revision
We will be open on Memorial Day from 10 AM until 6 PM.
Free Media Mail shipping on U.S. orders over $50