The God Is Not Willing: Book One of the Witness Trilogy: A Novel of the Malazan World (Paperback)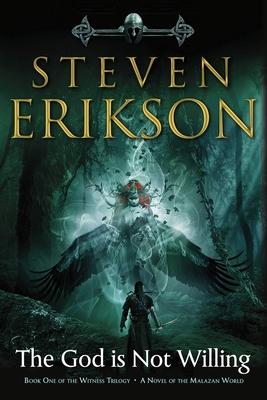 Description
---
New York Times bestselling author Steven Erikson continues the beloved Malazan Book of the Fallen with this first book in the thrilling Witness sequel trilogy, The God is Not Willing.

Many years have passed since three warriors brought carnage and chaos to Silver Lake.

Now the tribes of the north no longer venture into the southlands. The town has recovered and yet the legacy remains.

Responding to reports of a growing unease among the tribes beyond the border, the Malazan army marches on the new god's people. They aren't quite sure what they're going to be facing.

And in those high mountains, a new warleader has risen amongst the Teblor. Scarred by the deeds of Karsa Orlong, he intends to confront his god even if he has to cut a bloody swathe through the Malazan Empire to do so.

Further north, a new threat has emerged and now it seems it is the Teblor who are running out of time. Another long-feared migration is about to begin and this time it won't just be three warriors. No, this time tens of thousands are poised to pour into the lands to the south. And in their way, a single company of Malazan marines . . .
About the Author
---
STEVEN ERIKSON is an archaeologist and anthropologist and a graduate of the Iowa Writers' Workshop. His Malazan Book of the Fallen series has met widespread international acclaim and established him as a major voice in the world of fantasy fiction. The first book in the series, Gardens of the Moon, was shortlisted for a World Fantasy Award. The second novel, Deadhouse Gates, was voted one of the ten best fantasy novels of the year by SF Site. He lives in Canada.
Praise For…
---
Praise for Steven Erikson and The God Is Not Willing

"Erikson burnishes his reputation as a superior epic fantasy world-builder... Erikson's outstanding descriptive skills ... enhance a complicated narrative that sweats the details. This is a treat both for Erikson's returning readers and lovers of George R.R. Martin–style epic fantasy who have yet to discover his work." — Publishers Weekly Starred Review

"A master of lost and forgotten epochs, a weaver of ancient epics." — Salon.com

"This masterwork of the imagination may be the high watermark of epic fantasy." — Glen Cook, bestselling author of The Black Company

"Awe-inspiring. Prepare to fall in love with epic fantasy all over again."—Anna Smith Spark, author of The Court of Broken Knives

"The kind of epic narrative that will have you scrambling for more."—Stephen R. Donaldson, author of The Chronicles of Thomas Covenant

"Gripping, fast-moving, delightfully dark, with a masterful and unapologetic brutality reminiscent of George R. R. Martin… Utterly engrossing." —Elizabeth Haydon, bestselling author of The Symphony of Ages

"A multilayered tale of magic and war, loyalty and betrayal. Complexly drawn characters occupy a richly detailed world in this panoramic saga." —Library Journal

"Erikson has no peer when it comes to action and imagination, and joins the ranks of Tolkien and Donaldson in his mythic vision and perhaps then goes one better." —SF Site
Free Media Mail shipping on U.S. orders over $75