The Murdstone Trilogy (Hardcover)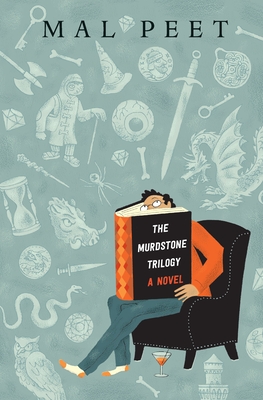 Description
---
How hard can it be to write a fantasy trilogy? From Carnegie Medalist Mal Peet comes an outrageously funny black comedy about an impoverished literary writer who makes a pact with the devil.

Award-winning YA author Philip Murdstone is in trouble. His star has waned. The world is leaving him behind. His agent, the ruthless Minerva Cinch, convinces him that his only hope is to write a sword-and-sorcery blockbuster. Unfortunately, Philip—allergic to the faintest trace of Tolkien—is utterly unsuited to the task. In a dark hour, a dwarfish stranger comes to his rescue. But the deal he makes with Pocket Wellfair turns out to have Faustian consequences. The Murdstone Trilogy is a richly dark comedy described by one U.K. reviewer as "totally insane in the best way possible."
About the Author
---
Mal Peet (1947–2015) is the acclaimed author of the Carnegie Medal–winning novel Tamar as well as the Boston Globe–Horn Book Honor Book Life: An Exploded Diagram and three Paul Faustino novels: Keeper, The Penalty, and Exposure, a winner of the Guardian Children's Fiction Prize. He is also the co-author of Cloud Tea Monkeys, Mysterious Traveler, and Night Sky Dragons, all of which he wrote with his wife, Elspeth Graham.
Praise For…
---
The novel was published for adults in the U.K., and it's easy to see why: there isn't a teenage character in sight, and the concerns—about career, reputation, parochialism, and looming bankruptcy—are all adult, too. Regardless, Peet's book is enormous fun, especially for those familiar with the literary conventions it skewers, and it's a brilliant valedictory for the author, who died in March.
—Publishers Weekly (starred review)

Carnegie Medalist Peet (Tamar, 2007) has written a hilarious satire of the fantasy genre with alcohol-laced overtones of Terry Pratchett and William Goldman's The Princess Bride. Blending worlds, wit, and literary allusions with unique narrative voices, Peet's take on fantasy and the writing process will attract adults and teens alike. Darkly comic and a joy to read.
—Booklist (starred review)

The Murdstone Trilogy...is brilliant. Richly drawn characters ground the story, even at its wildest, and older teens steeped in the fantasy traditions of what Minerva describes as "Dwarves. Beards. Time and dimension shifts.... You know." will revel in this wonderfully witty, upside-down take on the genre.
—Shelf Awareness (starred review)

This book, released in the UK in 2014, will be relished by American readers whose taste for stunning verbal finesse outweighs any tendency to outrage over carnal humor, cultural indelicacies, or lack of respect for the fantasy genre as such, making it a meaty feast for knowing teens who can laugh at what they love and hoot at naughty jokes they aren't supposed to admit are funny. An angry edge of authorial disgruntlement over the state of publishing only serves to sharpen the wit as Peet literally and figuratively scours the shire of the fantasy genre while reminding readers of what artful literary language should sound like.
—Bulletin of the Center for Children's Books (starred review)

A deliriously freewheeling send-up of the publishing industry and the current sword-and-sorcery craze results. But there's a vein of real feeling. "The world is the stories we tell of it," one of the fantasy beings says to Philip. They should all be as lively and entertaining as this one.

—The Wall Street Journal

The Murdstone Trilogy has just about every ingredient I try to avoid in my reading: magick with a K, sword slashing sorcerers, minions aplenty and dwarfs. So how can I love this book more than anything I've read in ages? Because when Mal Peet gets his hands on an idea he can out-plot the furthest-fetched of fantasizers, out-skewer the most sardonic of satirists, and just generally work his writerly magic, with a plain old C. And he does it all in one book instead of three. It's a big-hearted romp of a rant. Read it. Even if you hate Tolkien. Even if you love Tolkien. It really is that brilliant.
—Tim Wynne-Jones, author of Blink & Caution and The Emperor of Any Place

An award-winning author whose young-adult novels have gone out of fashion makes a Faustian bargain with a Hobbit-like creature in this broad, darkly hilarious sendup of high fantasy and publishing...Bitter and frothy as a pint of stout, this formula-thwarting satire will intoxicate fantasy fans with strong stomachs.
—Kirkus Reviews

Peet lampoons the fantasy genre in this stand-alone novel. Sharply drawn characters propel the plot as it builds to an unexpected finish...This title is highly recommended to a select audience of mature readers interested in the darker comedies of life.
—VOYA

This is one of the few fantasy send-ups that matches the genius of Diana Wynne Jones's masterpiece Dark Lord of Derkholm and the hilarious companion, A Traveler's Guide to Fantasy Land...Few adult fantasy readers are familiar with the late Carnegie Medal-winning YA author Peet (Tamar), but this work should gain him a mature audience. His clear appreciation and knowledge of the genre, plus adult language, make this clever story best for adults and those well versed in fantasy.
—Library Journal
We will be open on Memorial Day from 10 AM until 6 PM.
Free Media Mail shipping on U.S. orders over $50