We are closed to the public under the stay-at-home order, but we are still offering free Media Mail shipping on eligible items to the continental United States!
The Princess in Black (Paperback)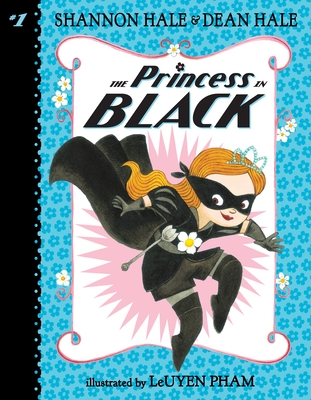 Other Books in Series
This is book number 1 in the Princess in Black series.
Description
---
Who says princesses don't wear black? When trouble raises its blue monster head, Princess Magnolia ditches her flouncy dresses and becomes the Princess in Black!

Princess Magnolia is having hot chocolate and scones with Duchess Wigtower when . . . Brring! Brring! The monster alarm! A big blue monster is threatening the goats! Stopping monsters is no job for dainty Princess Magnolia. But luckily Princess Magnolia has a secret —she's also the Princess in Black, and stopping monsters is the perfect job for her! Can the princess sneak away, transform into her alter ego, and defeat the monster before the nosy duchess discovers her secret? From award-winning writing team of Shannon and Dean Hale and illustrator LeUyen Pham, here is the first in a humorous and action-packed chapter book series for young readers who like their princesses not only prim and perfect, but also dressed in black.
About the Author
---
Praise For…
---
This charmingly told book has lovely old-fashioned illustrations and a great message: You can't judge a princess by the color of her gown.
—New York Times Book Review

The rounded, cartoony illustrations featuring chubby characters keep the fight sequence soft and comical. ... The gently ironic text will amuse readers (including adults reading the book aloud). The large print and illustrations expand the book to a longish-yet-manageable length, giving newly independent readers a sense of accomplishment. ... Action, clever humor, delightful illustrations and expectation-defying secret identities—when does the next one come out?
—Kirkus Reviews (starred review)

The authors of "Rapunzel's Revenge" and "Calamity Jack," writing here for a slightly younger audience, successfully turn the treacly princess genre on its ear, offering beginning readers a clever, adventurous, and self-reliant heroine who is equally at home in black or pink. Pham's watercolor-and-ink illustrations, rendered in the style of the Disney classics, effectively contrast Magnolia's identities and emphasize the text's humor. Clever details (Duff and his goats eat popcorn on the sidelines as they watch the PIB do her thing) and short manageable sentences make for a promising, and sure to be wildly popular, new series debut.
—Booklist (starred review)

The Hales translate the humor and adventure that characterize their Rapunzel's Revenge into prose form for a younger audience with aplomb and wit, giving amusing nods to both the Disney princess tradition and the superhero genre. Short sentences, a simple vocabulary with the occasional challenge, a manageable length, and a near picture-book level of illustrative density give this chapter book immense accessibility. Pham's watercolor and ink art has a goofy cartoonishness, with the Princess's doe-eyed damsel figure contrasting entertainingly with her ninja-like moves, and the monsters themselves are a parade of wacky Muppet-like creatures. Whether they prefer pink sparkles or superhero capes, readers, especially newly independent ones, will find themselves anxiously awaiting the next installment of the PIB's adventure.
—Bulletin of the Center for Children's Books

The colorful illustrations on each page help move readers through the story as the heroic princess saves the day. The action-packed text in this beginner chapter book will enthrall and is ideal for independent reading or reading aloud. The ending leaves readers with just enough of a wink to hint at a future installment. Give this engaging read to fans of "Bink and Gollie".
—School Library Journal

The Hales drop narrative breadcrumbs throughout the story, setting up subsequent titles in the planned series, and they build comic tension by alternating scenes of the masked princess's monster-fighting with ones starring Duchess Wigtower, who Princess Magnolia has left waiting back at her castle, and who has a fondness for uncovering secrets.... Pham offers little jolts of energy and wit on every page, with full-page and spot illustrations that have the vivaciousness and irreverence of contemporary animation.
—Publishers Weekly

Finally, a book for kids where a princess saves herself. ... Kids will love meeting this new non-traditional princess who bucks the stereotype of princesses past.
—Metro US

This charming begining chapter book will please princess and action fans alike.
—Milwaukee Journal Sentinel

For readers who love "all things princess," it provides a fabulous vision of how the definition of a role can expand.
—Blade