La La La: A Story of Hope (Hardcover)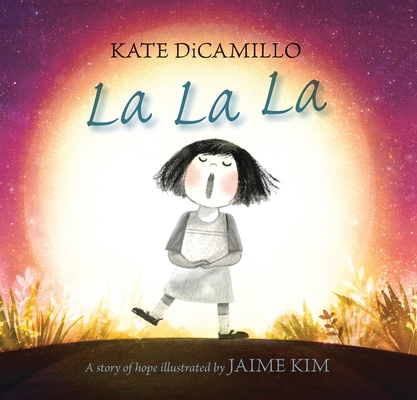 $17.99

Ships from warehouse to store in 3-6 business days
Description
---
Conceived by Kate DiCamillo and featuring enchanting illustrations by Jaime Kim, this nearly wordless graphic story follows a little girl in search of a friend.

"La la la . . . la." A little girl stands alone and sings, but hears no response. Gathering her courage and her curiosity, she skips farther out into the world, singing away to the trees and the pond and the reeds — but no song comes back to her. Day passes into night, and the girl dares to venture into the darkness toward the light of the moon, becoming more insistent in her singing, climbing as high as she can, but still there is silence in return. Dejected, she falls asleep on the ground, only to be awakened by an amazing sound. . . . She has been heard. At last. With the simplest of narratives and the near absence of words, Kate DiCamillo conveys a lonely child's yearning for someone who understands. With a subtle palette and captivating expressiveness, Jaime Kim brings to life an endearing character and a transcendent landscape that invite readers along on an emotionally satisfying journey.
About the Author
---
Kate DiCamillo is the beloved author of many books for children, including Flora & Ulysses and The Tale of Despereaux, both of which received Newbery Medals. A former National Ambassador for Young People's Literature, she lives in Minneapolis.

Jaime (Jimyung) Kim was born and raised in Korea before moving to the United States at the age of eighteen. She works in gouache and acrylics to create her beautiful, tender, and dreamlike landscapes and characters. Jaime Kim lives in North Carolina.
Praise For…
---
Kim ('Take Heart, My Child') has created sumptuous images, especially several pages awash in deep, rich purples, that suggest an expansive dreamscape where anything is possible. At the same time, DiCamillo's barely-there text gives the art space to breathe, leaving room for children to fill in the silences with their own boundless imaginations.
—The New York Times Book Review

Kim's spreads form a long, almost cinematic sequence. The girl is adorable, though the night world she moves through is dazzling rather than cute—it takes bravery and audacity to sing to that beauty. DiCamillo's story, told with a single word, is one even youngest readers can understand. Everyone wants to be seen, and everyone wants someone to sing back to them.
—Publishers Weekly (starred review)

DiCamillo and Kim combine their considerable talents in this almost wordless picture book that speaks to a universal longing: the hope that we are not alone...Kim's gouache-and-acrylic artwork, graphically strong and full of heart, illuminates DiCamillo's concept. Adults could almost use this as flip-book with children, so full of movement are the pictures. But the best use will be as a springboard for discussion about loneliness, life, and love.
—Booklist

In a nearly wordless book, DiCamillo delivers an inspiring, powerful story beautifully realized through Kim's mixed-media illustrations...The square format contains soft colors that contrast with strong geometric design elements, subtly underscoring the push and pull of emotional tension. The limited palette of comforting, complementary purples and yellows along with the character's expressive body language evoke both her loneliness and determination to overcome it. For a dreamer, it's easy to imagine a singer in the benevolent face in the moon—here it's a symbol of hope.
—Kirkus Reviews

This low-key, visually striking exploration of loneliness and friendship may resonate with adults and some introspective children, but broad appeal seems unlikely. Educators could use it as a writing prompt or discussion starter or for encouraging children to express their feelings in some kind of visual medium—painting, collage, clay work...Kim has taken DiCamillo's "small, tentative song" and turned it into a chorale. .
—School Library Journal

Some books are striking because of their content. Some stand out because they are unlike anything that creator has made before...This one is a little of both. It's a fully-realized story (with sizable assistance from Jaime Kim) written by a Newbery winner containing one word consisting of two letters. Also, it's about a girl striking up a friendship with the moon.
—100 Scope Notes (blog)

Two-time Newbery Medalist DiCamillo, one of Minnesota's favorite authors, and best-selling illustrator Jaime Kim collaborate to tell a simple and sweet story...This book fits DiCamillo's theme when she was National Ambassador for Young People's Literature — Stories Connect Us.
—Pioneer Press

While leaving space for creativity and idea sparking, both DiCamillo and Kim have included their own perspectives on the story...It is touching to make the realization that, when all else fails, one will never be alone while there exists a moon.
—New York Journal of Books

The casual reader might thumb through this nearly wordless story and dismiss it as overly simple or otherwise inadequate. This would be a mistake. DiCamillo, a household name, shines by purposefully placing strikingly sparing text alongside stunning illustrations that tells a complex and optimistic story of overcoming loneliness with the help of the moon...Followed up with heartfelt author and illustrator notes, this seemingly simple book truly is "a story of hope."
—School Library Connection Online

This beautiful book by author extraordinaire Kate DiCamillo and talented illustrator Jaime Kim depicts a little girl finding her voice in a big, big world...Reading the author and illustrator's note at the end of the book will also provide a beautiful insight into the background of the story and how ultimately all of us desire companionship and to be heard.
—Story Monsters Ink

The energetic illustrations make hope come alive in this mostly wordless picture book.
—Learning Magazine

The text of this book is one word: La. But the story is abundantly clear.
—Star Tribune

Sometimes you don't need words to tell a story, and this wordless picture book does just that.
—Brightly (blog)
Free Media Mail shipping on U.S. orders over $50