We are offering FREE media mail shipping on books. We are open from 10am-7pm Monday through Saturday and 10am-6pm Sunday. Phones may not be answered due to a high volume of calls.
Doggos Doing Things: The Hilarious World of Puppos, Borkers, and Other Good Bois (Hardcover)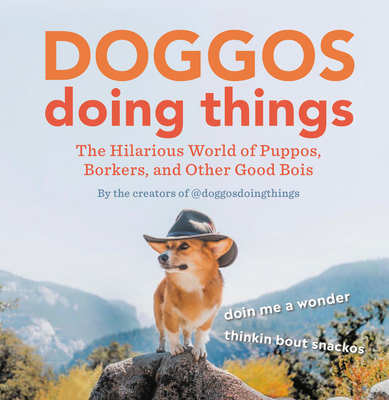 Description
---
Chonkybois, lowriders, borkers, and floofs -- these are just a few of the many cute characters you'll discover in Doggos Doing Things, an irresistible gift book based on the wildly popular Instagram account of the same name.
This hilarious book pairs adorable photos of puppos of all shapes (from smol flufferinos to long boys), sizes (from big woofers to lil yippers), and breeds (from puggos to labbers and huskos) with ridiculous captions describing what they're up to -- which is usually looking for snaccos or just bestowing love upon their hoomans.

With more than 150 pictures of adorable pupperinos and a thicc layer of humor by way of the internet's unique dog speak, it's a celebration of man's best friend and good boys (and girls) everywhere.

About the Author
---
Doing Things Media owns twenty original content brands with an audience of more than 50,000,000 followers who love and share their funny, relatable content.