Lions and Tigers and Hamsters: What Animals Large and Small Taught Me About Life, Love, and Humanity (Paperback)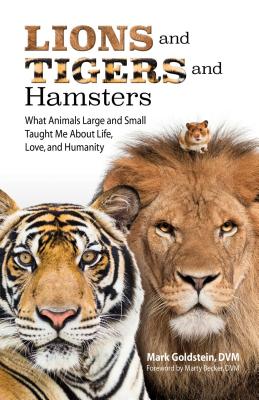 Description
---
From the time Dr. Mark Goldstein was a little boy—even before he had his first dog—he was fascinated by creatures both domestic and wild. After graduating veterinary school at Cornell University, he became a veterinarian in clinical practice, then director of zoos in Boston and Los Angeles, then head of a progressive humane society where he advocated for animal welfare. During his extraordinary 30-year career, Dr. Mark has accrued a lifetime of experiences working with all sorts of animals and the people who care for them.

Dr. Mark's life with animals taught him more than how to be a great doctor, it taught him how to live life. The stories in this book reflect those lessons; they will make you laugh and cry as they entertain and amaze you. Each real-life experience sheds light on the challenges and hard work of the talented individuals who work in the world of animal welfare. These are stories that illustrate the tremendous impact animals have on our daily lives—they are hallmarks of the sacred importance of the human-animal bond.

On your journey through the exhilarating life of Dr. Mark, you'll meet some of the finned, furred, and feathered animals who offered him invaluable insights—Harold the hamster, Sasha the Siberian tiger, St. Francis the German Shepherd, Ralph the buffalo, Gus the stallion, Frank the goldfish, and many more fascinating creatures!
About the Author
---
Mark Goldstein, DVM, has spent over 40 years caring, advocating, and fighting for the welfare of animals. The institutions he worked at are all recognized leaders in their respective fields and the variety of animals he worked with and his responsibilities were unique. He was a senior staff clinician in the medicine department at Angell Memorial Animal Hospital in Boston. After being hired to head the Boston Zoos, he led a turnaround for the failing inner city Franklin Park Zoo. "Dr. Mark" then moved west with his wife Kristine and their two daughters when he was appointed to lead the Los Angeles Zoo. He followed his heart to shine a light on the importance of the human-animal bond and took the helm at the San Diego Humane Society and SPCA where he oversaw the design, development, and completion of the "San Diego Campus for Animal Care." Many aspects of the campus, its programs and its unique partnership with the municipal animal care department have been copied numerous times both nationally and internationally. He has a BS in Animal Science and a DVM degree from Cornell University.
Praise For…
---
"As this wonderful book proves, Dr. Mark is the rarest of veterinarians—a man who can help a family accept the loss of a beloved German shepherd one day and spar with a Siberian tiger to administer its treatment the next. Dr. Mark's deep insight into animals—his profound understanding of what they give us and what they can tell us if we're willing to listen—is an inspiration to an animal lover like me. We modeled the Annenberg PetSpace in Playa Vista on his groundbreaking work at the San Diego Humane Society. I urge everyone who cares about animals to read this delightful new volume."
— Wallis Annenberg

"Most of us seek to close the distance between who we are and what we do. This book is a luminous chronicle of Mark Goldstein, who has closed that gap and lived a life of unconditional love for all God's creatures. These ingredients make for a terrific read. Dr. Mark's unstinting passion for all animals domestic and wild is guaranteed to leave paw prints on your heart." —Richard Lederer, bestselling author of Anguished English
— Richard Lederer, bestselling author

"This book will give you insight into the animal mind and why it isimportant that people need animals and animals need people." —Temple Grandin, PhD author of Animals in Translation & Animals Make Us Human
— Temple Grandin, PhD and author

"Dr. Mark Goldstein is a one-man example of all the jobs a veterinariancan have, from supporting dog and cat adoptions in an animal shelter to working hands on with a rhinoceros. Truly, Goldstein has a rare ability as a writer to help you to feel as if you are in the zoo enclosure right beside him and Donia the elephant or Ralph the water buffalo or Harold the hamster. This book is a really engaging read for anyone who loves animals or who one day wants to be a veterinarian."
—Steve Dale, CABC, national radio host, Steve Dale's Pet World and WGN Radio Chicago; co-editor, Decoding Your Dog ;
columnist, Veterinary Practice News and CATster
— Steve Dale, CABC

"Mark Goldstein has been a friend and colleague for almost three decades. His compassion for animals of all sizes and species—as well as his humanity—have been evident in every aspect of his esteemed career. Mark's powerful, engaging storytelling talent shines brightly throughout Lions and Tigers and Hamsters. This captivating book warms the heart
and sometimes tickles the funny bone. But most of all, it's a celebrationof wildlife and other animals by a kindhearted veterinarian who has dedicated his life to making the world a better place for all creatures."
—Douglas G. Myers, president and CEO, San Diego Zoo Global
— Douglas G. Myers
Free Media Mail shipping on U.S. orders over $50