Demon in White (Sun Eater #3) (Mass Market)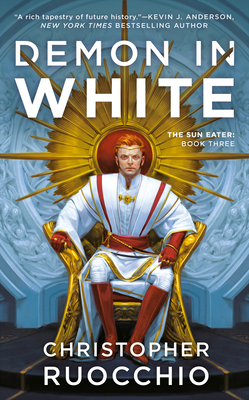 Other Books in Series
This is book number 3 in the Sun Eater series.
Description
---
Now in paperback, the third novel of the galaxy-spanning Sun Eater series merges the best of space opera and epic fantasy, as Hadrian Marlowe continues down a path that can only end in fire.

For almost a hundred years, Hadrian Marlowe has served the Empire in its war against the Cielcin, a vicious alien race bent on humanity's destruction. Rumors of a new king amongst the Cielcin have reached the Imperial throne. This one is not like the others. It does not raid borderworld territories, preferring precise, strategic attacks on the humans' Empire.
 
To make matters worse, a cult of personality has formed around Hadrian, spurred on by legends of his having defied death itself. Men call him Halfmortal. Hadrian's rise to prominence proves dangerous to himself and his team, as pressures within the Imperial government distrust or resent his new influence.
 
Caught in the middle, Hadrian must contend with enemies before him—and behind.
 
And above it all, there is the mystery of the Quiet. Hadrian did defy death. He did return. But the keys to the only place in the universe where Hadrian might find the answers he seeks lie in the hands of the Emperor himself....
About the Author
---
Christopher Ruocchio is the internationally award-winning author of The Sun Eater, a space opera fantasy series, and the former Junior Editor at Baen Books, where he edited several anthologies. His work has also appeared in Marvel comics. He is a graduate of North Carolina State University, where he studied English Rhetoric and the Classics. Christopher has been writing since he was eight and sold his first novel, Empire of Silence, at twenty-two. His books have appeared in five languages. Christopher lives in Raleigh, North Carolina with his wife, Jenna.
Praise For…
---
Praise for the Sun Eater series

"Empire of Silence is epic science fiction at its most genuinely epic. Ruocchio has made something fascinating here, and I can't wait to see what he does next." —James S.A. Corey, New York Times-bestselling author of The Expanse novels

"Christopher Ruocchio's Empire of Silence is epic-scale space opera in the tradition of Iain M. Banks and Frank Herbert's Dune, without being a clone of either of them. His is a welcome new voice in science fiction." —Eric Flint, author of the bestselling 1632 series

"Empire of Silence has the sweep and political complexity of Dune (though no sandworms). It builds to a blazing climax, followed by a satisfying conclusion. I recommend the book." —David Drake, bestselling author of the RCN Series

"Empire of Silence is a rich tapestry of future history and worldbuilding, a galactic-sized story of a hero, a tyrant, but portrayed as a man." —Kevin J. Anderson, New York Times-bestselling author of The Dark Between the Stars
 
"Empire of Silence packs in action and erudition in equal measure. This is a gripping first installment in a space opera that delivers both high-adrenaline thrills and hard-earned wisdom about the human spirit." —D.J. Butler, author of Witchy Eye

"A richly imagined epic, briskly and vividly told." —R.M. Meluch, author of the Tour of the Merrimack series
 
"A craftsman of rare ability, Christopher Ruocchio lures you into a future filled with danger, action, irony, vaulting prose, and a few, precious dollops of hope." —David Brin, author of Earth and The Postman 
 
"With the scope of Dune and a confessional, first-person voice that puts us into the mind of a possible madman, this is space opera at its most riveting and grandiose." —B&N Sci-Fi & Fantasy Review

"Space opera fans will savor the rich details of Ruocchio's far-future debut, which sets the scene for a complicated series.... Readers who like a slow-building story with a strong character focus will find everything they're looking for in this series opener." —Publishers Weekly

"Although stretched across a vast array of planets, the story line is often more focused on the intimate than on the expanse, giving it a wonderful emotional punch. This wow book is a must for fans of Pierce Brown and Patrick Rothfuss." —Library Journal (starred review)
Free Media Mail shipping on U.S. orders over $50
Christmas ordering guidelines
"Ships from warehouse" items to be shipped: Order by Monday, 12/5
"Ships from warehouse" items to be picked-up in store: Order by Monday, 12/12
On hand items: We'll pull items in order of orders received, so keep them coming!