Dragon Thief (Dragon Princess #2) (Mass Market)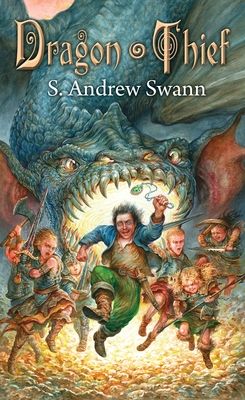 Other Books in Series
This is book number 2 in the Dragon Princess series.
Description
---
The second book in this humorous and offbeat fantasy series, where magic is rarely perfect, heroes are rarely honorable, and you just might wake up in a body that's not your own…

All Frank Blackthorne wants is a little vacation from being the princess. The involuntary swap in gender has been bad enough, but being a figurehead for the Royal Court of Lendowyn is becoming downright oppressive. In a fit of drunken self-pity, Frank turns to using a cursed artifact, hoping to become a man again, if only temporarily.
 
The good news is he becomes a man again, a kingdom away from Lendowyn court.
 
The bad news is the man whose body he now occupies belongs to a notorious thief wanted by every kingdom in the known world. A man of ruthless ambition who has left unimaginable destruction in his wake. A man who Frank has inadvertently deposited in the middle of the Lendowyn court in the body of the princess.
 
Now he's stranded, his only allies a group of outcast teenage girls convinced that he's the legendary master thief Snake. He must get back to Lendowyn—avoiding the armies of thieves, mercenaries, and assassins after the bounty on his new head. 

Dragon Thief is the second novel in the hilarious, light-hearted fantasy series by S. Andrew Swann.
About the Author
---
S. Andrew Swann lives in the Greater Cleveland area. He has a background in mechanical engineering. He has published twenty-three novels over the past eighteen years, which include science fiction, fantasy, and horror. His latest series is his epic space opera, the Apotheosis trilogy, and his humorous fantasy series, the Dragon Princess novels. He can be found at sandrewswann.com.
Praise For…
---
Praise for series:

"A dark madcap quest filled with educational (and often bloody) identity crises. The tragicomedy is never deep, but it's plenty of fun." —Publisher's Weekly

"Swann piles on some inventive mishaps with a lavish hand.... Add a nicely unconventional 'happy' ending, and it's a fun romp for fans of funny fantasy." —Locus

"Fun without being fluffy, and entertaining without being inane. It straddles the line between humorous fantasy and some of the darker stuff, and does so with style. Dragon Princess has wit, action, and hilarity in equal measures and should prove enjoyable for those looking for something fast-paced and fun." —Owlcat Mountain

"Dragon Princess is full of witty banter, comical situations, irreverent humor, and loads of twisted irony." —That's What I'm Talking About

"An amusing lighthearted quest fantasy." —Genre Go Round
 
"You can connect with the characters and ultimately understand the decisions they make. Dragon Princess is a good story for those who like an adventurous fantasy to enjoy." —Fresh Fiction
 

 
We will be open on Memorial Day from 10 AM until 6 PM.
Free Media Mail shipping on U.S. orders over $50